Popular geometric features to incorporate in your home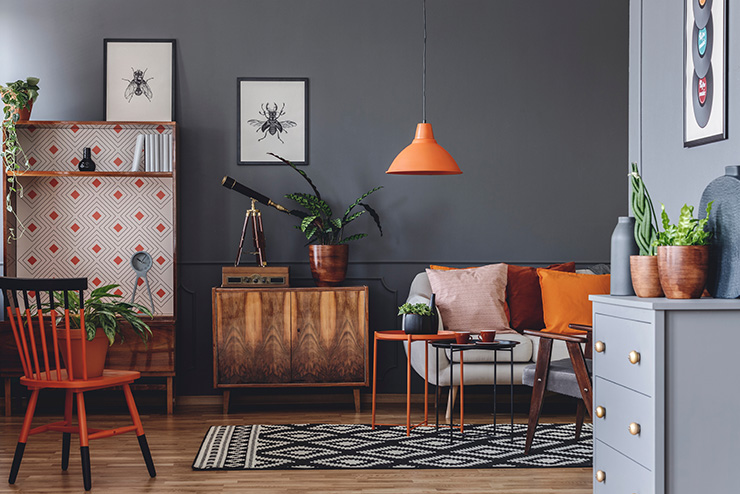 Are you ready to jump on the latest rising trend? Geometric patterns are a fun and flexible way to add personality to your home's interior design. You can be bold and bright with it or subtle and neutral depending on your personal taste. Plus, geometric patterns can work well in almost any room of your house. Whether you add geometric features to tiled kitchens, living room furniture or bedroom decor, this design looks sleek and stylish almost everywhere.
They can also add value to your home! Geometric interior design can be incorporated into flagstone floors (adding a value of up to £5,527) or colour blocking (worth up to £4,776).
Here are some more suggestions for how to incorporate geometric features into your home interior.
What does geometric interior design mean?
First, let's cover what geometric design actually is. As the name suggests, this trend is inspired by geometry. Regular repeated lines and shapes have been used in architecture and interior design for centuries.
This is because they create clean and neat decor patterns that despite their long history, still have a fresh and modern look. Hexagonal patterns or repeated squares, triangles, diamonds and other shapes are all popular options for a geometric design.
Make tiled kitchens stand out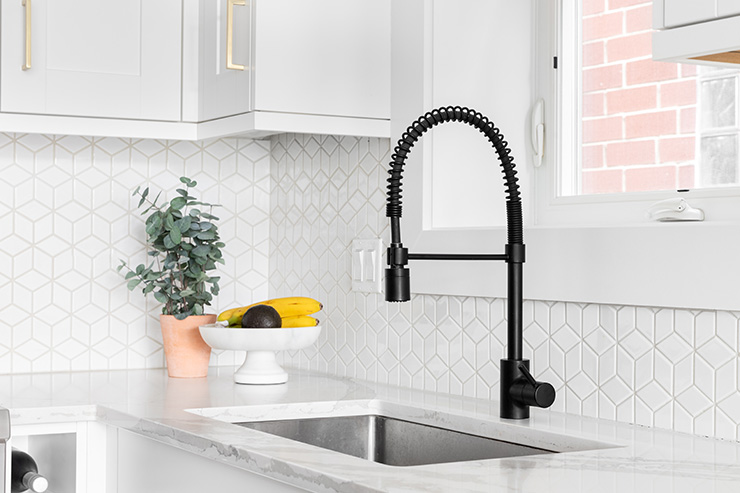 Kitchen decor can be tricky because you want your space to look good whilst still remaining practical. Using geometric shapes in your kitchen tile design could be the perfect solution. A geometric pattern on just a handful of tiles behind your hob, for example, can make a real difference, as can a geometric backsplash. They're timeless and can lead the eye away from any cramped corners in your kitchen.
Revolutionise your bathroom design
The bathroom is another space where tiles are a great aesthetic and practical choice. Geometric tiles can offset wet areas, like the inside of your shower, and can add colour to an otherwise sterile white bathroom. When it comes to bathroom tiles, there is so much variety. You could go for beige diamonds, or mustard octagons.
For the best finish, hire a professional to take care of your tiling for you. You can find expert tilers by posting a job on Rated People.
FIND A LOCAL TILER
Explore colourful bedroom ideas
Or, if you don't want to use tiling, you could opt to incorporate geometric designs in your bedroom by painting your walls, or using wallpaper and other geometric decor. If you'd like to inject colour into your bedroom design, a bright wallpaper would work well, such as gemstone tones on a patterned design. You could then buy matching pillows and blankets to create a sense of unity to your decor. Patterned rugs and curtains look great as well.
Spruce up your living room furniture
This trend also extends to furniture design. Geometric shelving units is very in style at the moment. Create a sophisticated finish with a geometric bookcase, with featured bookcase decor to match your aesthetic. The modular furniture look is a simple way to bring geometric shapes into your interior design.
Invest in geometric art
A more subtle way to introduce geometric design into your home is through artwork. A simple framed print is a nod to this style. Or take it a step further with geometric soft furnishings, fixtures and fittings like patterned cushions or hexagon door handles.
Starting a geometric interior design project
There are so many ways you can bring patterns, shapes and lines into interior design and replicate geometric features in your home. Pinterest, Instagram and Tiktok are always good places to look for even more inspiration. For help incorporating geometric design in your space, find a tradesperson on Rated People.
FIND A TRADESPERSON