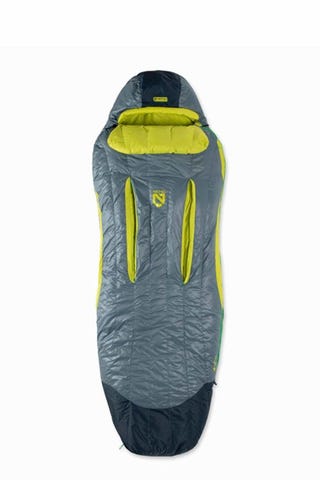 Best Sleeping Bags 2020 | Backpacking and Camping Sleeping Bags
Today's sleeping bags are more technologically advanced than ever, which means sleeping under the stars has never been so comfortable. Whether you're heading out for a weekend in the woods with your family or embarking on a backcountry trek, these are the best sleeping bags for every camping adventure.
Take a look below at quick info on the top-performing bags, then keep scrolling to read helpful buying advice and full reviews of these and other solid options.
Given the COVID-19 (coronavirus) pandemic, it's more important than ever to check the local regulations at your destination before you leave. More than half of the state park campground systems are currently closed. Some National Parks are reopening for campers this month, but restrictions vary park by park. Some public lands and U.S. Army Corps of Engineers-managed campgrounds are also temporarily shuttered. Backcountry access is more accessible, but the agencies that manage the Appalachian, Pacific Crest, and Continental Divide trails are encouraging thru-hikers to postpone their trips.
Differences in Shapes and Sizes
One of the first choices you have to make when shopping for sleeping bags is what shape you prefer. Mummy bags have a hood and a tapered design that narrows at the feet, whereas rectangular bags have more space for you to move around in but often no hood. Less common are semi-rectangular designs that typically have hoods like mummy bags but aren't quite as constrictive. Mummy and semi-rectangular bags are better for colder nights in spring, fall, and winter because they have smaller openings and their hoods provide greater protection against the cold. But if you hate feeling penned in or mostly sleep on your side or stomach (for which having a bit more room is better), a rectangular shape might be more comfortable.
Companies also often make the same sleeping bag in a variety of lengths. A bag measuring closest to your height will keep you warmer than a looser option, which could have more space for air than your body can heat up. Most regular bags are 72 inches from hood to footbox, and long sizes are around 78 inches. Women-specific sizes are shorter (generally 66 to 73 inches for regular lengths), skinnier in the shoulder and wider at the hips. These sleeping bags also have more insulation, which is frequently added to the chest and footbox to account for the physiological differences between men and women, who typically run colder.
The Ins and Outs of Insulation
Whether a sleeping bag has down or synthetic insulation, the way they keep you warm is similar: Still air between the fibers and filaments of the materials traps the heat coming off of your body. "We know air is the best insulator on earth," says Hsiou-Lien Chen, a textile researcher and associate professor at Oregon State University. "If you can create more spaces to trap that air, the material will have better insulation."
The naturally clustered shape of goose and duck down creates loft where air can stay trapped. But if exposed to moisture, those clusters collapse, and their insulating power vanishes. Some brands, such as Kelty, waterproofing brand Nikwax, and insulation company DownTek, have sought to correct this by treating down with hydrophobic compounds. Many sleeping bags also have a durable water repellent (DWR) coating on the shell for even more protection, which you can also apply yourself.
In synthetic insulation, the straight polyester threads are crimped to produce loft. Occasionally, manufacturers use hollow fibers to create more space for trapping air and to reduce the overall weight of the insulation so it can maintain better loft, Chen explains. Even with this technique, synthetic insulation is heavier and generally doesn't compress as well as down because it's constructed as a slab of fibers. But these materials are cheaper to produce and better at retaining their insulating power when wet as compared to down. A down sleeping bag can be a better choice when backpacking because of its high warmth-to-weight ratio. But if you anticipate camping frequently in humid environments or are concerned about cost, choose a synthetically insulated sleeping bag.
Both down and synthetic insulation are measured so consumers can assess their relative quality. The fill power of down refers to the loft of a one-ounce cluster, and a higher fill equates to a better quality down that has more space to trap air. Most down used in sleeping bags ranges from 600- to 900-fill. Synthetic insulation is rated based on its weight per square meter, though these numbers aren't normally advertised by brands. The greater the weight, the thicker and warmer an insulation will be. But when it comes to buying a sleeping bag that will keep you warm throughout the night, you shouldn't rely on these metrics alone. Even the highest quality down can lose its effectiveness and loft if too much of it is compressed within baffles that are too small.
What You Need to Know About Temperature Ratings
The quality of insulation is just one factor that determines a sleeping bag's overall insulating ability, as reflected in its temperature rating. How much insulation and where it's distributed matters, as does the shape and fit of the bag, and the amount of stitching and zippers (where warm air has the potential to escape). The other materials and design elements also factor in. To combat heat loss, some sleeping bags are designed with internal draft collars around the neck and draft tubes, or insulated fabric flaps, along the zipper.
The primary standard for temperature ratings originated from European Standards (EN) and today are dictated by the ISO, or the International Organization for Standardization. There are three types, but brands mostly frequently share the Comfort rating, or the lowest temperature that the average woman will feel comfortable sleeping in while using the bag. The Limit rating refers to the lowest temperature at which the average man will feel comfortable. (This temperature is always colder than the Comfort rating because of the physiological differences between men and women.) Lastly, there is the Extreme rating, which represents the lowest temperature at which it's safe to use a sleeping bag–even then, prolonged use at this temperature could put you at risk of hypothermia. You won't find any of these ratings on two-person sleeping bags, though, as there is no standardized test for these larger systems.
Keep in mind the rating might not reflect your personal comfort limit. That's because the ISO-mandated testing conditions—which use sophisticated heated manikins wearing thermal underwear, socks and, in some cases, face masks—make assumptions about human and environmental factors that impact thermal regulation, says Meredith Schlabach, the coordinator of testing services at Kansas State University's Institute for Environmental Research. The IER, as it's known, conducts thermal testing on consumer items, including sleeping bags, for major outdoor retailers and manufacturers in the U.S. and abroad. These factors—including metabolic rate (people with faster metabolisms generally run warmer) and ground temperature—change from person to person and campsite to campsite. So when in doubt, use a sleeping bag with a temperature rating colder than the weather you plan to camp in. And, good news, many companies offer the same sleeping bag in several different temperature-rated models.
How We Tested
To find the best sleeping bags, we have tested 22 models with different shapes, temperature ratings, and prices. We used the bags in fall and winter while sleeping in campgrounds and backyards in eastern Pennsylvania, New Jersey, Ohio, and in Colorado's backcountry. The overnight lows ranged from 68 to 10 degrees during our testing, and we assessed each sleeping bag's fit, features, and ability to keep us warm through the night. Back at the Pop Mech Test Zone HQ, we stuffed the bags into their included compression sacks and gauged how small each packed down compared to its unpacked size. Together, these factors helped us determine the best of the best. Read about those 14 options below.
---
—EDITORS' CHOICE—
NEMO Disco 30
Comfort Rating: 30°F | Insulation: 650-fill Nikwax Hydrophobic down | Packed Weight: 2 lb. 9.6 oz. | Packability: Good
Upgraded for 2020, the Disco is lighter and more streamlined but just as cozy as its predecessor, which also earned our Editors' Choice award. The sleeping bag now has a touch less insulation (4 fewer ounces in the men's and 3 ounces in the women's) and a slightly trimmer cut, reducing the overall weight of the bag. Still, we slept warm enough on near freezing nights in early spring. By tucking the oversize heat-trapping draft collar inside the bag and occasionally around our face, we didn't need to cinch down the large hood. We didn't notice the slightly smaller dimensions of the spoon-shaped bag, either. This cut, a signature of the brand's, is narrower at the hip than in the shoulders and knee, which allowed the Disco to retain heat like a mummy bag should without leaving us feeling as constricted. It was easy to move around within and not get twisted in the material.
Other features we liked about the 2019 model also find a home in the new Disco. The hood has a built-in pillow pocket, and there's a discreet chest pocket that had enough room to fit our phone and keys. The large draft tube along the zipper is more insulated than on some competitors, and it helped seal in heat on cold nights. When it's warmer, you can unzip the two chest vents (or Thermo Gills, as NEMO calls them) to dump excess heat. Unlike the main zipper that now features a very effective anti-snag plastic housing, the delicate zippers on the Gills were a bit tricky to operate mid-slumber. We suggest opening or closing them as needed before you fall asleep. The 30-denier DWR nylon ripstop shell gets burlier at the footbox, which has 40-denier fabric to better resist abrasions over time against the walls of your tent. Performance-wise, we had no major complaints, but if you prefer a synthetically-insulated bag, the Forte offers many of the same features.
Shop Men's | Shop Women's
---
—BEST SYNTHETIC—
Marmot Trestles Elite Eco 30
Comfort Rating: 36ºF | Insulation: HL-ElixR Eco Micro synthetic | Packed Weight: 2 lb. 3.2 oz. | Packability: Good
In the Trestles Elite Eco series, Marmot has avoided the major issue of most synthetic bags—bulk. When packed down, the Trestles was comparable in size of many down bags we tested, so you have more room in your truck or pack for other gear. Marmot manages this feat, in part, by deploying a proprietary insulation that uses three different weights of recycled polyester fiber to cut down on the size of the material without reducing warmth. We appreciate the eco-friendly construction, especially because it didn't negatively impact functionality. We were toasty on a 53-degree night and liked the internal draft collar and tubing that kept out the chill. Affordable to boot, the Trestles was a bit constrictive, but the secondary left-sided zipper frees up some room at the chest (as long as it's not too cold outside, of course).
---
—BEST THREE-SEASON BAG—
The North Face The One Bag
Comfort Ratings: 20ºF (mid layer) and 40ºF (outer layer) | Insulation: 800-fill down and synthetic | Packed Weight: 3 lb. 12.8 oz. (both layers) | Packability: Fair
We're wary of gear that promises universal performance, so we were pleasantly surprised by The One Bag, which The North Face says is optimized for every season because of its two completely removable upper layers. Zip just the lightweight synthetic outer layer to the base in the summer, the 800-fill down mid layer by itself in cooler temps, or zip both on if you're braving alpine environments or winter weather. We liked how precisely we could regulate our temperature when using the two quilts by unzipping the top layer about a third of the way when we got a bit too toasty one cold night. The mid layer also doubles as a camp blanket that you can wrap around yourself and snap together at the collar. It was exceedingly cozy as we sat around the campfire while the temperature hovered in the 30s. As for its faults, we found it was occasionally tough to zip the quilts to the bottom, and the zipper on the mid layer had a tendency to snag on the draft tube (a critical feature considering the long wrap-around zipper). The One Bag isn't cheap, but its versatility makes up for the high cost.
---
—BEST FOR BACKPACKING—
REI Co-op Magma 30
Comfort Rating: 39ºF | Insulation: 850-fill down | Packed Weight: 1 lb. 6.4 oz. | Packability: Good
Ultralight sleeping bags don't come cheap, but the REI Co-op Magma 30 is more competitively priced than some and worth the investment if you're a frequent backpacker or planning a multi-day trek. This was the smallest and lightest sleeping bag in our test, and we found the Magma is comfortable but narrow. That's not a huge surprise as less material helps shave weight, but claustrophobic sleepers will want to opt for a bag with more wiggle room. We love the plastic housing on the zipper, which prevents it from snagging on the delicate 15-denier shell, as well as the internal draft collar and tubing. The down insulation, which is treated with a hydrophobic compound, delivered mixed results when it came to its ability to keep us warm. If you run cold, be sure to bring additional layers.
---
—BEST VALUE—
Kelty Tuck 40
Comfort Rating: 40°F | Insulation: Synthetic | Packed weight: 2 lb. 6.4 oz. | Packability: Fair
Kelty continues to prove it's the king of affordable, reliable camping gear in the Tuck. If we hadn't known the price before we tested the redesigned 2020 model this spring, we might have assumed the bag cost twice as much as it does. Although we expect to see a hood and draft tube on sleeping bags that are more than $100, these features feel like a bonus on the Tuck. Plus, the new zipper placement, which runs across the width of the bag at the shins, lets you create a foot vent for dumping heat on summer nights. It was too early in the season for us to take advantage of that feature, but we did appreciate the additional insulation that Kelty added to the footbox. Our toes were quick to warm up when we hunkered down for the night.
Almost semi-rectangular in shape, the Tuck felt plenty spacious. In fact, our tester could fit her torso through the hood opening with the zipper completely closed. She blocked out the resulting draft by cinching down the hood. This closure system, consisting of a thick cord with a spring button fastener, was the only thing that felt cheap. The fastener didn't slide as easily along the rough cord as it would have with smoother material, and there wasn't enough cushion in the collar, which caused the cord to rest uncomfortably against our body when it was pulled tight. If you stick to warm weather camping, you shouldn't encounter these annoyances. Otherwise, you might find the 20-degree model more comfortable.
---
—BEST VALUE DOWN BAG—
Kelty Cosmic 20
Comfort Rating: 19ºF | Insulation: 600-fill DriDown | Packed Weight: 2 lb. 6.4 oz. | Packability: Good
Cost is often the sticking point for customers when it comes to down sleeping bags, but the price of the Kelty Cosmic is closer to that of a synthetic model. Even so, the sleeping bag is plenty capable, with Kelty's proprietary hydrophobic down insulation and a zippered exterior pocket to store essentials. Our tester loved the silky soft 50-denier polyester taffeta lining but wished the hood was larger. On a near-freezing night in the woods, she struggled to keep it tight even with the cord cinched, which left her head and chest cold. But her feet stayed nice and warm.
---
—BEST RECTANGULAR BAG—
Big Agnes Buffalo Park 40
Comfort Rating: 40ºF | Insulation: Thermolite Extra synthetic | Packed Weight: 3 lb. 3.2 oz. | Packability: Fair
The Buffalo Park from Big Agnes is made to fit big and tall campers. Even if that doesn't sound like you, you'll find a spacious sleeping bag that reminded us more of a frontcountry bed than a backcountry one. That's thanks to the wide design and less technical materials. Big Agnes skipped the popular polyester taffeta lining for a cotton-polyester blend and added long double zippers on both sides, so you can use the top more like a comforter. The bottom of the bag has no insulation, but its exterior has a full pad sleeve to keep a 25-by-78-inch mat in place. The downside of its large size is that the sleeping bag is drafty. To combat this, the Buffalo Park has a cinch cord at the top so you can seal in warm air. We found this cord was the easiest and most comfortable to use out of those on any of the rectangle bags we tested.
---
—BEST MUMMY BAG—
Big Agnes Torchlight 30
Comfort Rating: 30ºF | Insulation: 600-fill DownTek down | Packed Weight: 2 lb. 3.2 o.z | Packability: Fair
New for 2020, the Torchlight is the accordion of sleeping bags. Big Agnes placed zippers that run from the shoulders to the footbox on both sides. Unzip them to expand four additional baffles (two on each side) that add another 10 inches of room. And because they're two-way zippers, you have the option of expanding only the portions where you need more space, like around your shoulders or hips. The Torchlight was already roomy enough to begin with for our tester, and keeping the sides zipped helped the draft tube prevent heat from escaping. Between the extra baffles and the 600-fill hydrophobic down, we slept warmly when the overnight low reached the upper 20s. The hood cinched down very well to seal in heat but felt small when we used it with a slightly large camping pillow. Surprisingly, the extra zippers don't weigh down the Torchlight, though if you're prone to count ounces, choose the ultralight model.
---
—BEST FOR SIDE SLEEPERS—
Sierra Designs Taquito 35
Comfort Rating: 36ºF | Insulation: 550-fill DriDown | Packed Weight: 1 lb. 10.7 oz. | Packability: Good
Sierra Designs strays from its usual zipperless design and ultra-premium down insulation in the Taquito, and the new model is a fine choice for side sleepers or anyone looking for a moderately priced down sleeping bag. The company smartly placed two strips of small square baffles that run up the sides of the Taquito. These are densely packed with the same 550-fill hydrophobic down used in the rest of the bag, but it allows for side sleepers to compress the insulation without entirely zapping its heat-trapping loft. We were warm on many early spring nights, as long as we paired the Taquito with an insulated sleeping pad. The soft 20-denier fabric only added to our comfort, though it was quick to snag in the zipper despite the stitching on to the draft tube designed to prevent this. Lightweight and highly compactible, the Taquito is ready for the backcountry, though you'll want to get a smaller compression sack to take full advantage of its packability.
---
—MOST BUDGET-FRIENDLY—
Coleman Autumn Glen 40
Comfort Rating: 40ºF | Insulation: Coletherm synthetic | Packed Weight: 4 lb. 6.4 oz. | Packability: Poor
When you're simply looking for a comfortable, no-frills bag to swaddle yourself in at night, choose the Autumn Glen. Costing less than $50, it's a good bargain if you don't mind weight and bulk, which it has the most of any single-person sleeping bag we tested. That pretty much limits it t0 car camping. The polyester interior feels more like flannel sheets, and because the lining has a tendency to grip to itself, we didn't feel any draft overnight as we would expect from a rectangular bag. The downside is that it's harder to move around within the bag without getting a bit twisted in the fabric. The Coletherm insulation, which is built with hollow polyester threads, is exceedingly warm, making the bag suitable for cooler temperatures.
---
—MOST ECO-FRIENDLY—
Mountain Hardwear Lamina Eco AF 30
Comfort Rating: 35°F | Insulation: Recycled synthetic | Packed weight: 2 lb. | Packability: Good
One of Mountain Hardwear's popular sleeping bags goes green in the Lamina Eco AF. Recycled fibers make up the whole 20-denier nylon ripstop exterior and 70 percent of the polyester insulation inside. Plus, by leaving the bag undyed, MH reduces the amount of water it needs to make the bag. The welded seam construction blocks water and dirt better than regular stitches and saves weight, because Mountain Hardwear doesn't have to add extra insulation to make up for heat escaping through the stitching. That makes the Lamina Eco AF light, very packable, and a good pick for backpacking—just not on a cold night. Even with the bag totally zipped and the hood cinched, we felt a slight draft sleeping on our side on a surprisingly cold night when the mercury hit 21 (admittedly almost 15 degrees below the comfort rating). And we didn't like that condensation formed along the collar from our breathing, though it demonstrated the effectiveness of the DWR coating applied to the shell.
---
—BEST TWO-PERSON SLEEPING BAG—
Big Agnes Dream Island 15
Comfort Rating: N/A | Insulation: FireLine Max synthetic | Packed Weight: 7 lb. | Packability: Poor
With many of the same features we love about the Big Agnes Buffalo Park, the Dream Island 15 is designed for two, so it's more convenient (and cost effective) than zipping together single-person sleeping bags. The rectangular shape is roomy but not so large that it didn't effectively contain our testers' body heat. We were comfortable all night long when camping in 40-degree weather. The cotton blend lining is more akin to bed sheets than standard technical materials, and the blanket-like top quilt was large enough for us to tuck ourselves in. Both sides of the bag have close-to-full-length zippers, though they had a tendency to snag. What we really love about the Dream Island is its full-width hood, which has a cinch cord and built-in pillow pockets. For even more draft protection, you can button the top of the bag to the hood using a small flap in the center. The bottom of the bag doesn't have any insulation, so be sure to use a warm double sleeping pad (or two singles), which you can secure underneath you in the pad sleeve. As expected for a bag this size, it doesn't pack down very well but won't take up too much space in your trunk.
---
—BEST FOR AIR MATTRESSES—
Sierra Designs Frontcountry Bed 20 Queen
Comfort Rating: N/A | Insulation: Synthetic | Packed weight: 9 lb. | Packability: Poor
The new Frontcountry Bed Queen is the larger sibling of the Frontcountry Bed Duo, and that extra space won't go to waste if you and your significant other frequently feel cramped in smaller two-person bags. What's more, the built-in sleeping pad sleeve is large enough to fit a queen-size air mattress or bed, if you're using it in your camper. We appreciated the sleeve's adjustable cinch cord that kept the padding underneath us in place. Because the Frontcountry doesn't have zippers, we found it easy to get into and out of the bag, and we didn't have to worry about any potential snagging on the tracks. We could wrap ourselves up in the quilt or tuck it underneath the border, though this created an opening for heat to escape. Sierra Designs stuffed a little more than 4.5 pounds of insulation into the bag and says it's warm enough for 20-degree weather. As long as our feet were inside the Frontcountry instead of peaking out of the foot vent, we were just warm enough on a 40-degree night. This foot vent is a nice additional feature and self-sealed effectively when we laid on top of both portions of overlapping fabric. The Frontcountry isn't very compact, but like the Big Island, it should leave you with enough room in your trunk for the rest of your camping gear.
---
—BEST SLEEPING BAG FOR KIDS—
REI Co-op Kindercone 25
Comfort Rating: 25ºF | Insulation: Synthetic | Packed Weight: 3 lb. 4 oz. | Packability: Fair

Kids will love the colorful prints on the lining of the REI Co-op Kindercone 25, and you'll love its reasonable price. The stuff sack is attached to the foot of the bag, which means it can't get lost. What's more, you can tighten the sack's cinch cord when the bag is in use to shorten the length of the 66-inch sleeping bag. This provides a better fit for smaller kiddos and will help keep them warmer at night. In our testing, the zipper slid without snagging. It's not the lightest bag, but that's okay as your child might end up using the Kindercone at more slumber parties than campsites. The only thing it's missing is an elastic drawstring to snug the hood for a better fit on cooler nights.