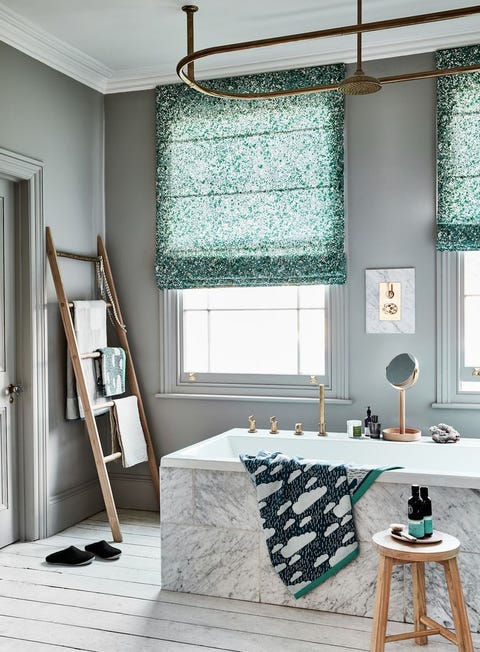 Modern Bathroom Ideas For Your Home In 2021
Bathroom designs need to meet the exacting standards of today's contemporary home. Delivering a bathroom scheme that is functional with a striking and captivating aesthetic is key for any modern bathroom.
Modern bathroom ideas include designs which radiate a minimalist and modern aesthetic and exudes a luxurious appeal from top to bottom, all whilst touching on the latest interior trends.
Today's modern bathroom will include a bold mix of black, green, blue and white, with a focus on hand-painted finishes, glazed surface treatments and bold brassware.
Of course, a bathroom still must guarantee complete functionality but homeowners are busy transforming them into opportunistic spaces that makes daily escapism effortless; offering a place of relaxation that evokes feelings of luxury and tranquillity.
The pandemic and 'stay at home' orders has influenced so many of us to turn to home improvement as a way to take back some control and create a much needed escape, says James Stevenson, Creative Director at Imperial Bathrooms.
'In fact, we have seen increased demand for bathrooms that offer authentic custom design elements and I believe, as the bathroom continues to become more of a deeply personal space, it will play a vital role in providing the ultimate place to decompress and luxuriate in,' he explains.
So, are you ready to take on the trends and create your dream bathroom scheme? Take a look at these modern bathroom ideas to transform your home in 2021…
A sanctuary
The need for a soothing bathroom space has never been more important, and as a dominant trend in 2021, the bathroom will evolve into a space that not only cleanses you, but improves your health and wellbeing by providing a private area to relax and unwind. This modern bathroom idea is about creating a spa-like environment at home.
'We saw the bathroom flip from purely functional to a place of escape; the only room where we are guaranteed to find peace amidst the chaos. Bath time became a pause, a time to relax and indulge. An opportunity to build self-care and wellbeing into the landscape of the day which the coming year's designs will bear testimony to,' says Lee Frost, Director of Waters Baths of Ashbourne.
As the desire for bathrooms to act as sanctuaries of wellbeing grow, ambient lighting plays a prominent role here, helping to create that all-important peace and tranquillity – soft, warm light can really influence your mood and state of mind.
The idea of creating a sanctuary and raising the comfort factor also very much taps into the bathscaping trend: light candles, hang plants and include lots of natural materials across your bathroom accessories.
Go luxe
Escapism is high on everybody's agenda and a modern bathroom needs to be beautifully deluxe. 'This will see trends shift towards opulent finishes, luxury stone surfaces and a bold signature style not so different from a boutique spa or 5* hotel bathroom,' say Imperial Bathrooms.
Think rich metallic finishes, marble countertops and rococo-inspired hardware, as well as ornate basin stands and curvaceous brassware that achieve an air of grandeur. To emphasise, marble is a big look here, working perfectly in a monochrome scheme or with gold details. In fact, sales for marble features increased by 366 per cent in 2020, according to bathroom specialists Drench.
As far as accessories go, in a modern bathroom there's a preference for extra fine detailing, Imperial Bathrooms note. Ornate gilded lion feet to elevate your freestanding bath, colour-matched mirrors that coordinate with the bathroom furniture, plus ceramic lever handles, soap dishes, tumblers and towel rails will create a truly grandiose look and feel throughout.
The colourful bathroom
The opportunity for homeowners to experiment with colour in their bathroom design is greater than ever before, and the power of a bold, colourful bathroom will offer a new-found way to express individual style and character.
Vanity units and framed mirrors are adopting this type of bold design to add a dash of character, with an emphasis on more traditional greens and blues. According to Drench, blue will be leading colour of choice, having gained a 95 per cent increase in website searches in the past year.
Black fixtures

A recurring modern bathroom idea is to look to black hero pieces to provide both glamour and high drama. Here, furniture, ceramic ware, brassware and accessories take on a darker appearance to bring a striking element.
Dominic Lees-Bell, Interior Design Specialist at Drench, explains: 'We are particularly loving black fixtures against one of the top bathroom colours for 2021 – pink. But, even if you don't want to be as daring with such a romantic colour, black really does work well with most colours, and can give that instant flair to your interiors.'
Handcrafted and timeless
Designing a modern bathroom around a centrepiece is a sure way to create impact and introduce immediate 'wow factor'.
Modern bathroom ideas are increasingly drawn to the beauty of a freestanding statement bath or striking pedestal basin design. Imperial Bathrooms say modern bathroom designs will look to authentic, handcrafted items that create a breathtaking focal point with timeless appeal.
And, stately ceramic ware remains a top choice for the design-savvy: 'There is huge value in choosing traditionally-made ceramic ware as it is inherently timeless, able to stand the test of time and will never outdate,' Imperial Bathrooms explain.
Botanical bathrooms
2020 was largely spent indoors, and so bringing the outdoors in became a key way to embrace natural features, enhance wellbeing and create a spa-like feel in the bathroom. According to Drench, sales for natural wood elements have increased by 197 per cent and waterfall taps by 77 per cent.
Every modern bathroom is now filled with a plant or two, from a medium sized plant to hanging evergreens by the shower, offering comfort and calm. Get some bathroom plant inspiration here.
The perks of a botanical bathroom go beyond its visual appeal, taking health benefits into account too. Being around nature has proven to have positive effects on our wellbeing; the Royal Horticultural Society continually champions the benefits that plants and gardening has for mental health.
'One possibility would be to place the bath next to the window to reveal the scenery. Anyone who wants to embrace the trend without going to too much trouble can simply create a natural look on a wall or enhance their bathroom with exotic plants,' explain Villeroy & Boch.
Clutter-free spaces
Imperial Bathrooms say creating a bathroom which is organised and free from clutter is going to be essential, with generously proportioned vanity units and value-adding accessories climbing to the top of the bathroom wish-list.
From large to compact spaces, homeowners are looking for more ways to create minimalist and clutter-free bathrooms whilst staying on trend. Functional, practical and stylish, furniture units ensure a storage solution for any space whilst making a statement of their own in a modern bathroom.
Brass
Another popular modern bathroom idea is the need to provide a luxurious touch to brassware, accessories and smaller details – this trend for incorporating brushed brass into the bathroom has been prevalent for a number of years, but it is now adapting in a variety of new and exciting ways to suit different design schemes.
Wallpaper

Wallpaper brings a fashionable element to bathroom planning, which otherwise tends to take a long-term view. It can be an alternative to using tiles and comes with the option of replacing it to suit changing tastes and preferences.
The trend experts at Pop Up My Bathroom say wallpaper in the bathroom is increasingly being used as a creative and decorative element, used to evoke a very special atmosphere. Waterproof wallpapers are particularly suitable for use in the vicinity of the washbasin or bathtub.
Of course, if choosing wallpaper, it should coordinate with sanitaryware, materials and surfaces. And as a rule, the wall behind the washbasin is the ideal place for using wallpaper as a key element of the design.
'In general, glass fibre, non-woven and vinyl wallpapers are particularly suitable for use in the bathroom because they're water-repellent and don't pucker or ripple when exposed to moisture,' Pop up my Bathroom explain. 'However, water-repellent is not the same as waterproof, which is why non-woven wallpaper is less suitable for direct contact with the wet area around the shower or washbasin.'
Circular shapes
There's an increasing use of warm, soft-edge and rounded forms in the modern bathroom, specifically curved shapes, which offer additional visual interest. With no beginning and no end, no edges or corners, the circle is the most perfect and balanced form in geometry, symbolising harmony, infinity and oneness.
Rounded bathroom furniture or circular bathtubs (the latter of which can make a spectacular statement and has spa-like appeal) can make a room seem bigger, while round mirrors or washbasins can create the impression of open spaces.
'Circular shapes are also very popular for countertop, inset and pedestal washbasins right now,' explain the team at Pop Up My Bathroom. 'Like little works of art, they sit on top of consoles or pillars and enhance the bathroom with the atmosphere of a cultural and inspirational haven.'
Like this article? Sign up to our newsletter to get more articles like this delivered straight to your inbox.
In need of some positivity or not able to make it to the shops? Subscribe to House Beautiful magazine today and get each issue delivered directly to your door.
This content is created and maintained by a third party, and imported onto this page to help users provide their email addresses. You may be able to find more information about this and similar content at piano.io