McKee Homes Announces Grand Opening of Raleigh Design Studio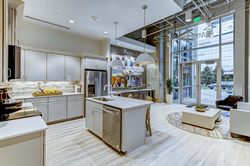 "The Triangle's growth in population, job opportunities and infrastructure are the main contributor to the unprecedented demand for new homes," said Trish Hanchette, President.

RALEIGH, N.C. (PRWEB)
December 21, 2021
North Carolina-based home builder McKee Homes announced today the grand opening of their latest design studio in Raleigh. Located in the CAPTRUST Tower in the Park District of North Hills, the McKee Homes design studio offers homebuyers an opportunity for a hands-on experience of the finishes and on-trend styles that are designer-curated for their new home.
"The Triangle's growth in population, job opportunities and infrastructure are the main contributor to the unprecedented demand for new homes," said Trish Hanchette, President. "We are excited to continue to differentiate McKee Homes from other builders who are shrinking their studios and home personalization. Our new Raleigh studio is state-of-the-art and will continue to refresh with on-trend design and product."
As part of the McKee Team experience, homebuyers under contract with McKee Homes get a chance to step inside the design studio and fully experience all of the design possibilities for their new home. Crisp, clean flooring invites McKee homebuyers in, while a variety of light fixtures adorn the ceiling. Several areas showcase designer-curated finishes, colors and textures for every lifestyle and taste. Homebuyers can view additional options for flooring, cabinetry, hardware, countertops and more. The displays enable homeowners to bring their ideas to life.
"Each of our design studios is customized for its specific market and our customers. We continuously refresh and renovate our offerings so we can present each room with the most current and appealing products to our homebuyers," said Angie Murphy, Design Studio Manager. "Our design studios are inspirational to our clients and provide our homebuyers with ways to personalize their home."
To celebrate the hard work that went into the design studio, McKee Homes hosted a reveal for the many people, including designers and trade partners, who supported and contributed to the beautiful space.
"One of our company's core values is 'Work Smart, Play Hard'," said Patty Sloan, Director of Sales and Marketing. "This reveal is a huge thank you to acknowledge how much we appreciate our internal team and our trade partners. We are so proud of the amazing result and we're grateful for everyone's collaboration and support in opening our new design studio."
The new design studio is conveniently located in the CAPTRUST Tower at 4208 Six Forks Road, Suite 104 in Raleigh. For more information, visit McKeeHomesNC.com.
About McKee Homes

McKee Homes is an exclusive North Carolina home builder that offers an unwavering commitment to a unique and incredible experience, known as the McKee Team Experience. McKee Homes believes in embracing the local communities and providing excellent customer service from the beginning of the home buying process to move-in and beyond and stands behind their core values: McKee Focus, Continuous Improvement, Good People and Work Smart, Play Hard.
McKee Homes was founded in 2010 by brothers Pat and Mike McKee, in honor of their late father Joe McKee who passed away from Alzheimer's disease. The Joe McKee Memorial Alzheimer's Fund was created in his honor and a portion of every home sold is donated to research and support for families living with Alzheimer's. Our vision and mission is to help create A World Without Alzheimer's.
Share article on social media or email: