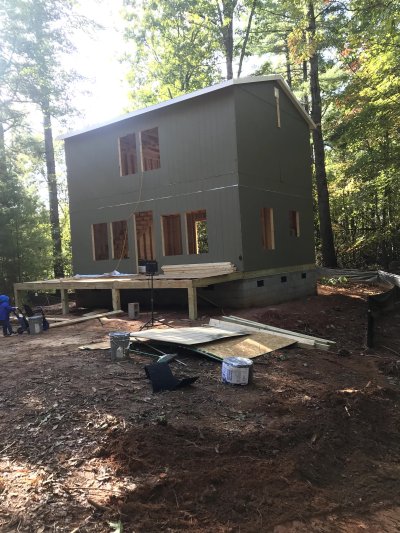 'We Turned a Home Depot Shed Into a Tiny House and Sold it for $275,000'
In August 2017, we were "keeping up with the Joneses." We had a new car and a house in Cumming, Georgia and were living well above our means. Then we had our son and shortly afterwards our A/C broke and we couldn't afford to fix it. So, we borrowed some money from my husband Nick's parents. We have since paid them back, but it was a very eye opening experience for us. We realized something had to change.
Nick had started watching videos by Dave Ramsey, the financial guru. He began driving for Uber and for Lyft to and from his job working at a Fortune 500 company and we were also building furniture to sell at the time. We were doing everything we could to get some cash flowing. Then Nick told me how long it was going to take us to get out of debt and be able to build our dream house, which was our end goal.
It was going to take two years just to pay off our $82,000 of debt, but we would then need to build up our savings.
Nick had mentioned going tiny, living in a tiny house, but we already had our house and I'm a planner. I felt like we couldn't back track. So I didn't want to go tiny, especially when our son was tiny himself!
Then, on my birthday in September 2019 we went camping and saw the camp hosts who get paid to stay there and help take care of the grounds. We thought we could do that. We got home and said: Let's just sell the house.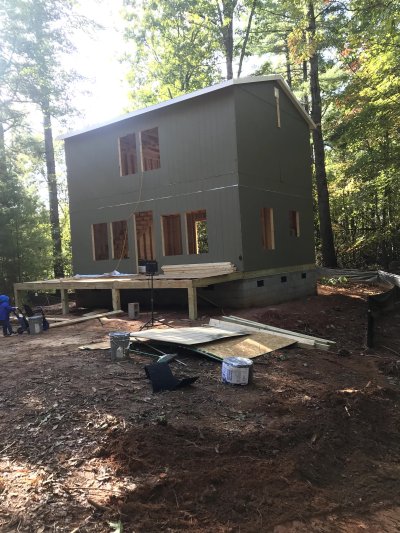 So we listed it and about a week later it was under contract. It sold for $275,000 in 2018. We made a good chunk from it because we had bought it at the end of the recession, and had renovated it ourselves. With the proceeds from the house sale, we were able to pay off all of our debts, and buy a camper van with cash. We then found an eight acre plot of land nearby for $40,000 and paid for that in cash, too. The plan was to build our dream house on that land, but the county we live in won't allow camper van living long term. To be allowed to put in a septic system and electricity you had to have a permanent structure. That's when we went to Home Depot and saw a two storey shed they were selling. We decided to give it a go, and build our own tiny house out of that shed.
We had to design what the shed was going to look like before we talked to them, because it was a shed, and they're not meant to house people full time! We paid a little extra for details like a second storey floor joist and an outside wrap around the house, but the shed manufacturers came and erected the shed on our property and built out the walls and the roof, the latter was the one thing I didn't want Nick to do, because it was very high up.
We did everything else by ourselves. Nick is our numbers guy and so he drew out everything to size, showing how big our kitchen and all the other rooms could be. Aside from putting in a septic system, which we paid someone else to do, we did all the electrics, plumbing, flooring, walls, paint and bought and installed cabinetry and countertops ourselves.
The tiny house shed was two storeys and 860 square feet in total. We also put a bathroom under the stairs, so it was a one bedroom, one and half bathroom house. We had a full kitchen with everything we needed, and had one very big bathroom and bedroom upstairs with a walk-in closet.
The goal with the shed was to live in it for a few years and build our dream house on the same property, and then the shed was going to be a suite for our families to stay in.
With the upgrades we had to get, the shed was about $27,000 but in total it cost $60,000 to complete our tiny house. We got very lucky. You probably couldn't build the same tiny house for $60,000 now.
We lived in the camper van for around 14 months, and it was a good reset, because when we sold our first house, we sold everything, including all our furniture. So we moved into the camper with just the clothes we brought and each other. Our son was only a year old when we were in the camper, so if anything, his stuff took up more space than he did.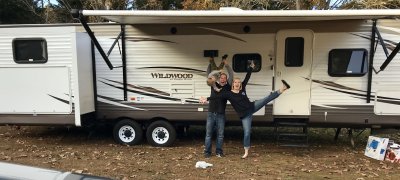 There was something freeing about living the most minimal life you could possibly have. The camper was that reset button for us to just be completely free of all the pressures that we'd had on us for such a long time.
We finished the tiny house shed build in February of 2020, just before the pandemic, so it was a good time to get out of the camper and into something bigger. But the shed sat in a wooded 8 acres so even the land felt very minimal.
Then, in early 2021, the housing market went crazy and we were watching people sell their houses for an insane amount of money. We had wanted to get out of debt, which we had achieved, and we had the shed and land, but we still didn't have the big chunk of money we would need for a construction loan for our dream house.
We figured out it would take us four or five years to save up for that loan, and that would be living in a one bedroom tiny house shed with a son who was three years old at that point. We didn't want to live there for another five years, with him staying in the same room as his parents.
So, we decided to put the shed up for sale on a whim, and got several different types of people interested in it. Some people liked the privacy of the land, others liked the tininess of the house. Some were attracted to the option of living in the tiny house and then building later. In the end, it sold just over a year after we moved in, in April 2021, for around $275,000. It has since been re-sold for $312,000.
We made enough off the sale that we were able to start building our dream home on 5 acres of land we then bought in the same county. That build started in June 2021 and took about eight months. The house is beautiful, it's our dream home.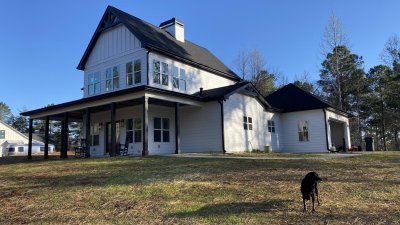 The porch is wraparound, we have a double sided fireplace in the living-dining area and the whole house is open and airy. We have three bedrooms and two and a half bathrooms, so it's not huge, but after four years of living really small, it feels big!
It's just the three of us, we don't need a huge space. Our builder said we have the perfect land for a basement, but we don't need one. That just means more stuff. We liked minimal living in the camper and the tiny house shed, so even though this is the dream house, we still wanted to keep it practical.
I'm 34 in September and Nick is 34 now. The next biggest thing is paying the house off. The land and property build cost around $435,000 and we did get a loan for some of it. We're trying to make double mortgage payments each month, so hopefully we will pay it off in 15 years or less.
There are a lot of people who will never own a house, will be paying it off after they're retired or can't retire because they still need to pay off their mortgage, which puts our situation into perspective. It's very humbling. It is nice to know that around the time we are 50, the house will be paid off.
Nick wants to be retired by the time he's 55, and he's always said that when he retires, he wants to go and be a door greeter at Home Depot, so it's really funny that life will likely circle back to Home Depot again!
A video of us that went viral recently is the same one that went viral in 2020. But two years ago it felt like it was the fact that we had a shed, a tiny home, which made it very popular. Now, I think it's more the sense of the story behind it and why we ended up being in the tiny house.
Our goal was eventually to get where we are today and have our dream home. What's unique is the way we got there. We know it was quite extreme, by no means do we think this is the solution for everybody. But it was our way. I think it has been inspiring for people to know there is light at the end of the tunnel.
Now people get to see our end goal, everything we went through and how weird we were for a couple of years. If our story just helps one person to live outside the box, do something different, and not be afraid to be a little different, I'd be happy.
Nick would love to do more house flips in the future, and after paying off our current mortgage, I think traveling more will be a goal. I want to see the world.
Meghan Lucido lives in Georgia with her husband Nick and their son. You can follow them on Instagram @our.ga.mountain.farmhouse.
All views expressed in this article are the author's own.
As told to Jenny Haward.