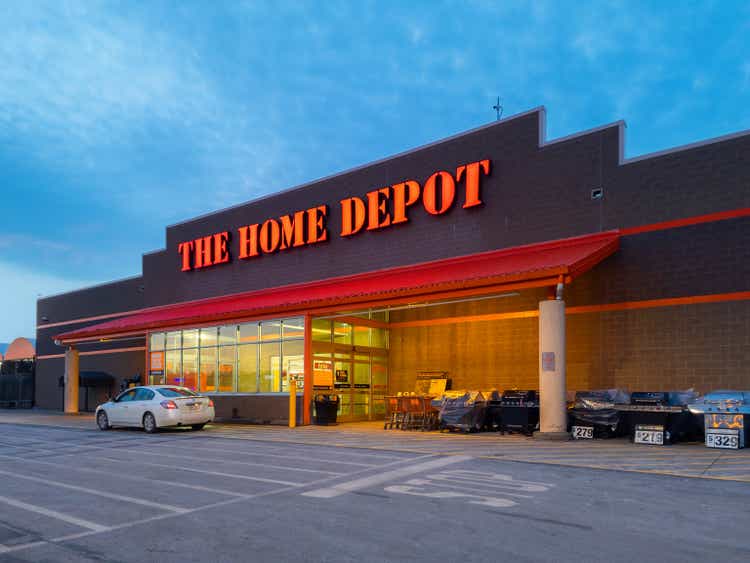 The Odds Are Stacked Against Home Depot (NYSE:HD)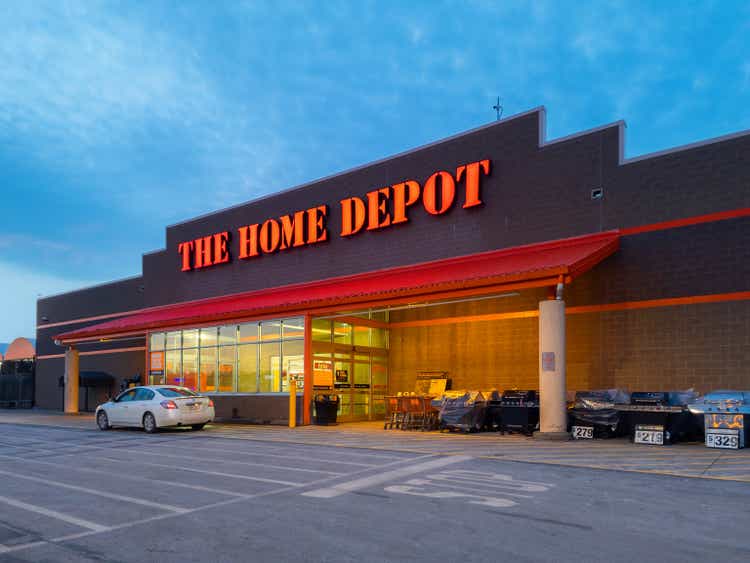 Home Depot (NYSE:HD) was one of the best winners during the COVID-19 pandemic. With consumers being stuck at home and cash-rich from stimulus checks, Home Depot began selling more goods for higher prices. However, the fading pandemic is bringing demand for Home Depot's products with it and this has caused the company's stock to drop over 30% YTD. Uncertainties regarding the future of disposable income and a higher savings rate could also cause the company to experience an even worse slowdown. Furthermore, the developing issues with the housing market will likely also cause trouble for the company's fundamentals. All of these issues may cause economy to head into a recession, leading to less spending on durable goods. Because of all of this, and the current share price of the stock, investors may want to reconsider jumping into Home Depot's stock.
The COVID-19 Pandemic Tailwinds are Fading
Home Depot saw huge growth during the COVID-19 pandemic due to lockdowns causing consumers to spend more time at home. The company added over $40 billion in sales from 2020-2021, which is equal to the growth achieved in the nine years from 2009-2018. Since consumers were spending more time at home, they now had the time and attention to take on more home improvement products. This led to more consumers going to Home Depot and buying the necessary supplies to complete their projects, therefore leading to increased sales.
The rise in lumber prices during the pandemic also allowed Home Depot to increase sales dramatically. From May 2020-May 2021, the price of lumber increased by over 400%.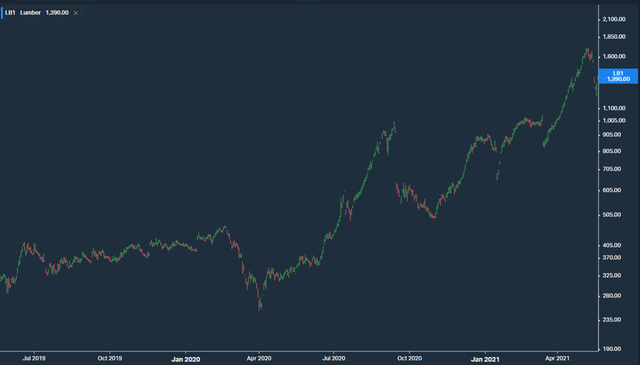 The reasoning for this is due to changes in both demand and supply. As stated previously, the demand for lumber increased heavily due to consumers spending more time at home. Lumber mills saw a huge increase in demand that had to be fulfilled, therefore prices were increased to compensate. On top of the large rise in demand, suppliers were also being restricted from issues caused by the pandemic. A rising worker shortage during the pandemic caused mills to be understaffed and unable to reach the volume needed to fulfill their demand. Lumber mills also had to raise wages due to the higher demand causing an increased workload. The even lower-than-normal supply combined with higher wages were then passed on to buyers, which were stores like Home Depot and Lowe's (LOW). Home Depot compensated for these higher costs by passing them on to its shoppers. In some cases, Home Depot charged 4x the normal price for some products. This caused sales to become inflated and further push the fundamentals higher.
Now that the pandemic is fading, these tailwinds are fading too and we can already see a slowdown for Home Depot. From 3Q19-3Q20, the company's sales grew by 23.2% Y/Y. In its most recent quarter, sales only grew by 3.8% Y/Y. This is partially being caused by lumber prices dropping heavily, with its price hitting a 9-month low earlier this month. Furthermore, more workers are returning to the office, taking away time for home improvement projects and lowering the demand for Home Depot's products. Both of these factors will likely continue to contribute to a slowdown of Home Depot's business, as the stock is already down over 30% YTD.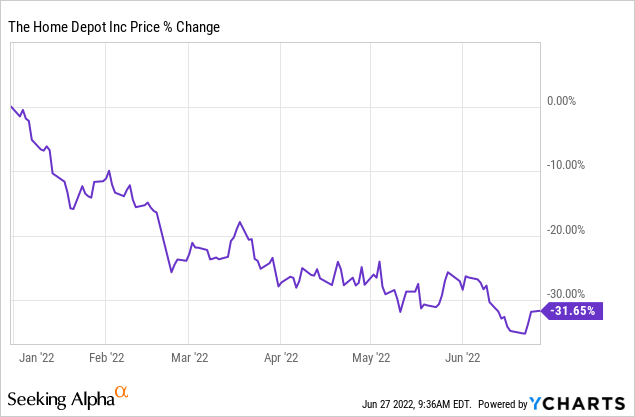 Future Uncertainties with Disposable Income and Higher Savings Could Cause Trouble
The rise in disposable income during the pandemic was another factor that contributed towards Home Depot's growth. Now, disposable income is on the decline in this could severely affect Home Depot. Since home renovations and many of Home Depot's products are on the pricier side, a decrease in disposable income discourages consumers from making these purchases and therefore hurting the company's fundamentals. This happened during the Great Recession when Home Depot's revenue dropped along with disposable income. If disposable income continues to drop, Home Depot will likely see a further slowdown in business.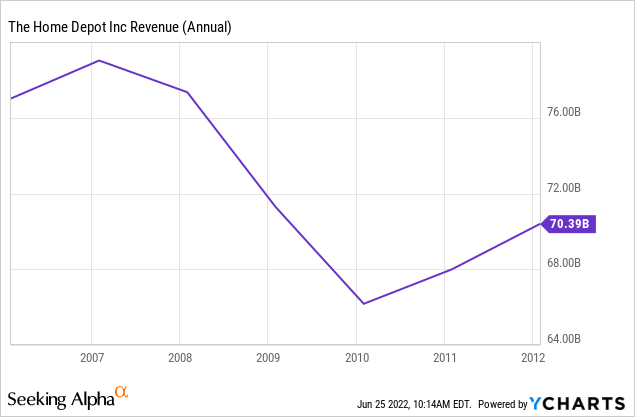 Many consumers are also saving much more than in previous years. Higher savings discourages consumers from making big purchases of Home Depot's products. Therefore, consumers are currently much more likely to save their money instead of renovating their homes or buy new appliances. Once again, this will directly hurt Home Depot's core business.
Issues with the Housing Market Could Lead to Lower Demand for Home Depot's Products
Home Depot's business model also relies on new houses being built and sold as builders and consumers need to renovate, paint, and furnish the homes with appliances. Housing starts in recent times have recently been on a sharp decline. From April to May, housing starts are down roughly 14.5%. Less homes being built means less lumber, appliances, paint, and other products being purchased from Home Depot. As long as these items are not being purchased, Home Depot will likely continue to struggle. Similar developments occurred during the Great Recession, where housing starts dropped by 79% and the company's revenue decreased by 15%.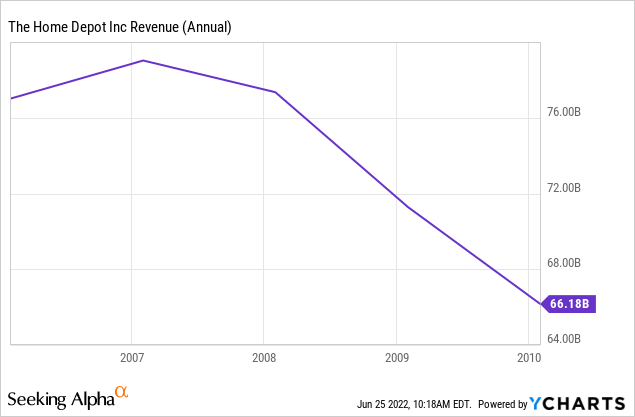 Existing home sales are also on the decline. Since the beginning of this year, existing home sales are down about 16.6%. This is likely due to rising home prices causing them to be out of many consumers' price ranges. Again, this will likely contribute to a continued slowdown of Home Depot's business. When a consumer buys a new home, they often need to replace appliances, renovate, and do other work on their new house. Since existing home sales are on the decline, less consumers will be doing these activities. This means they have no reason to go to Home Depot, directly harming the company's fundamentals.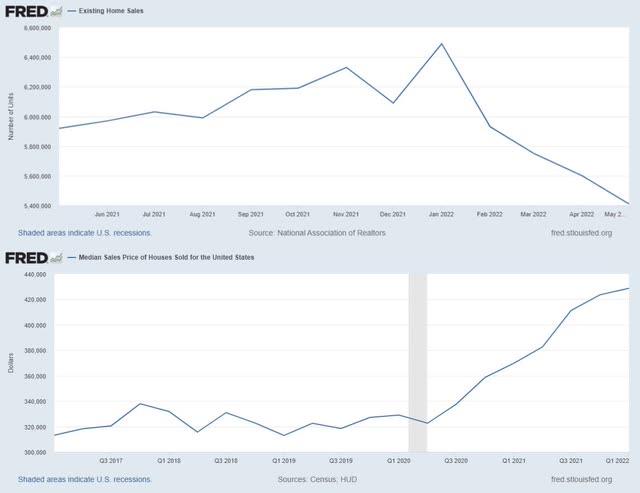 Rising mortgage rates will also likely contribute to lower home sales and further hurt the company's performance. Since the beginning of 2021, 30-year mortgage rates have increased by about 2.2x to 5.81% and caused consumers to buy less homes. With less consumers buying houses, Home Depot will likely see less demand for its products. Appliances such as refrigerators, washing machines, dryers, and more will all see less demand because consumers do not have a home they have to furnish. Furthermore, consumers would be buying less lumber and paint because they do not have a house to work on.
With inflation soaring, home prices at extreme highs, and home sales decreasing, more investors are projecting a recession is coming soon. If a recession comes, it would likely cause difficulty for Home Depot. This is because durable goods often see a huge decrease in consumption during a recession, which dropped by 16.7% during the Great Recession. This is a problem because Home Depot primarily sells durable goods. If these products see a decrease in consumption, less consumers would be shopping at Home Depot. This is another direct hit to Home Depot's fundamentals and could push the stock even lower.

HD Stock Valuation
When finding a fair value for Home Depot's stock, I used both a relative valuation and DCF. For the relative valuation, I combined consensus analyst estimates for FY22 with the average valuation multiples for EV/Revenue, EV/EBITDA, P/E, and P/S price targets of Home Depot and its competitors. After adjusting for the company's cash and debt, a fair value of $238.20 can be calculated. This means the stock could fall by about 13.85%.


For the DCF, I projected out future revenue by using the company's average annual growth rate in revenue (excluding pandemic-related growth) of 7.84%. I then projected out future net income by multiplying the projected revenue by the company's average net income margin of 9.93%. After this, I found future free cash flow by multiplying the company's projected net income by its average FCF/Net Margin ratio of 104.68%. For the discount rate, I used 10% to give a nice premium over AAA corporate bonds. After discounting the future free cash flows, adjusting for net debt, and dividing by the number of shares outstanding, a fair value of $206.34 can be calculated. This gives the stock an implied downside of 25.37%.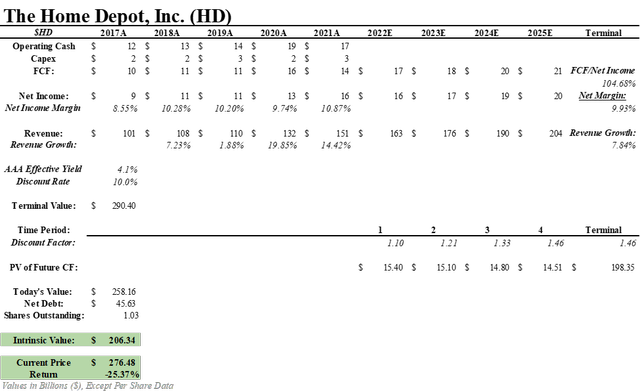 Risks to Bearish Thesis
The biggest risk to this bearish thesis is if the housing market can recover quickly enough for Home Depot not to suffer. This would lead to consumers continuing to buy lumber, appliances, and other supplies needed to renovate a home from Home Depot. However, the odds are stacked against the company as home sales, mortgage rates, and other factors are all trending in the wrong direction.
Furthermore, home prices continue to rise despite these factors causing a weak market. As long as this happens, Home Depot will have less demand from consumers due to them not having a reason to buy its products.
What Does This Mean for Investors?
Home Depot was one of the best picks during the COVID-19 pandemic due to consumers being stuck at home and cash-rich from stimulus checks. However, many of these tailwinds are fading along with the pandemic, causing the company's fundamentals to see major slowdowns. Furthermore, uncertainties regarding consumers' disposable income and a higher savings rate could slow the company's fundamental down even more. The housing market is also a driving factor for its business. With home prices at extreme highs and mortgage rates rising drastically, home sales are on a steep decline. This is causing less homes to be renovated and, in turn, lowering the demand for Home Depot. All of these events could also lead to a recession which would likely cause the consumption of durable goods to fall. Due to all of this, as well as the current price the company's shares are trading at, I will apply a Sell rating to Home Depot's stock at this time.