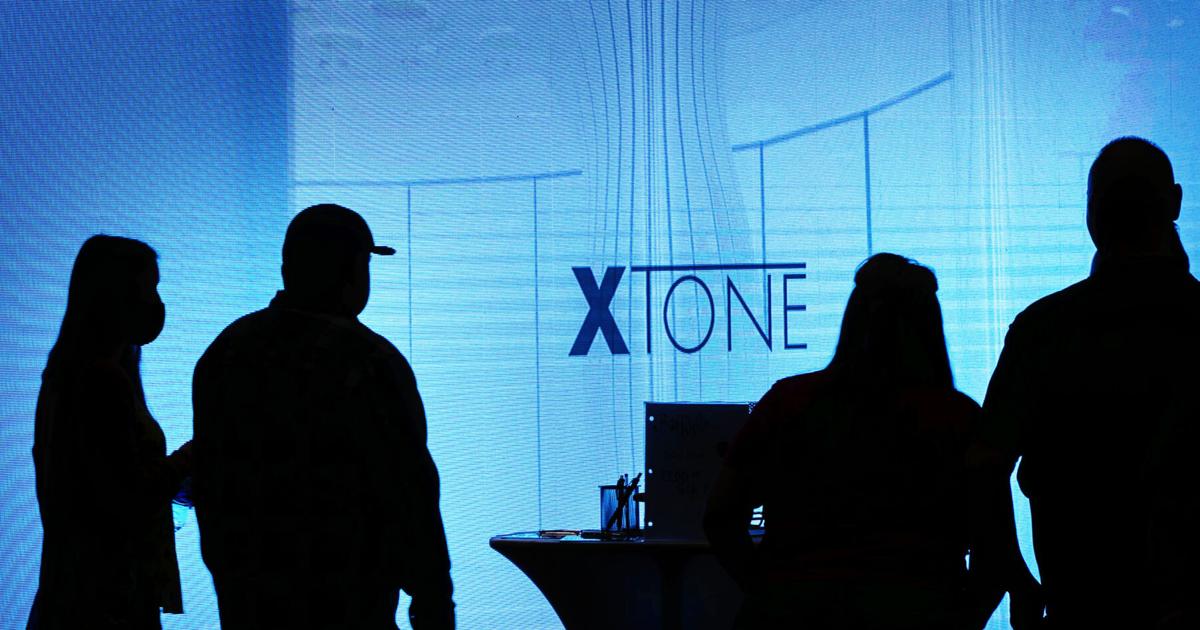 Resilient homebuilders gather again at Home Show | Local News
In the bustling lobby of the Santa Fe Community Convention Center, crowds pored over Lego designs by local children and waited to buy tickets while talking about what projects they hoped to advance.
A couple talked about their hunt to find a reliable contractor who wouldn't disappear on them. Others spoke of solar energy upgrades and updates to the home office they spent too much time in during the past few years.
Meanwhile, in the exhibit hall Saturday a 10-foot LED screen played artsy videos reminiscent of a perfume ad that pulled together the existential angst of modern life and new countertops. A young woman twirled electric orbs like fire poi to entice visitors to inquire about home upgrades.
It was a seemingly triumphant return of the Santa Fe Home Show & Remodelers Showcase, which was one of the first large-scale events canceled because of COVID-19 in March 2020. In fact, Gov. Michelle Lujan Grisham's order closing most large gatherings in the state was issued less than a day before the 2020 event.
"We had to learn like everybody else — like families or anywhere you work — we had to learn to adapt," said Bill Deuschle, managing member of Fabu-WALL-ous Solutions, a Santa Fe construction firm. "We all had to learn the new way and it's been constantly changing the past two years."
Deuschle, a well-known and affable decadeslong veteran of the building industry, can exhaustively detail the myriad of challenges faced by firms such as his, including learning to deal with pandemic protocols, extended materials delays, labor shortages and competition, supplier shortages and manufacturing setbacks.
"The building market in Santa Fe and a lot of other places, it went up exponentially with remodels and building," he said.
As Deuschle said that new demand for construction and remodeling services led to new challenges, stress and frustrations for builders hoping to keep up, Valerie Montoya, general manager of Boss Builders, nodded in agreement.
"It's been humbling, with the pandemic and things happening in other parts of the country, Santa Fe has a lot of people moving here from other states," said Montoya, who serves also as Santa Fe Home Builders Association president. "That's been part of the process, too."
She has seen some residents who moved from larger markets having to adjust to Santa Fe's ways of doing things, including local sourcing. It's possible that the influx of new populations in the local scene could have a long-term impact on the local home design vernacular.
"Some people want that Southwestern style, and a lot of people want modern and contemporary," Montoya said. "So I feel like it's important, and it's nice when we can do the big mixture."
The Santa Fe Area Home Builders Association, which puts on the Home Show & Remodelers Showcase, has implemented a series of fireside chats during the show providing information on new technologies, products and services.
"I think we're really dabbling with the future at this home show," said Santa Fe Home Builders Association Executive Officer Miles Conway. "What you're seeing come together here is like these amazingly active community groups and organizations with the building industry."
Even as the pandemic contributes to continued hectic times, he said, builders are being creative in developing solutions to meet future challenges.
"There's a lot of excitement in this room. There's a lot of youth in this room," Conway said. "Some of the most imaginative new businesses in town — young people with hustle."
The Santa Fe Area Home Builders Association also announced winners in its annual Remodelers Showcase.
Excellence in Remodeling: Praxis Design Build.
Green Innovation: Love Builds Inc.
Best Whole House Remodel: D Maahs Construction.
New Mexico Heritage Award: Zachary and Sons.
Most Dramatic Transformation: Tierra Concepts.
Extraordinary Remodeling Rescue: Fabu-WALL-ous Solutions.
Best Bathroom Remodel: Arpad Builders.
Best Kitchen Remodel: Modern Design + Construction.