Holiday Gift Ideas For The Whole Family!
Did Christmas come early this year? Nope! But our annual gift guides did (by a smidge, at least). So, without further ado… let's dive into the 3 categories that we cover every year, which are all here in just one post:
Gift Ideas for Grown-Ups
Gift Ideas for Kids
Gift Ideas Under $12.99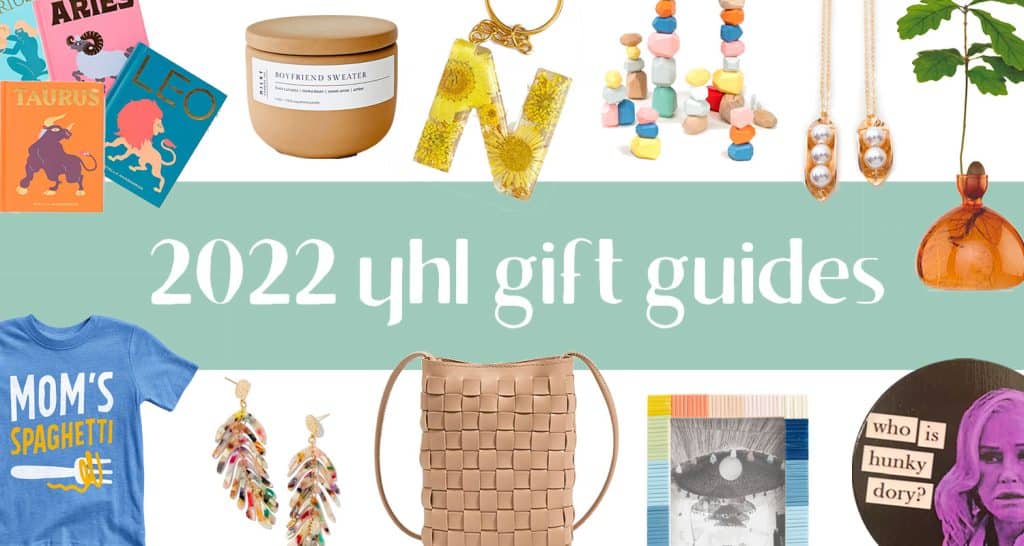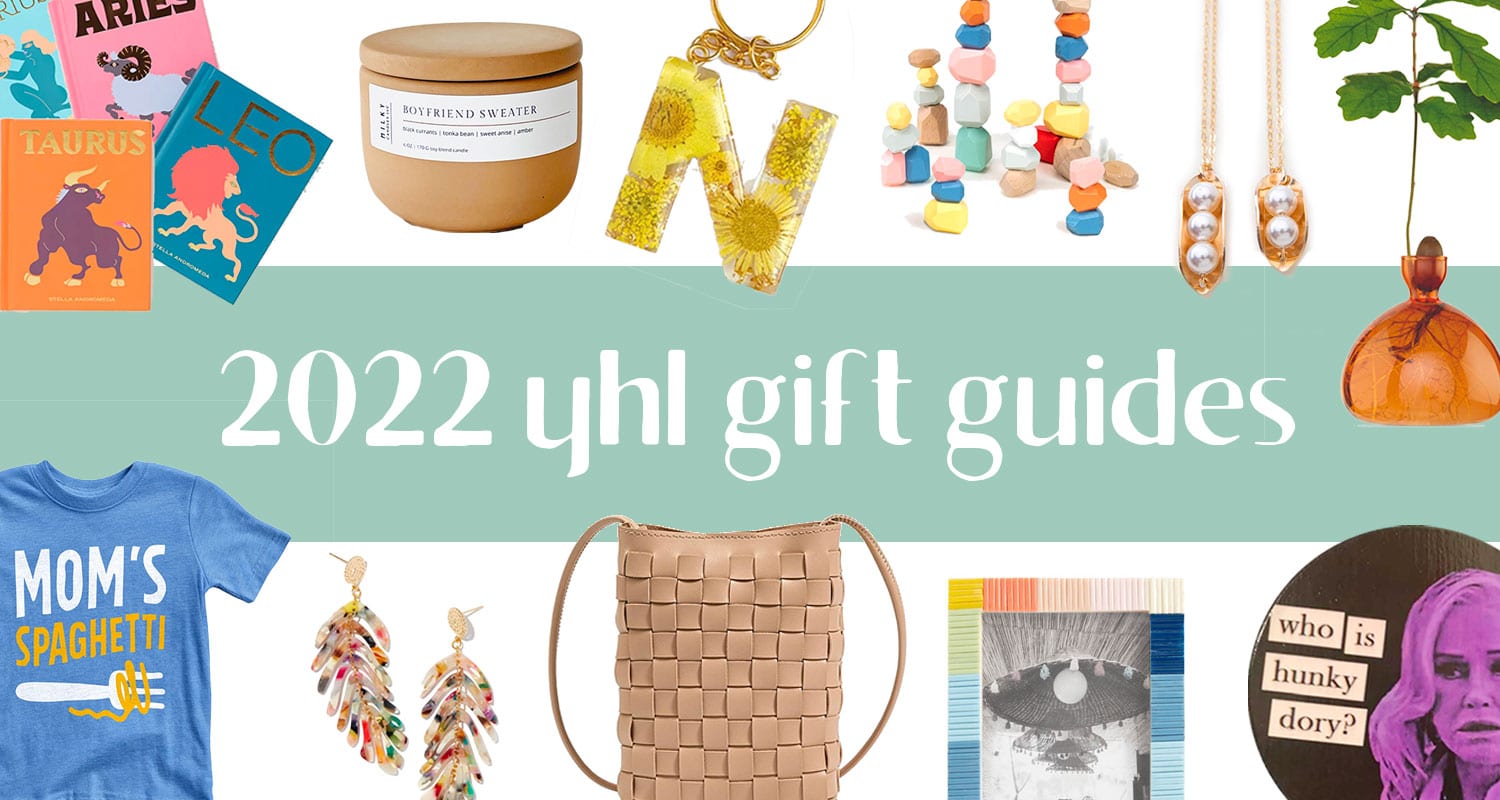 It's probably helpful to mention that nothing was sponsored/gifted in order to get into this guide. If something's in here, we just genuinely love it (and in many cases, already own it and can vouch for it). Each list also includes some things that we plan to give a friend or family member this year, and a few things we'd love to receive (wink, wink – please consult this post, John).
Quick note: There aren't just gifts that are under $12.99 on the last gift guide. For example, there are 4 gifts that are under $12.99 on the kids list as well (prices are based on whatever they were at the time of writing this).
Gift Ideas For Grown Ups
Here's what we're loving this year, either because it's something we have already bought and loved, or something we're getting this year for friends & family (or hoping to find under the tree ourselves 😉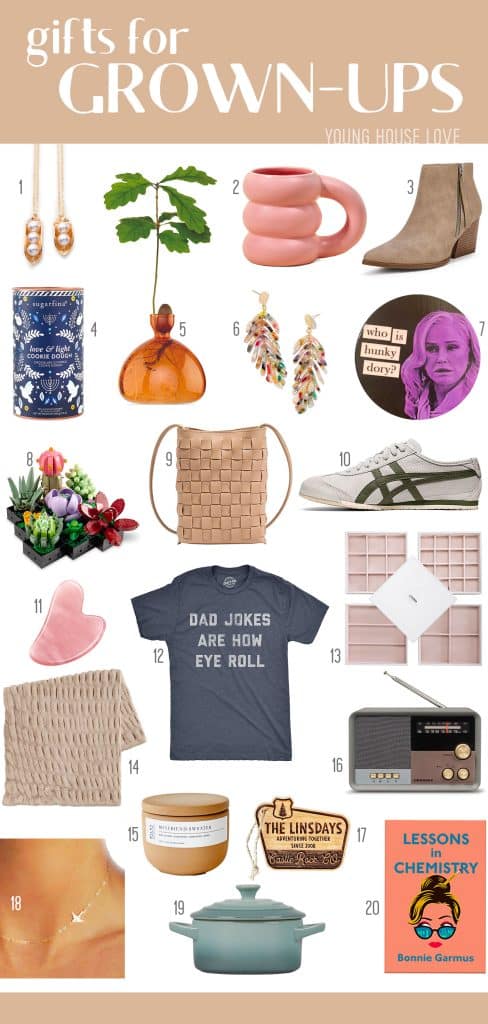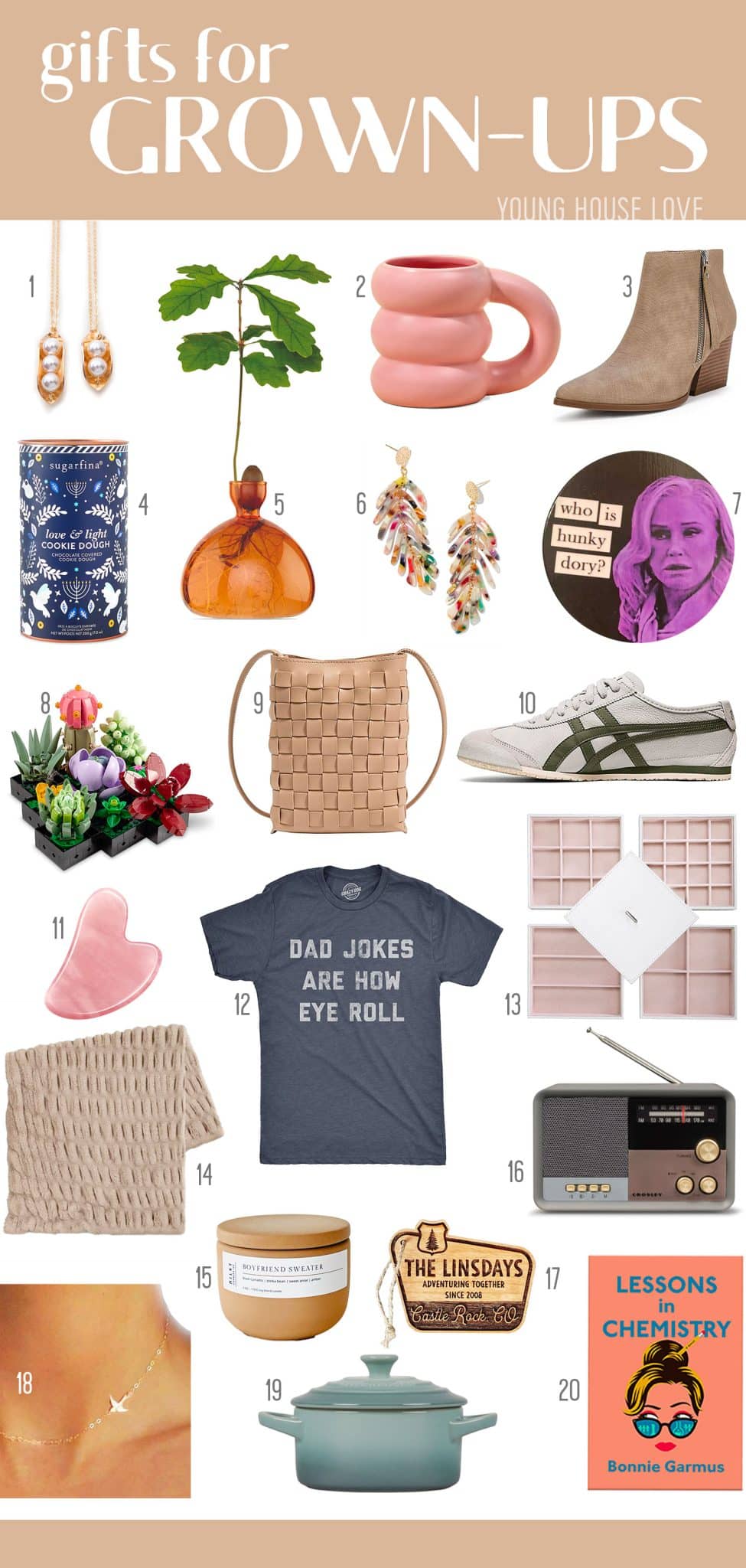 1. Peas In A Pod Necklace ($33+)
You can customize the color, count, and metal finish of these cute pendants, which would be great for a mom or grandmother!
2. Cloud Mug ($22)
The shape and color of this fun modern mug would be a nice anchor to a coffee, tea, or hot cocoa themed gift. Heck, you can also just fill it with candy or cheese.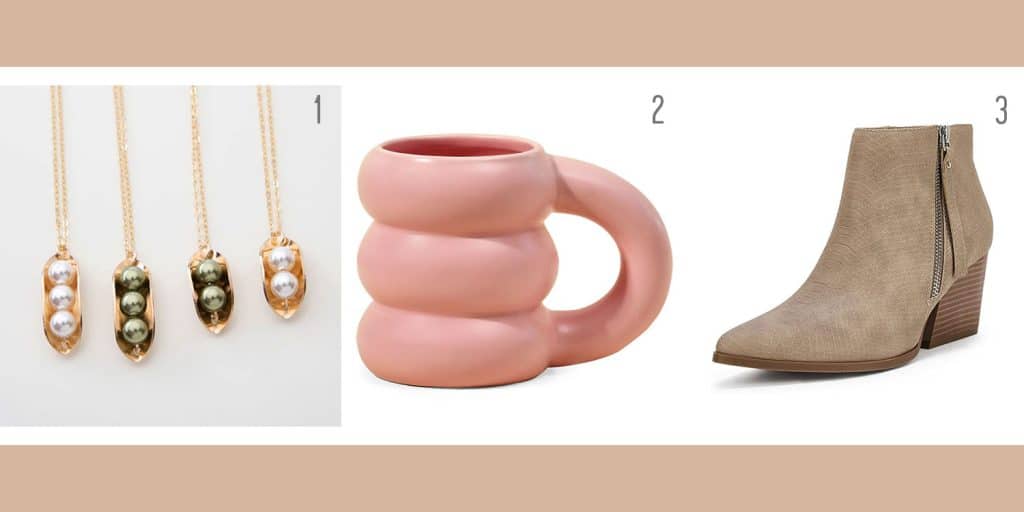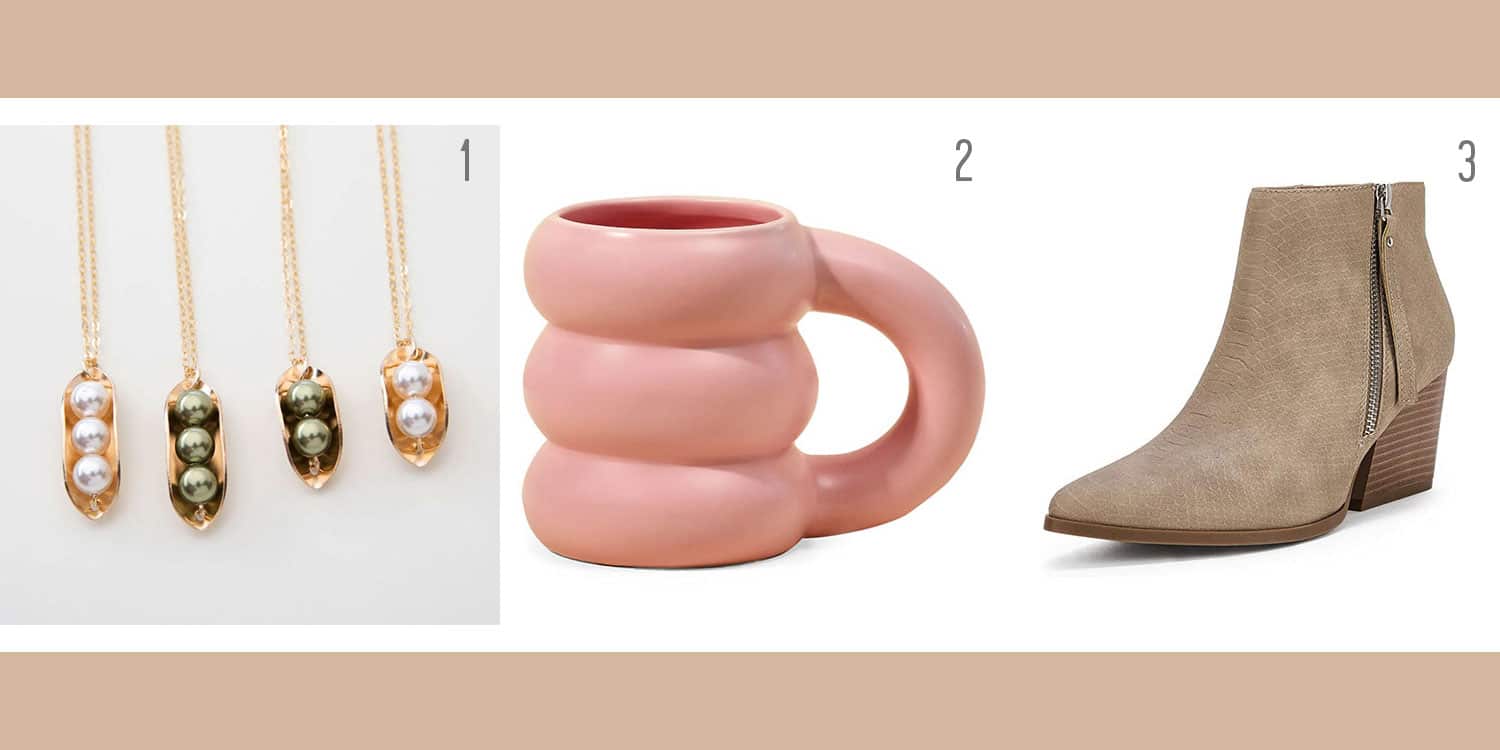 3. Chunky Heel Boots ($43)
I bought these boots in khaki recently & love them! They're SO comfortable, the height is great with jeans, and they also work with a skirt/dress. They often have a checkout coupon to save even more!
4. Kosher Cookie Dough Treat ($22)
I feel like cookie dough is a crowd-pleaser and these yummy treats come in a cute canister that I know my Grandma Vicki would've loved to keep forever.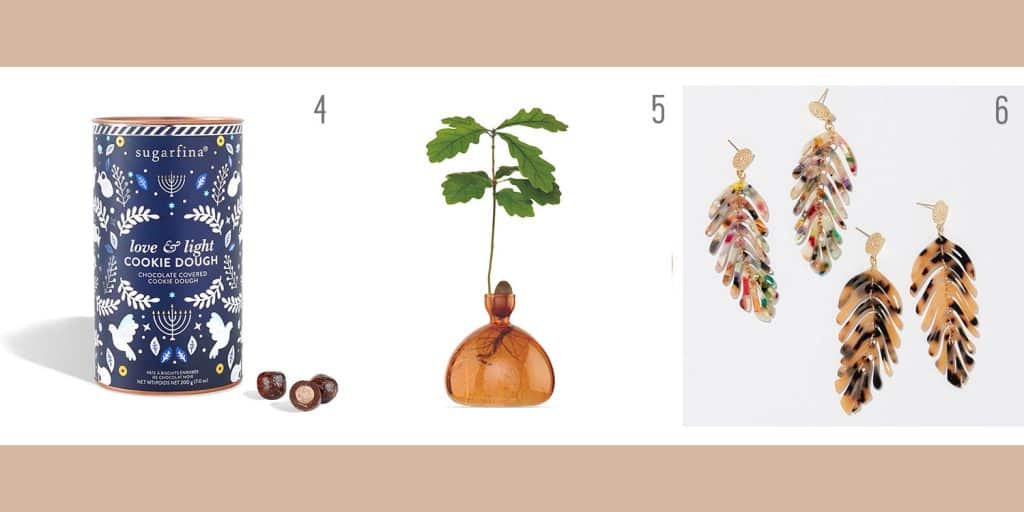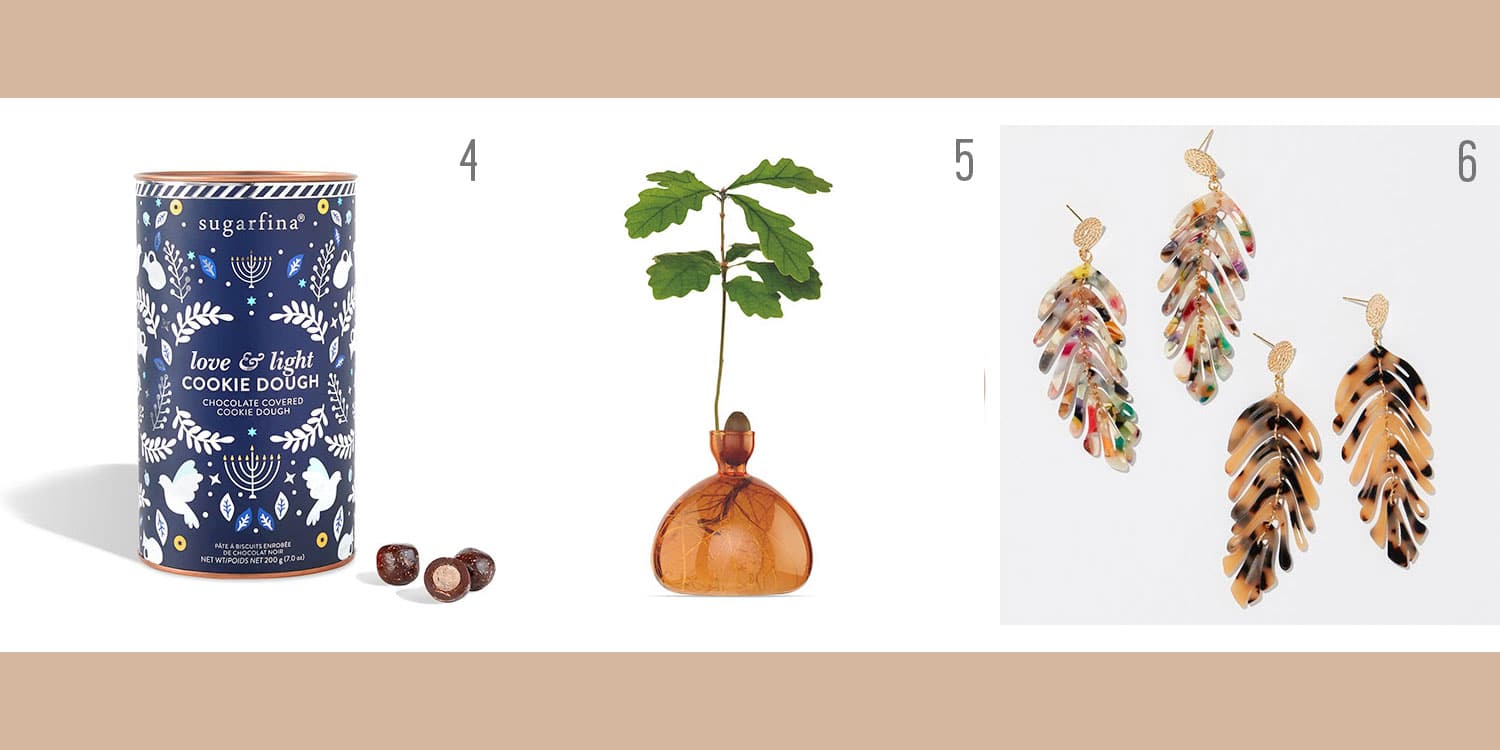 5. Acorn Vase ($32)
Pop an acorn into this vase and watch it grow! It comes in a bunch of colors (the pink one is so good too!). Such a great gift idea for any plant lover (or squirrel?).
6. Monstera Earrings ($32)
I'm in love with everything that this Black-owned business creates, and I'm particularly torn about which color of these resin monstera leaf earrings I love most. Might need both!
7. Housewives Ornaments ($14)
Make the Real Housewives fan in your life LOL with a favorite quote or two. I own two of these ornaments (this one & this one) and you can also get them as coasters or magnets.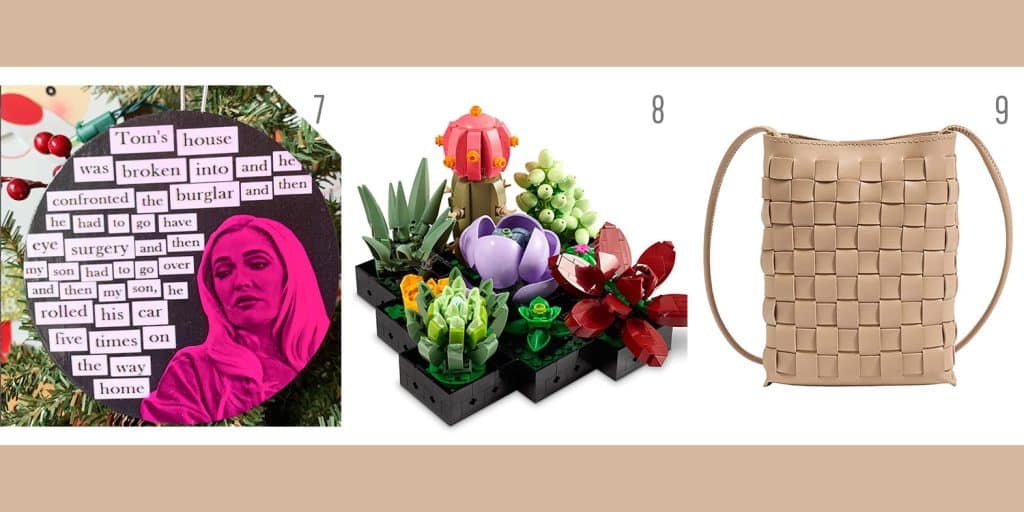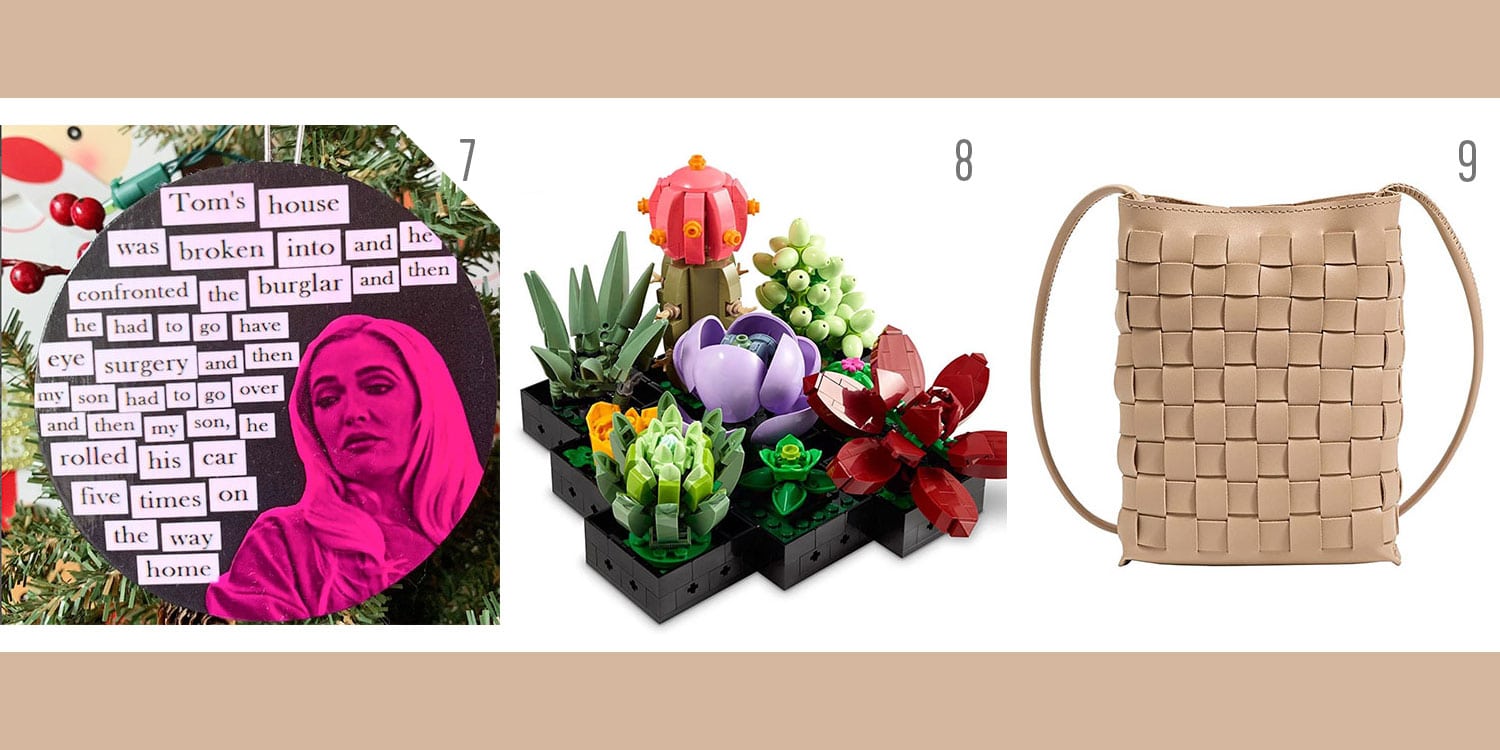 8. LEGO Botanicals ($40)
This super cool succulent LEGO set is one of those gifts that seems random but would be so fun to put together & have forever (without worrying about killing it). Older kids might love it too!
9. Woven Crossbody Bag ($33)
I bought this small crossbody purse & it perfectly fits a phone & a credit card. It looks much more expensive than it is, comes in other colors, and the strap is adjustable (just retie the knot inside the bag higher up).
10. John's Favorite Shoes ($100)
Of all of the shoes John has ever owned, these sneakers have always been some of his favorites. I just got him a new pair for his birthday (they come in lots of other colors too).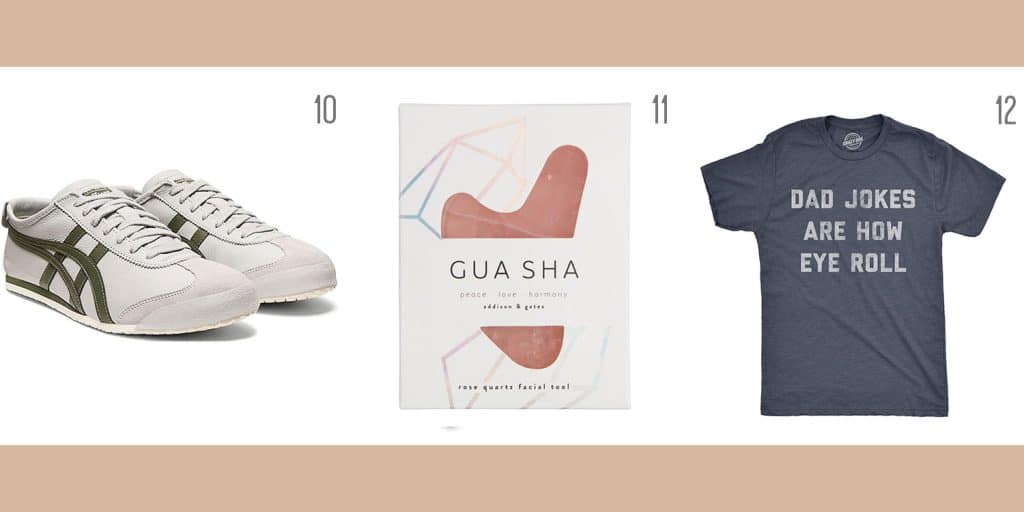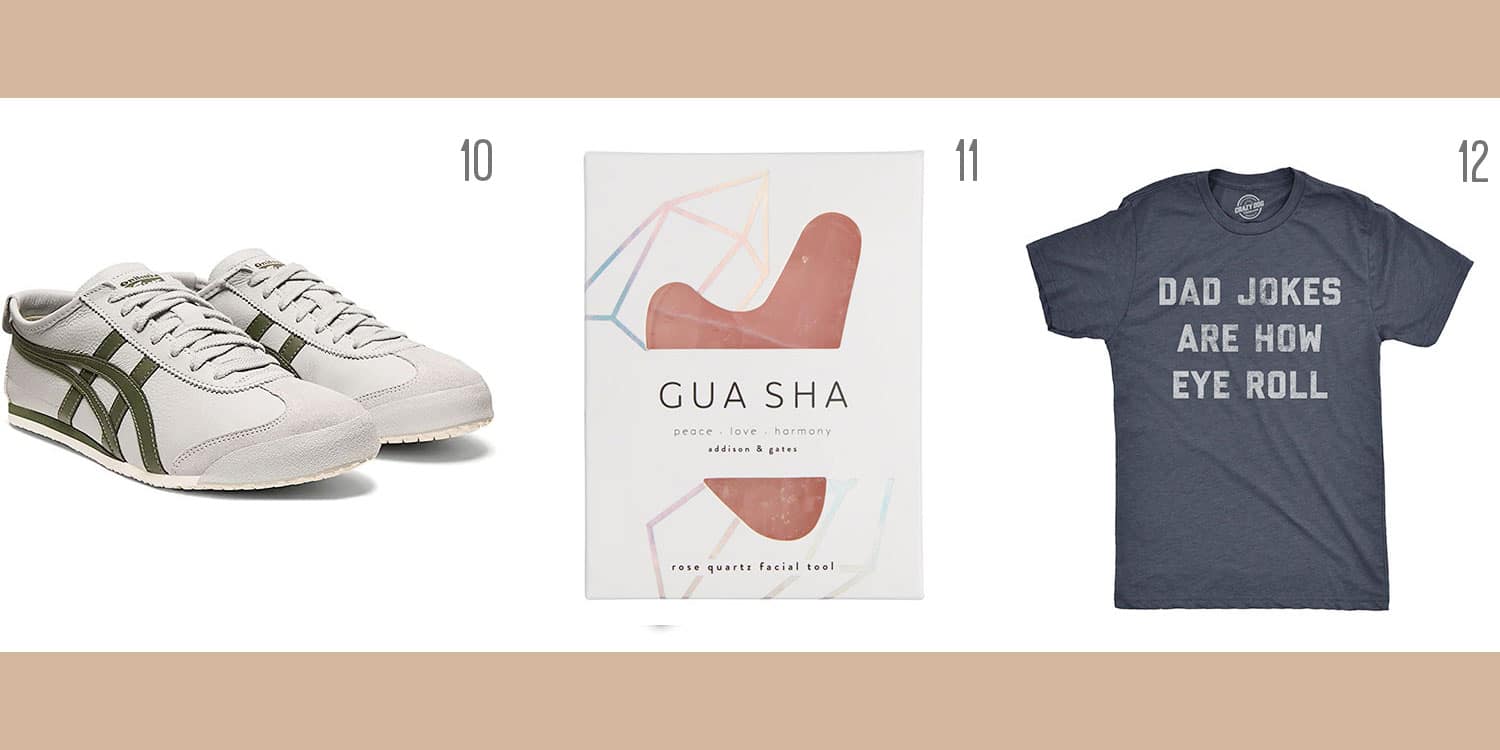 11. Facial Massage Tool ($15)
I love a good Gua Sha for massaging my face in the morning and this one comes in two great colors. Feels so good. Pair it with a face mask or some fluffy slippers for a relaxing treat.
12. Dad Joke Shirt ($17)
What do dads like more than a graphic tee? This graphic tee that celebrates them in all of their pun-tastic glory. I really think John needs one ASAP.
13. Stacked Jewelry Organizer ($36)
Our daughter has this stacking jewelry organizer and I do too! You can stack them however you'd like, and the soft pink velvet-like interior is even prettier in person.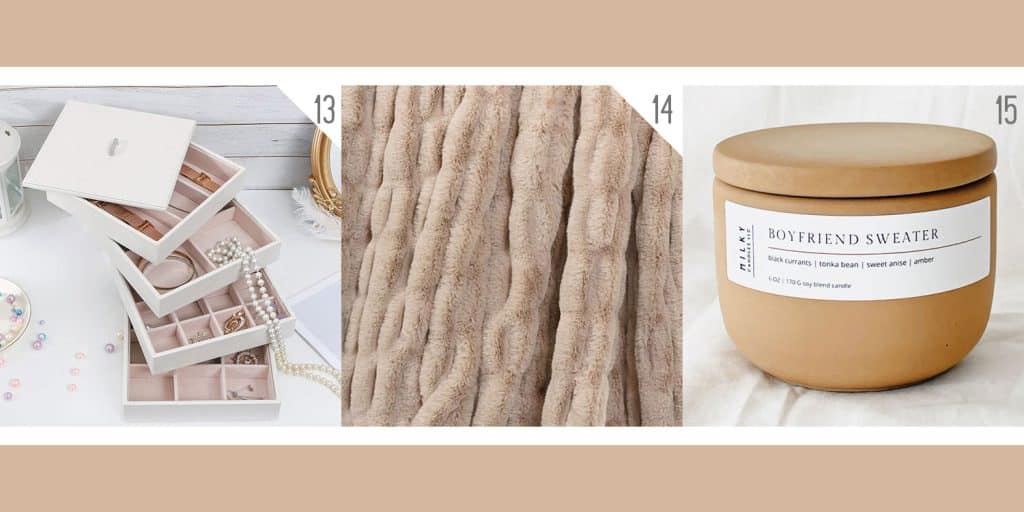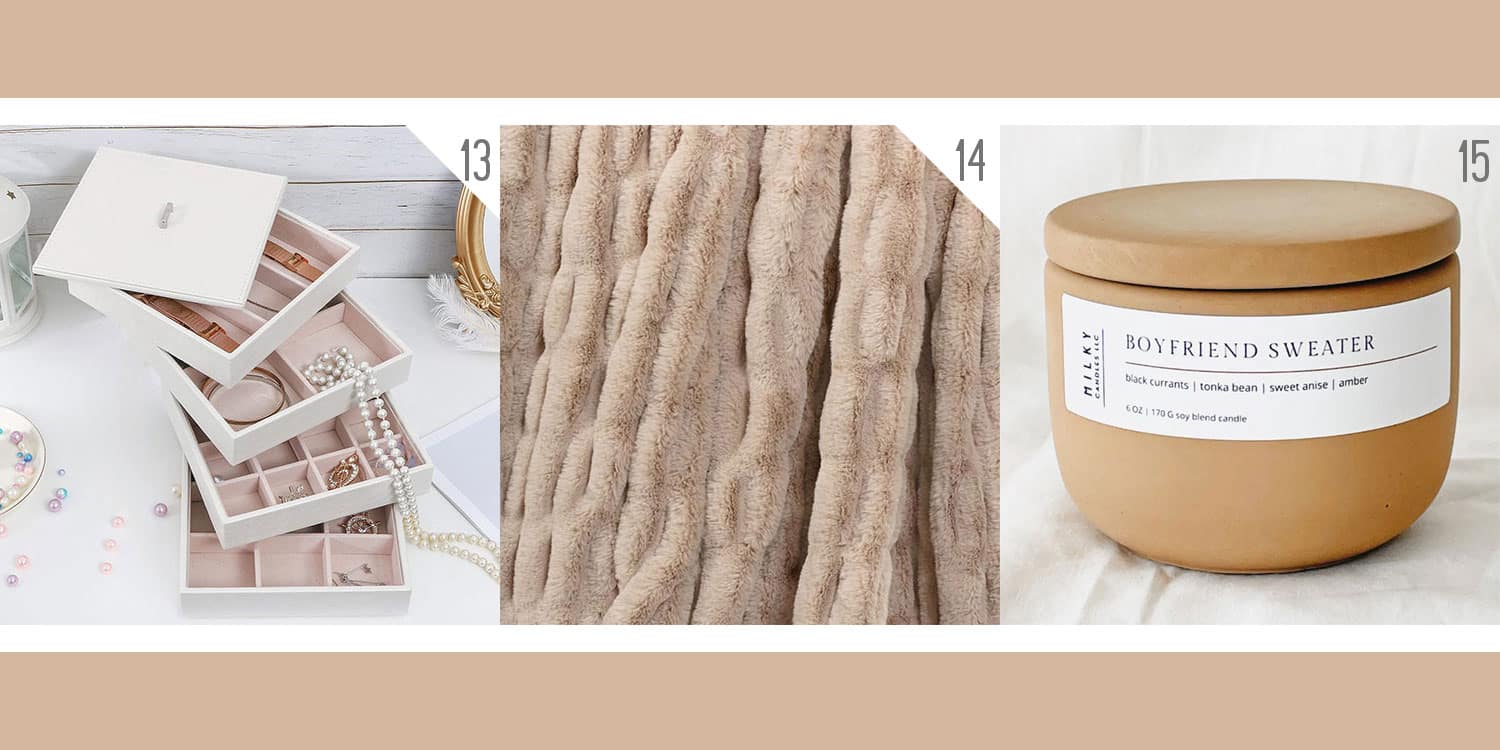 14. Super Cozy Blanket ($30)
We have this faux fur blanket in our sitting room on the couch and the whole family spends time cozying up to it EVERY. DAY. As I write this post, Penny's sleeping on it.
15. Boyfriend Sweater Candle ($29)
This highly recommended Black-Owned business has great scented candles that come in these gorgeous containers. Boyfriend Sweater & Braided Blanket are calling my name!
16. Retro Bluetooth Radio ($40)
This looks like a vintage AM/FM radio, but it connects to your phone via Bluetooth for some great modern sound. Comes in 3 colors too!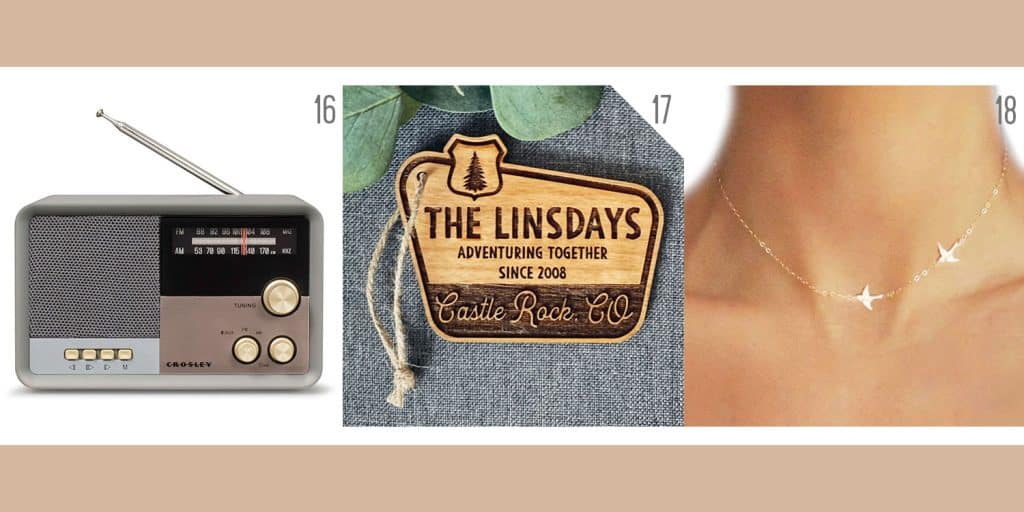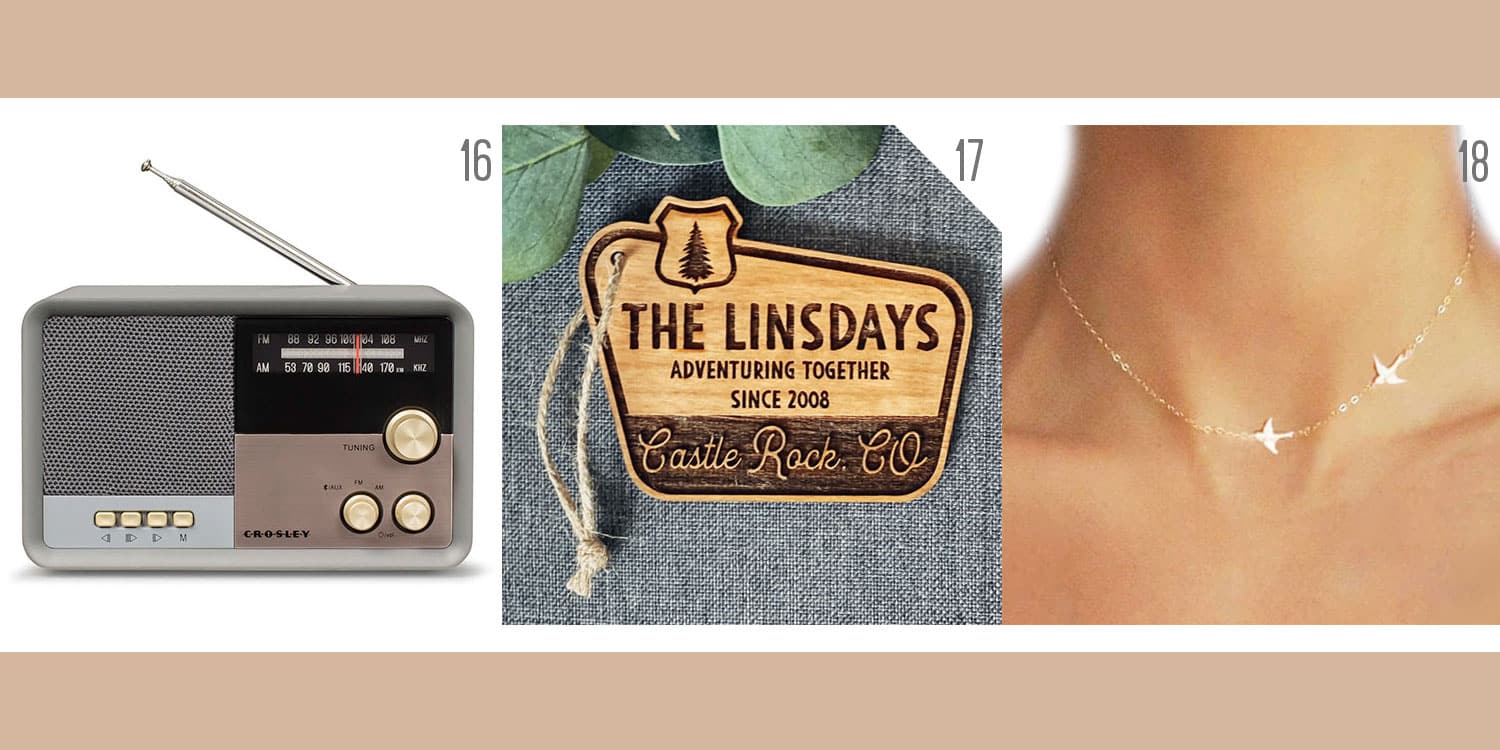 17. Custom Adventure Ornament ($16)
We just ordered one of these personalized park ornaments for a certain National Park-loving couple in our lives. It feels super customized because you pick the name, date, and location.
18. Bird Necklace ($17+)
I love delicate jewelry like this small bird necklace, which you can personalize (by choosing the number of birds & the finish). Great for representing kids/grandkids & so minimal & beautiful.
19. Mini Round Dutch Oven ($22)
This little Le Creuset Crocette is their one-serving pot that's about $250 less than most of the others they make (and currently on sale!). Comes in lots of colors!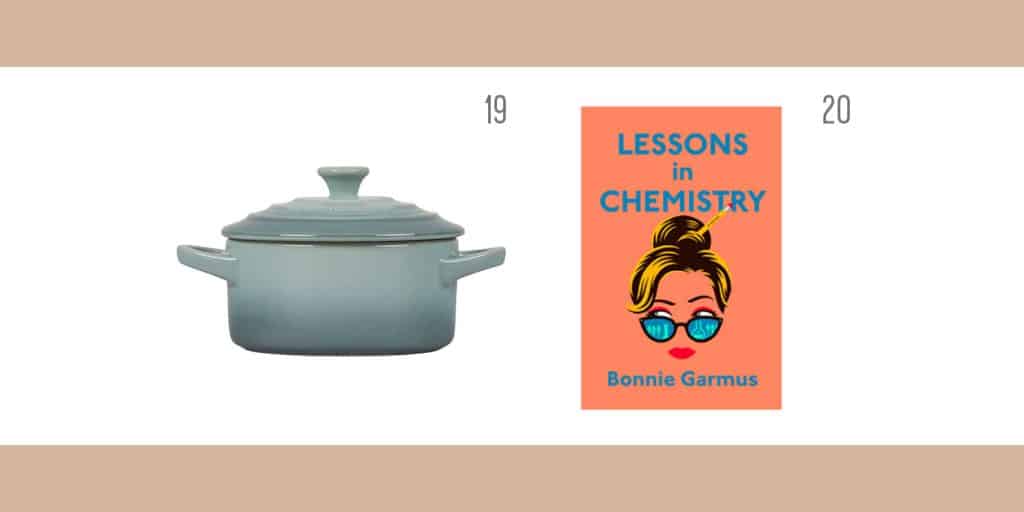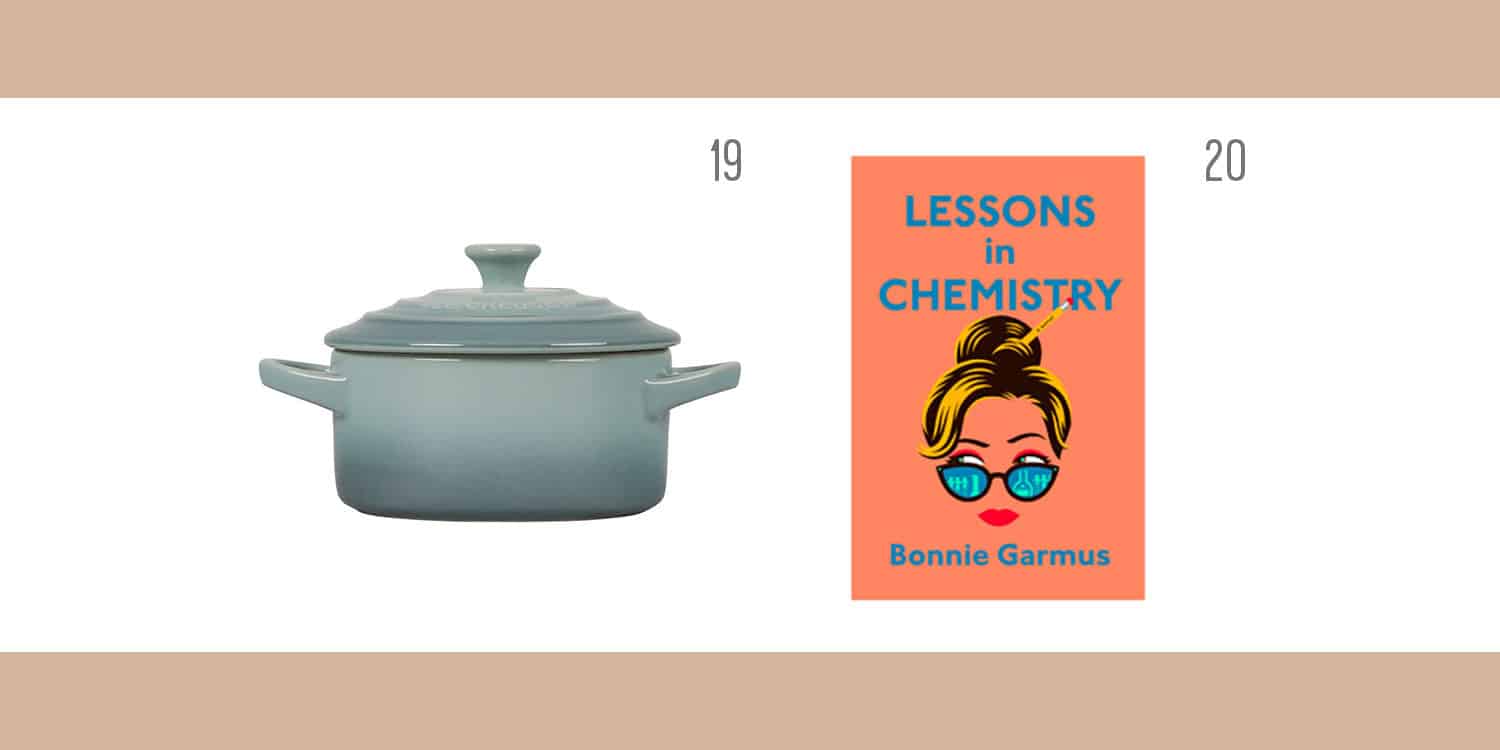 20. Lessons In Chemistry Book ($19)
This is easily one of my favorite books of 2022. Hands down! Empowering & beautifully told. I also loved this other book. Top two of the year for sure.
Gift Ideas For Kids & Tweens
This list is always fun to put together, because it's a combination of appreciating the things our eight-year-old & twelve-year-old already have and love (longterm! to earn a spot here it's not just a day or two of playing with them). And other items on this list are things we're giving them this year, or considering for other little friends & cousins.
1. Solar Printing Kit ($14+)
Our kids had lots of fun with solar paper this summer (we experimented with flowers, shells, leaves, and even tiny toys!), so this solar printing kit is a great gift for the little scientist, plant-lover, or artist on your list.
2. Shave Ice Maker ($40)
One of our kids' friends asked for a shave ice machine for his birthday & it was THE BIGGEST HIT at his party. All of the kids (aged 7-13) crowded around & loved picking their favorite flavor mix.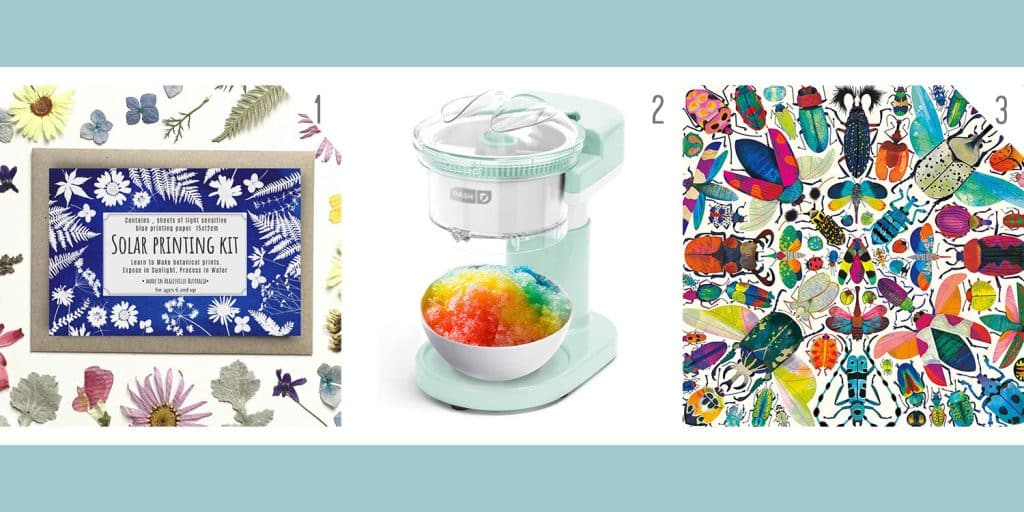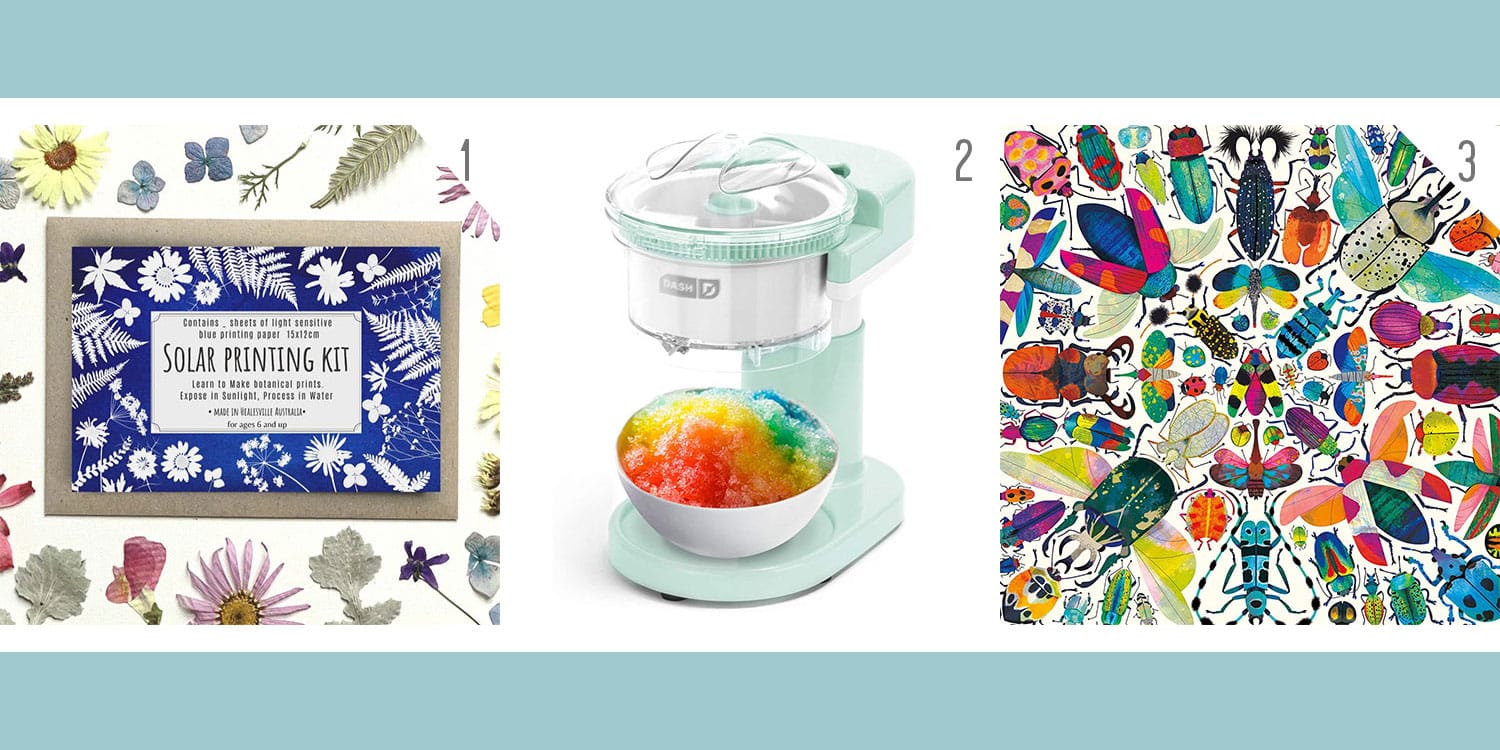 3. Beetle Puzzle ($14)
These 500-piece puzzles are one of our favorite brands for the whole family to enjoy (they have so many others that we've also done & loved). And, well, have you ever seen prettier bugs?
4. Rainbow Craft Kit ($12+)
This shop is full of beginner craft kits for kids, featuring tons of fun colors, and even the option to personalize them with engraving. The jellyfish kit stole my heart too.
5. Crystal Hedgehog ($15)
This fun science kit produces a hedgehog covered in crystals. It's like a Chia Pet, but more magical. Comes in 4 colors too!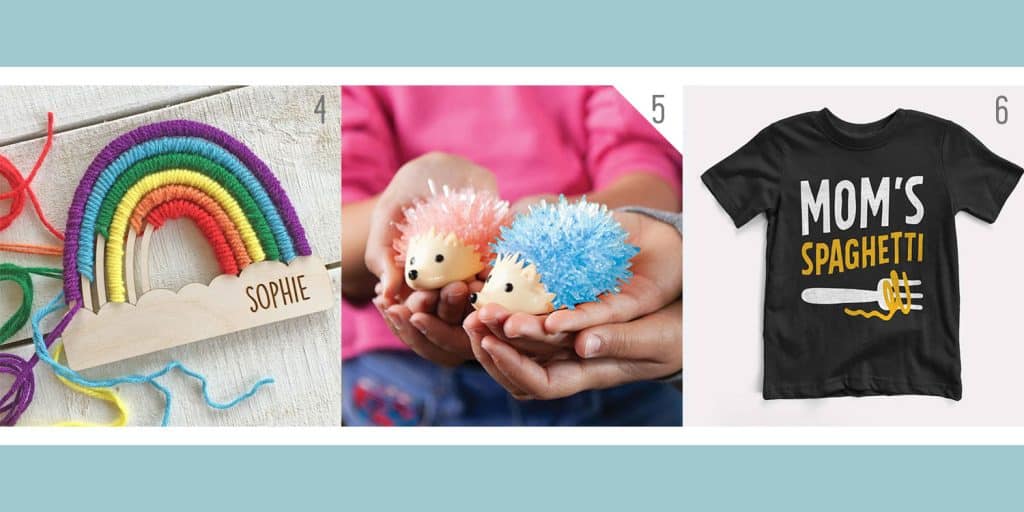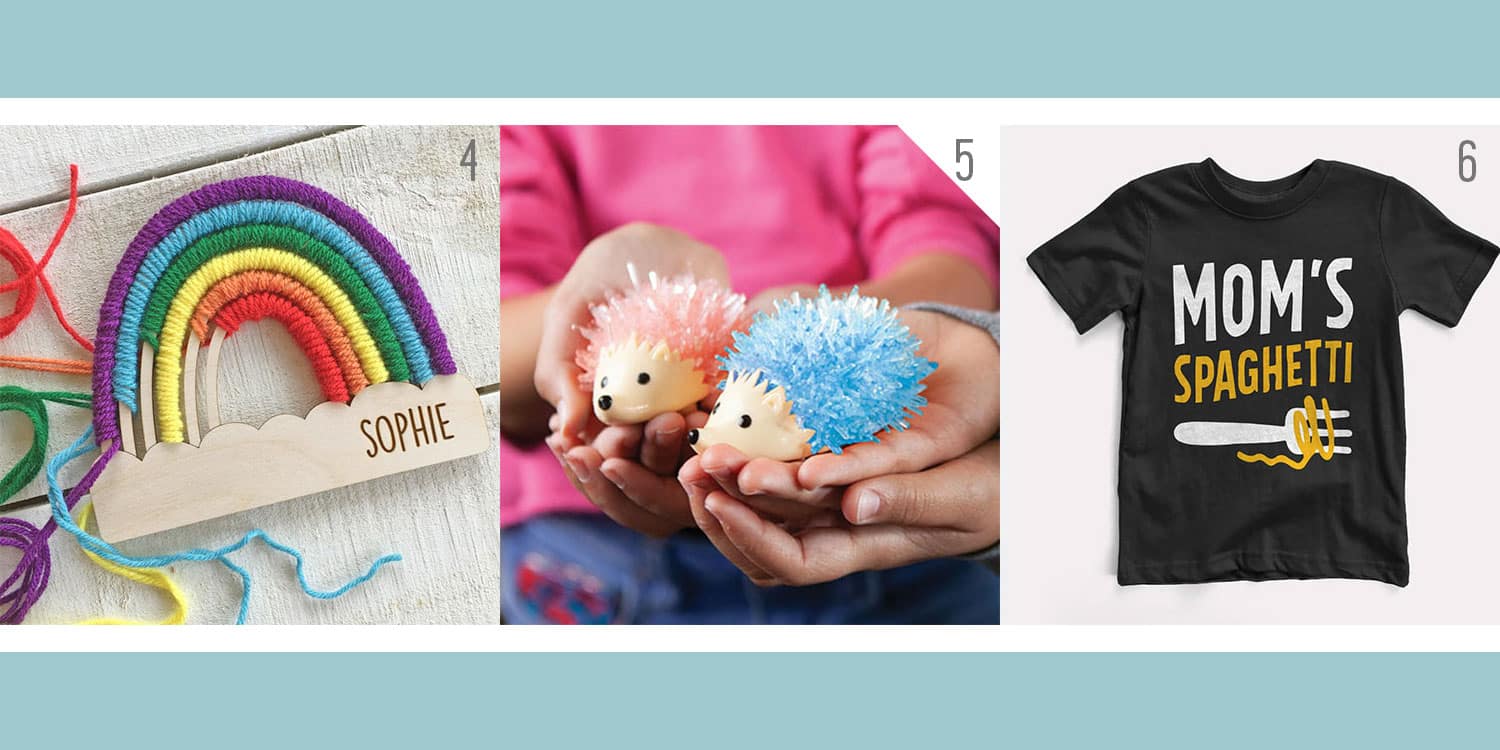 6. Mom's Spaghetti Shirt ($20)
My palms are sweaty with excitement at the thought of children donning this subtle Eminem shirt. Comes in 8 colors & tons of sizes!
7. Wood Stacking Blocks ($20)
Even though our kids are too old for blocks, these wooden Montessori blocks make me want to play with them myself! For sure going to get these for one of our smaller nieces or nephews.
8. Create This Book ($14)
Both of our kids have this blank art-prompt book on their holiday wish list (and that kind of crossover item at age 8 and 12 almost never happens). There's a sequel too!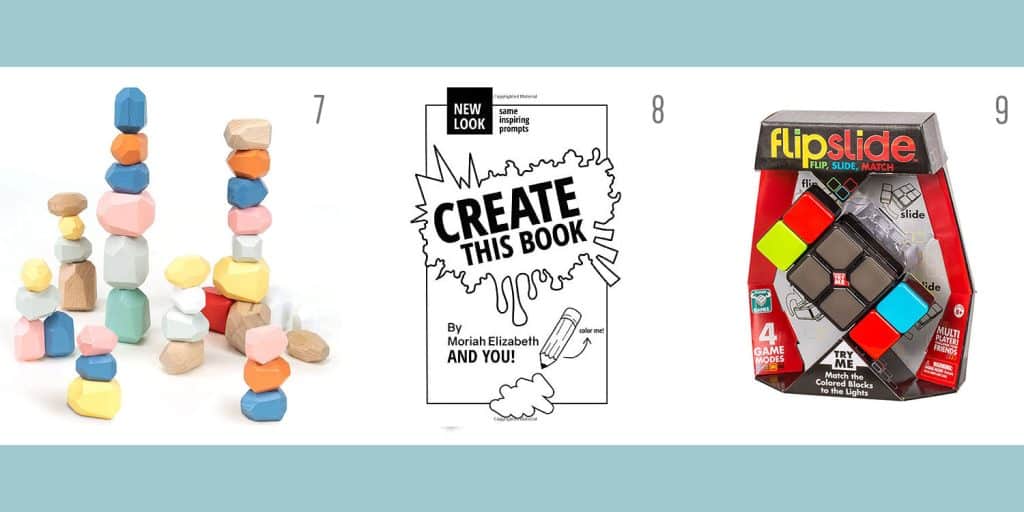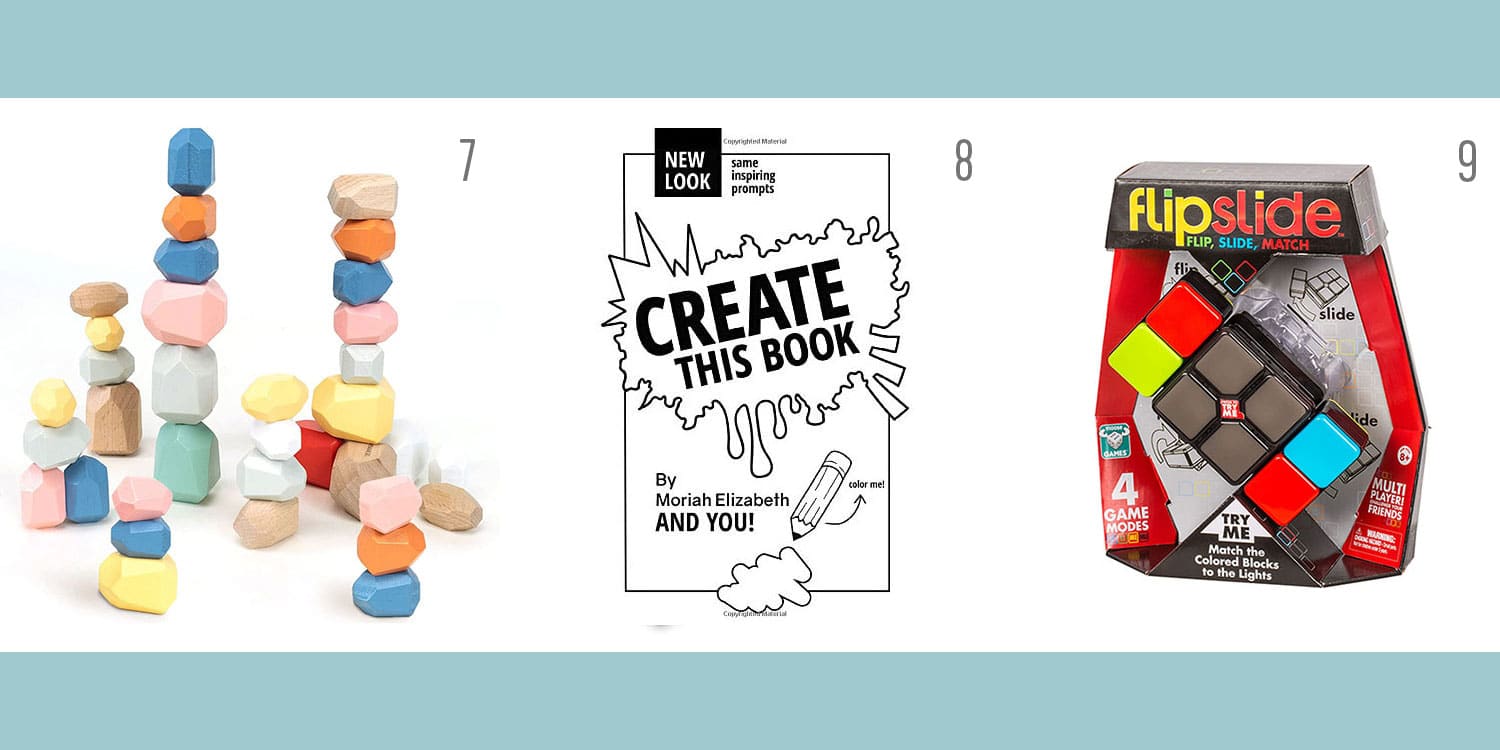 9. FlipSlide Matching Game ($15)
This small handheld game is like Simon-meets-Rubiks and it kept our 8-year-old busy for hours on a recent errand-running excursion.
10. Ombra Quilted Purse ($18)
I feel like a 7-year-old and a 14-year-old could both appreciate this quilted purse and the chain & metal closure feels cool & not too cute (also comes in light pink).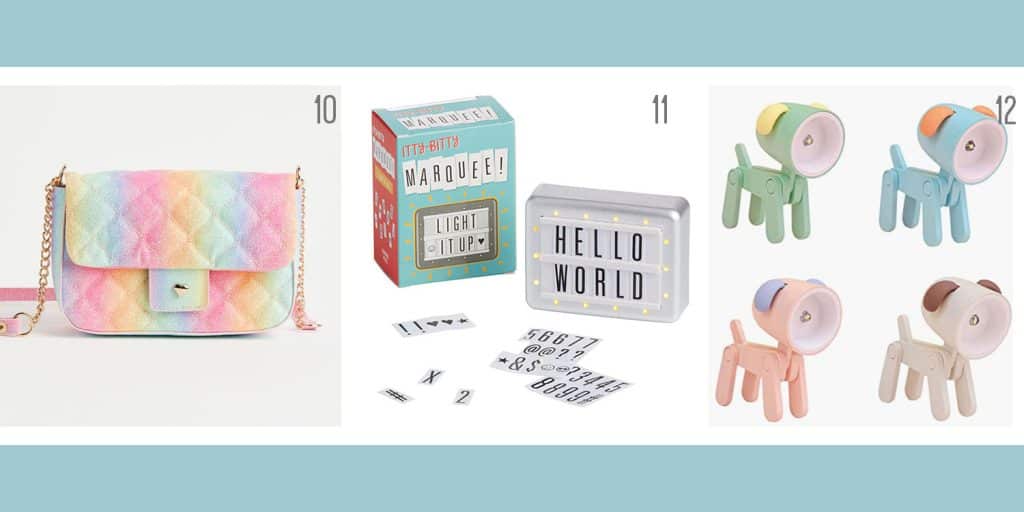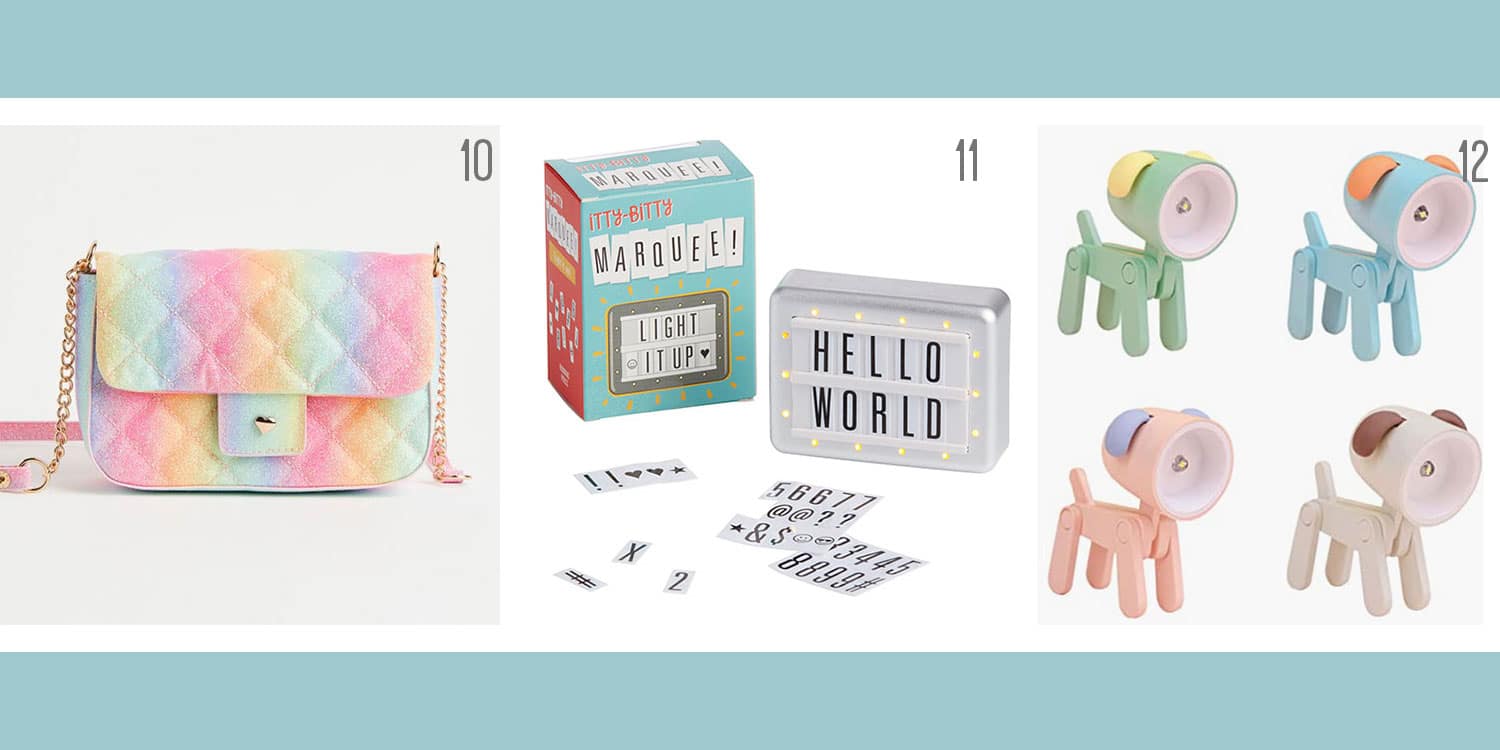 11. Itty Bitty Marquee ($13)
This desktop-sized marquee sign is a fun way for a kid to personalize their desk, locker, or homework space. I like the idea that they can change the message anytime, and it reminds me of The Circle (watch it! It's so good!)
12. Three Mini Animal Lamps ($15+)
These tiny little LED lights would be great stocking stuffers, and they come in crazy affordable 3- or 6-packs (it's $15 for 3 or $19 for 6!). They also come in other animal designs like dinosaurs & reindeer!
13. Double-Tipped Markers ($24)
After our son got these markers for his birthday in April, our daughter requested a set for herself – and both sets get tons of daily use. The case is super convenient too!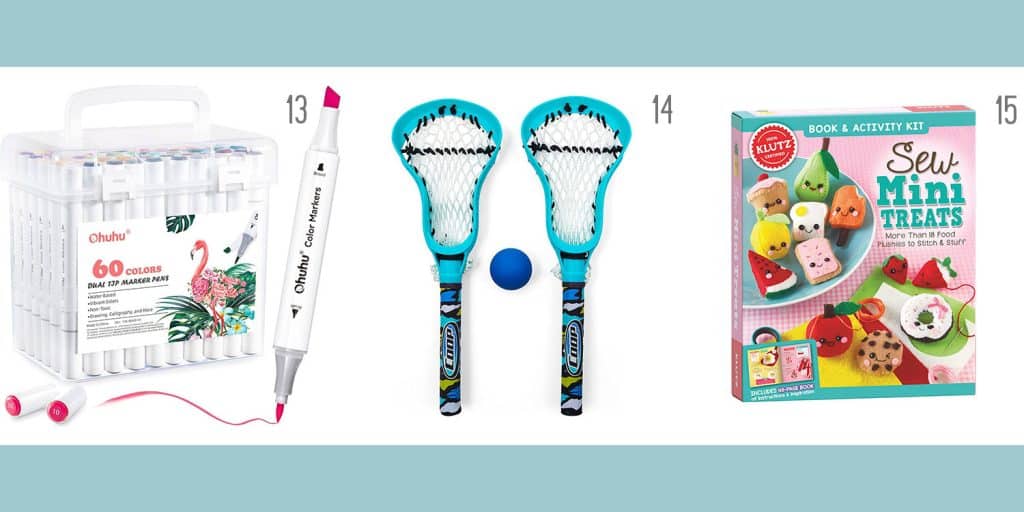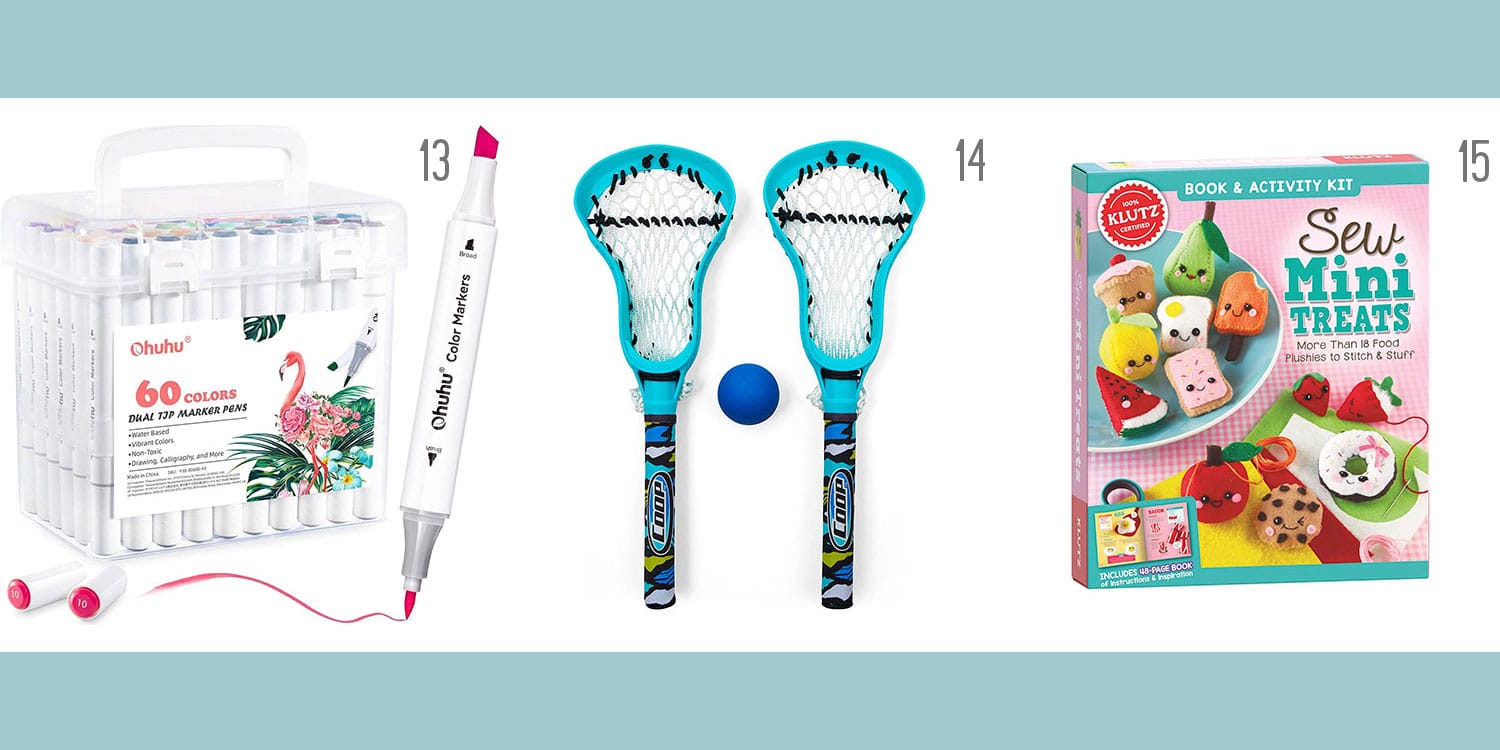 14. Waterproof Lacrosse Set ($14)
This quickly became our family's favorite pool toy, despite having no previous interest in lacrosse. Great out of the water too (at the beach, in the yard, in a park, etc).
15. DIY Plushie Sewing Kit ($12)
Making felt stuffed animals is the hot new craft around here & although we bought felt, needles, & thread at the store, this craft kit is cheaper & it has helpful tips to make them!
16. Incohearent Family Game ($20)
Santa's adding this game to our collection thanks to the kids cracking up at the examples on the box in the store. Can you solve the card on our mood board above? Say it 3 times fast 😉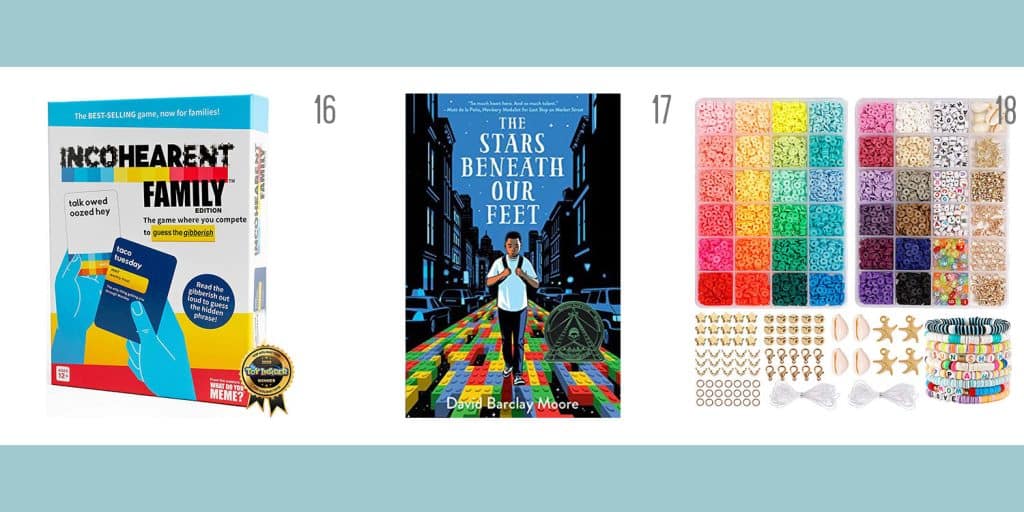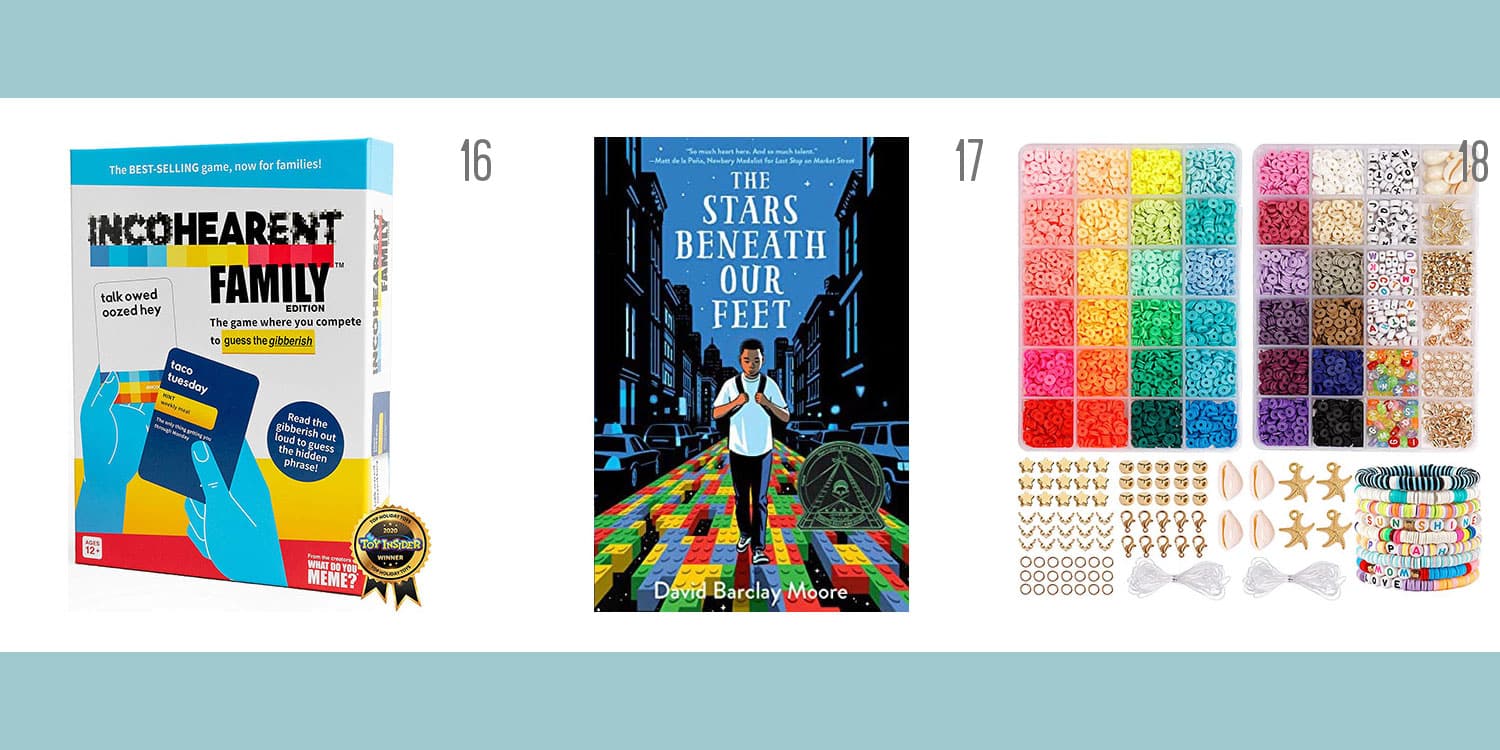 17. The Stars Beneath Our Feet ($8)
This middle-grade novel is award-winning and currently being made into a movie! A great story that also involves Legos! Really moving & inspiring.
18. Friendship Bracelet Making Kit ($13)
This kit was such a hit with our 7th grader and her friends that a few of them bought it too so they could exchange bracelet creations.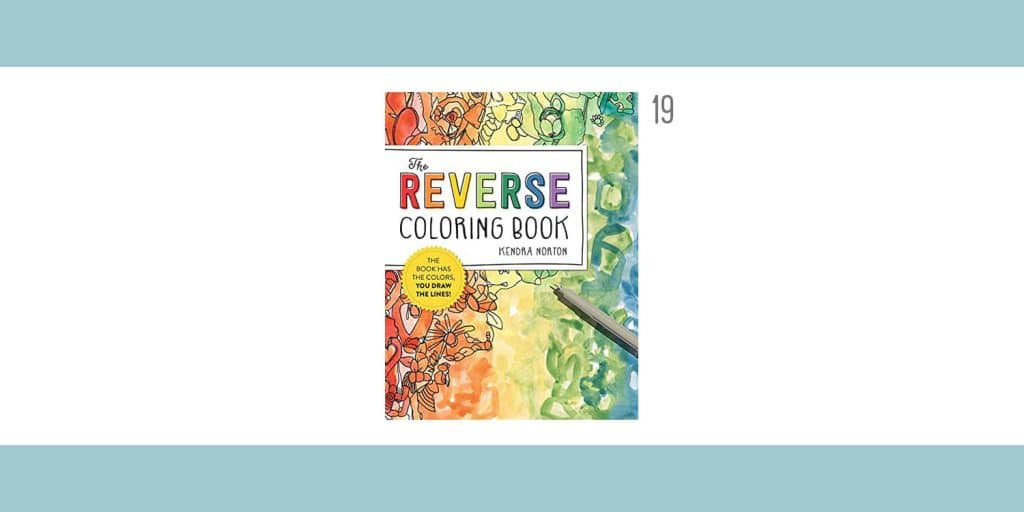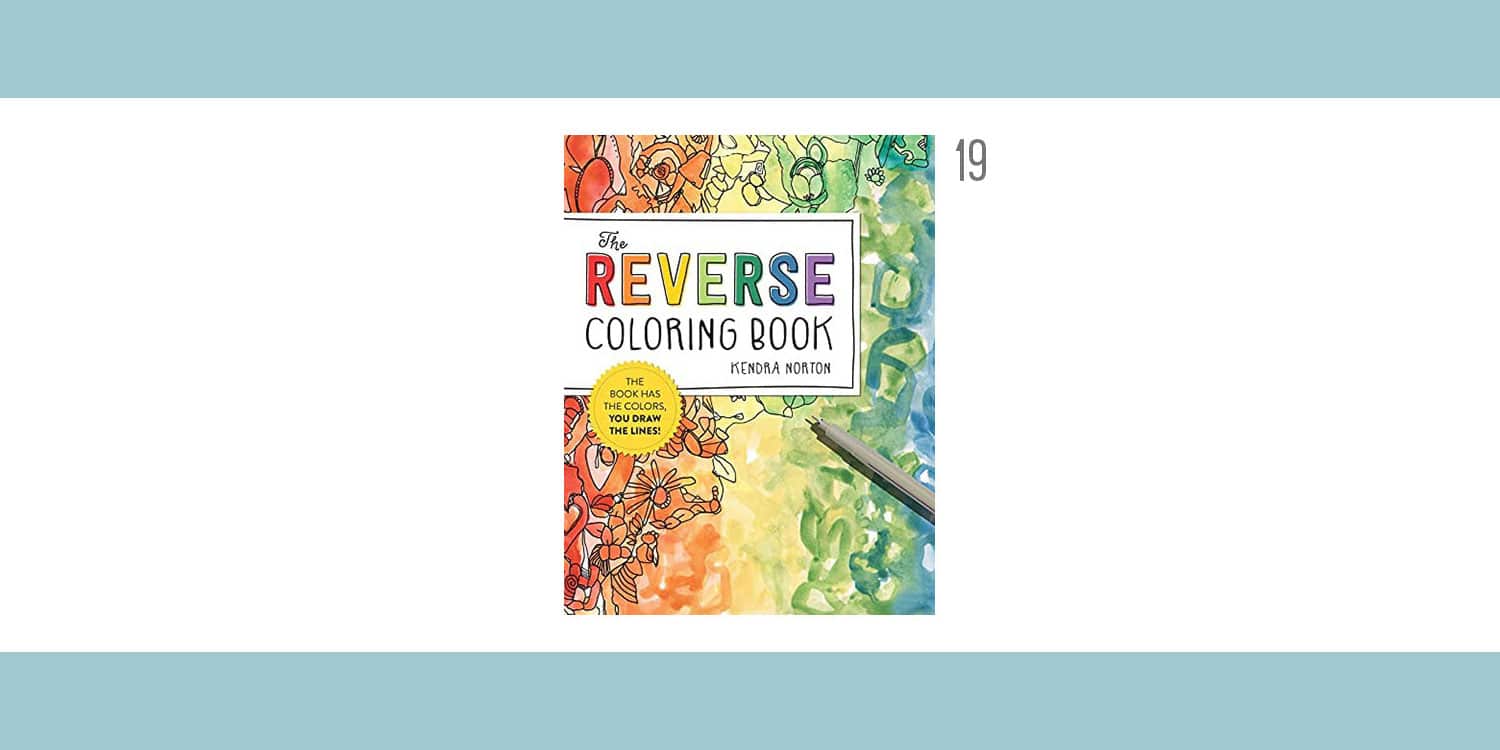 19. Reverse Coloring Book ($12)
You add the lines to this colorful book to create your own art. It was such a hit with our son after his birthday that his cousin asked for the same thing!
Gift Ideas For $12.99 or Less
This is forever my favorite list to compile because I love a deal, and so many of these still feel personal and special. They'd make great stocking stuffers, neighbor gifts, or white elephant ideas. And they're so affordable it can also be a "treat yourself" moment. I know I'm about to treat myself to a few of these 😉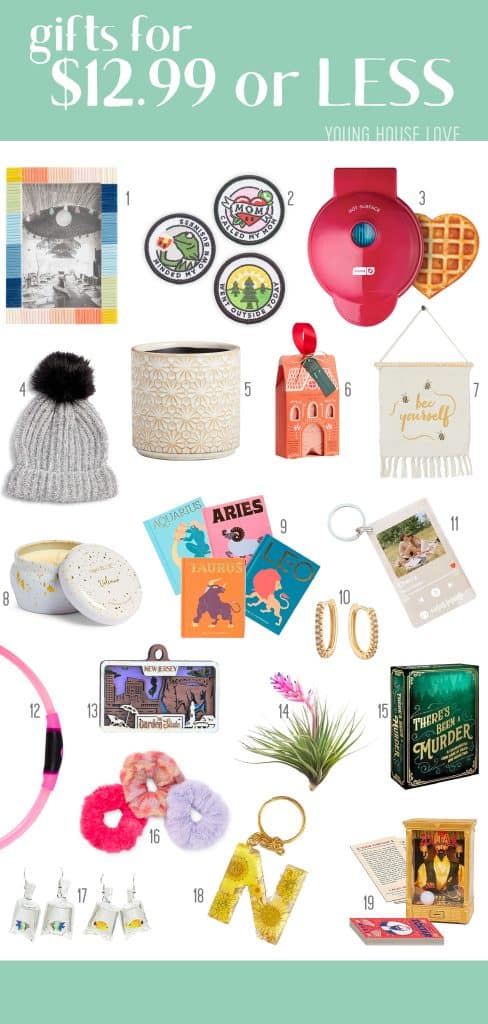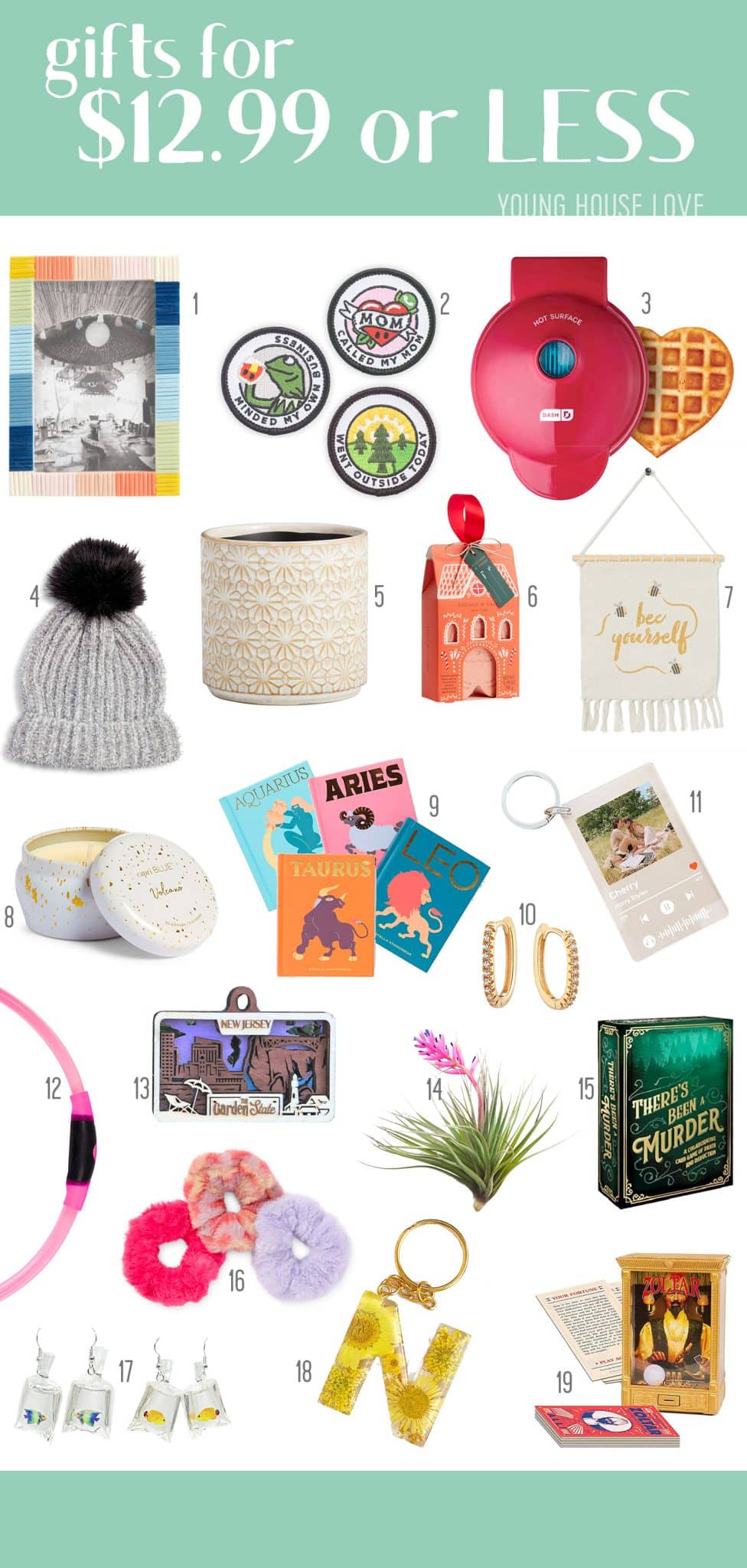 1. Rainbow Wood Frame ($12.99)
Popping a special photo into a pretty frame = an easy heartfelt gift, and this colorful wood lacquer frame is so simple yet special!
2. Adulting Merit Badges ($10)
These are inspired by the Scout patches kids get, but for the little victories of adulthood instead. I see a few of these cute patches that I could treat myself to. The Kermit one is gold.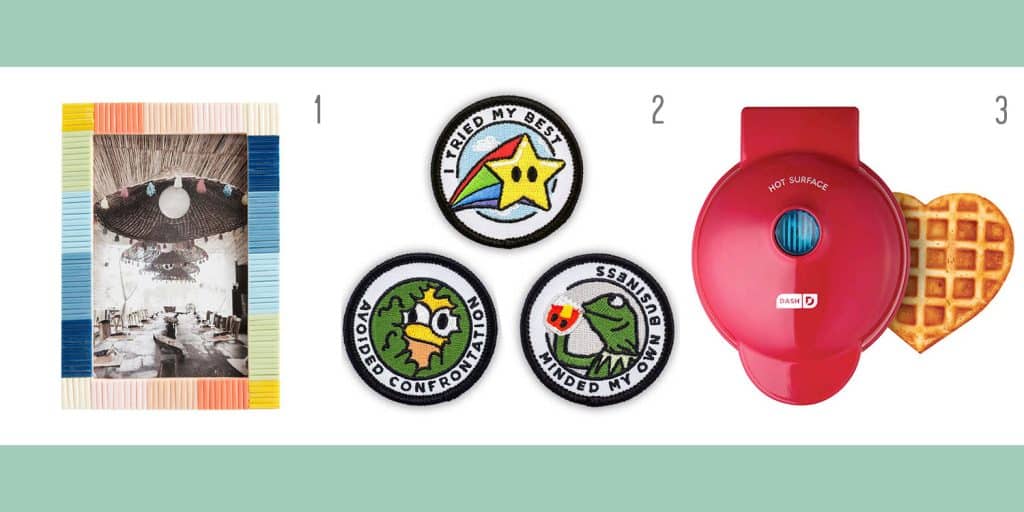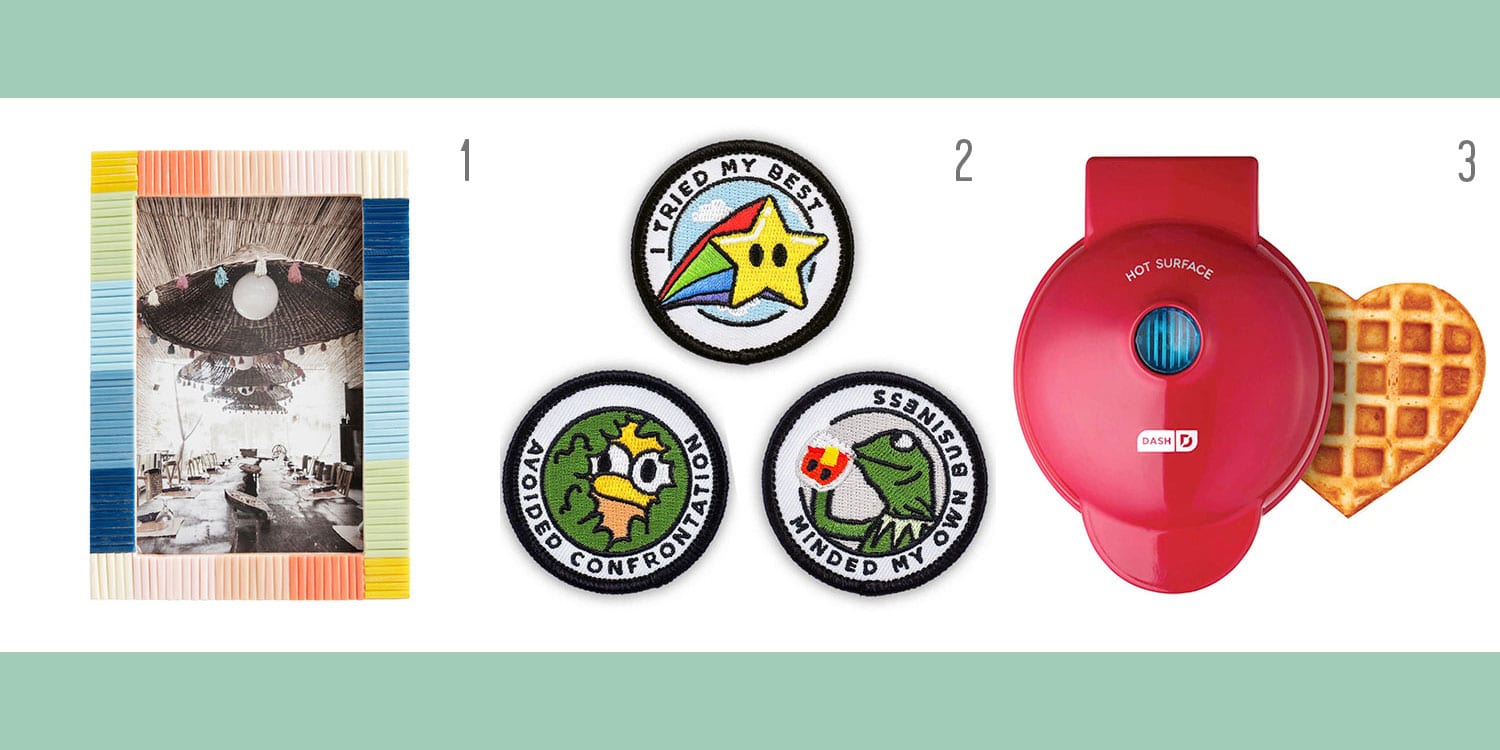 3. Mini Waffle Maker ($12.99)
We love our Dash waffle maker for making waffles, pancakes, cinnamon rolls, egg sandwiches, hashbrowns, mini pizzas, & more! It comes in so many colors/shapes & the price makes it so giftable!
4. Faux Fur Pom Beanie ($10)
I'm a sucker for a cozy winter hat, especially one with a pom-pom on the top! This one almost makes me excited for when the temperature drops in Dec/Jan. Almost…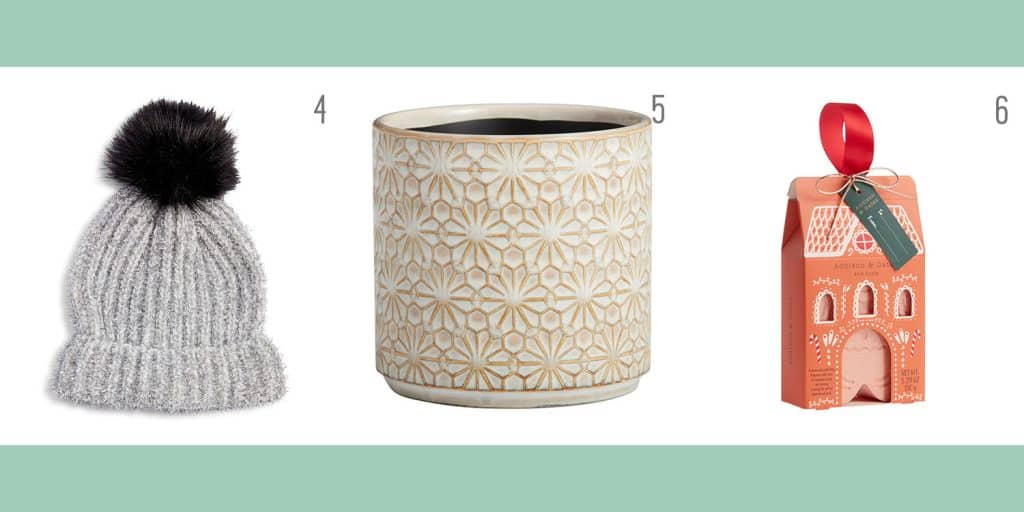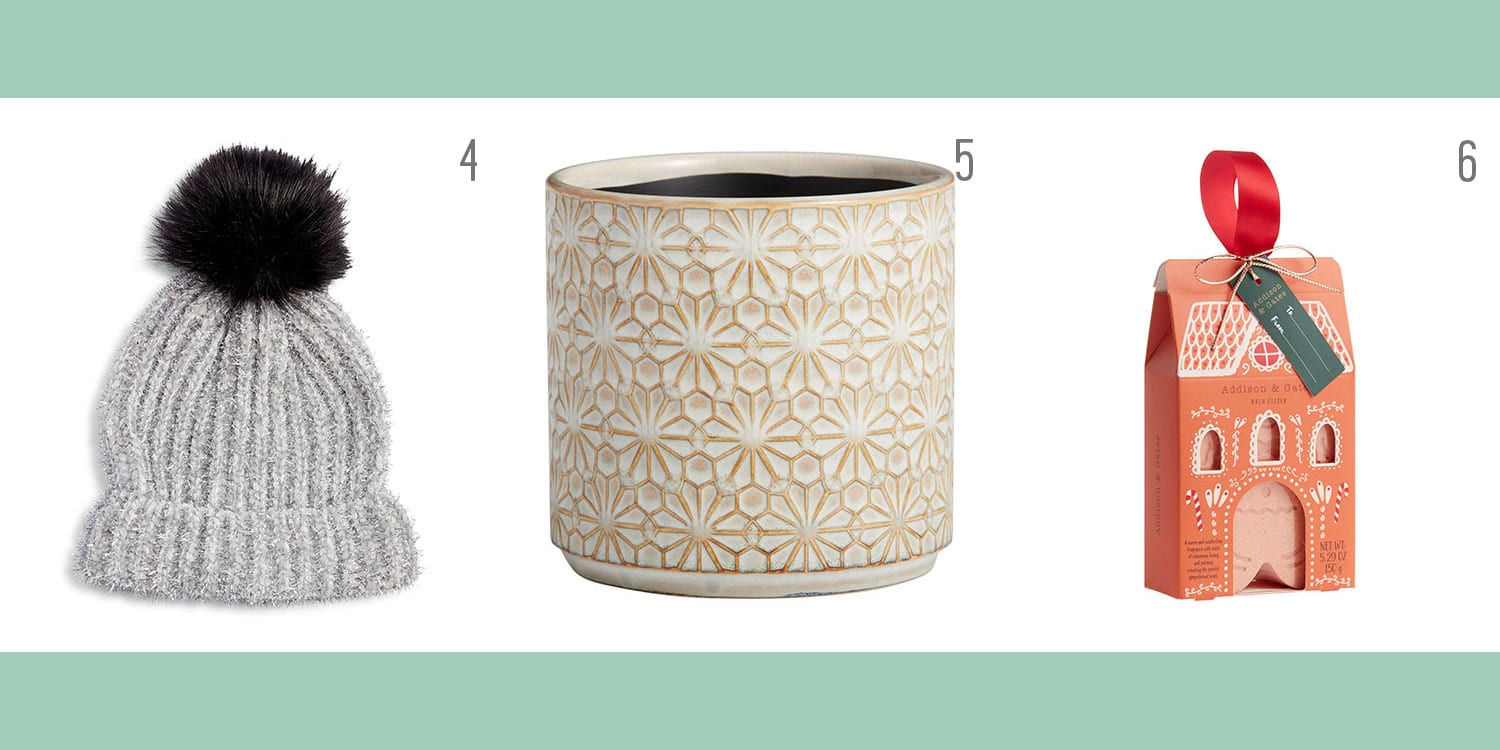 5. Stamped Planter ($10)
Add a small grocery-store-bought plant to this beautiful indoor planter for an instant gift. Aka: put a plant on it.
6. Gingerbread Man Bath Fizz ($9)
Give someone an excuse to pamper themselves with this holiday bath bomb, which makes a great grown-up stocking stuffer! I love the packaging too.
7. Bee Wall Hanging ($12.99)
Consider me 100% charmed by this cheery casual wall hanging. It would be great for a kid's room or even a laundry room, mudroom, or playroom.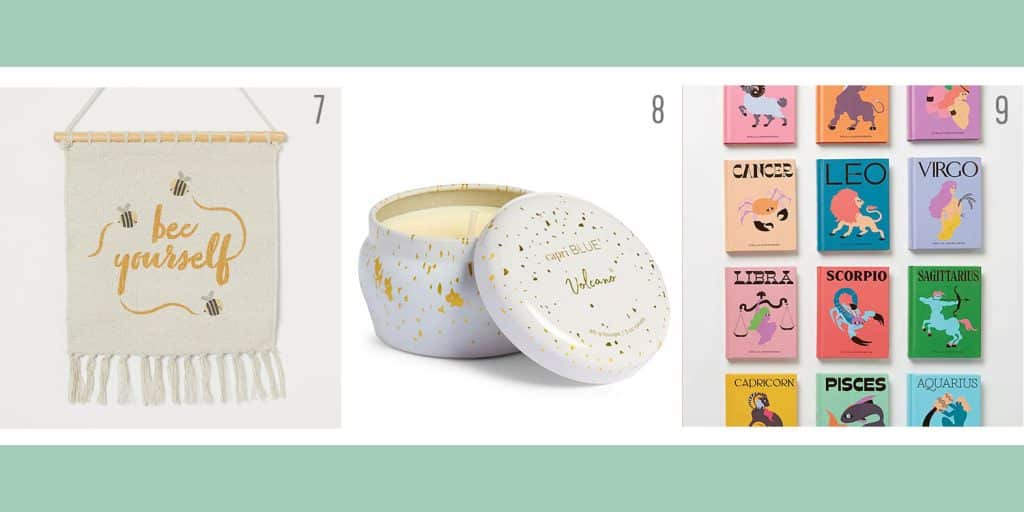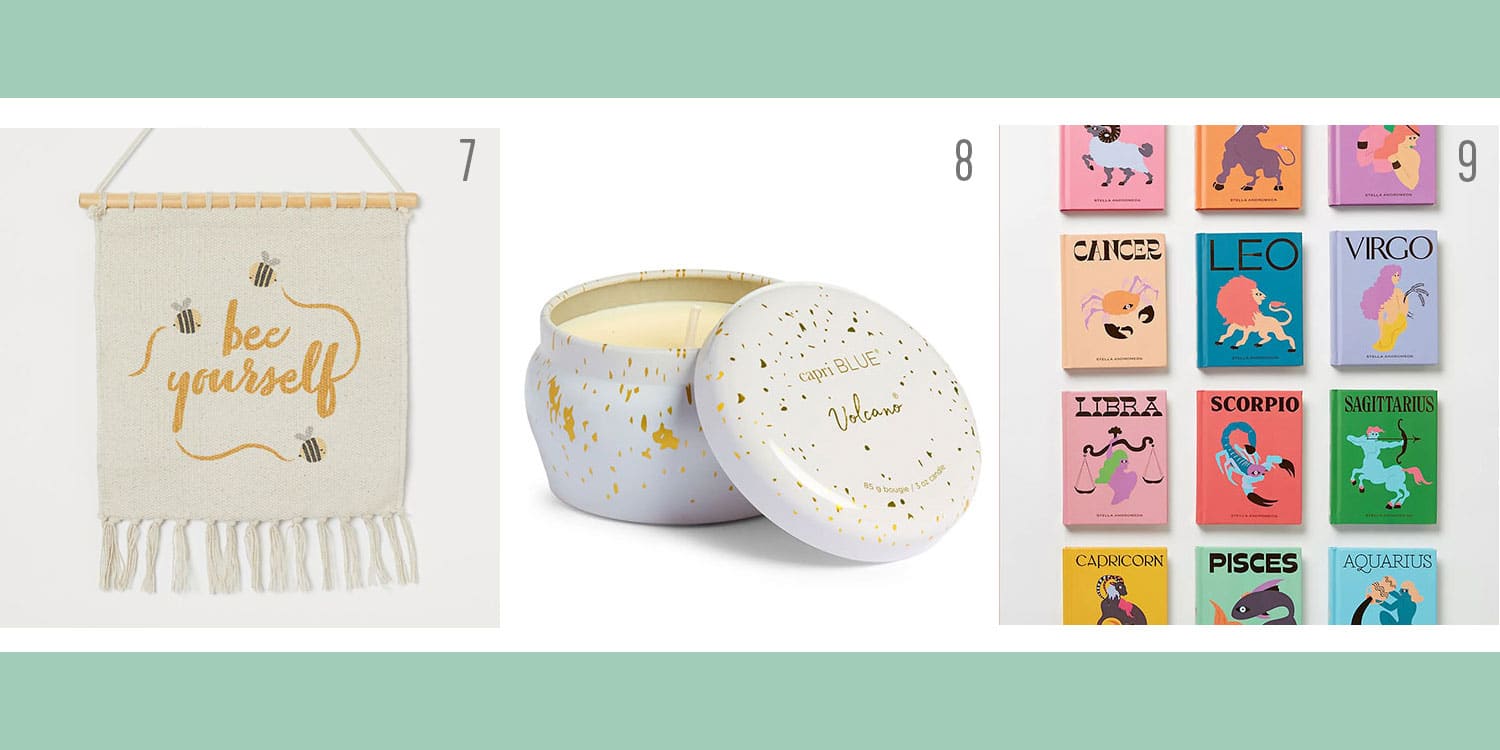 8. Volcano Candle ($12)
I've been obsessed with this candle ever since I got one as a housewarming gift from a neighbor in 2020 (and I've since bought about 4 more). It's a steal in this cute little tin!
9. Seeing Stars Astrology Books ($12)
Treat the amateur astrologist in your life with one of these cool hardcover books. I love how personalized it feels, and the book itself is coffee-table-worthy for sure!
10. Gold Hoop Earrings ($12.99)
My friend told me about these simple gold earrings, which are so affordable & somehow the only ones that don't irritate her sensitive ears. She even sleeps in them & calls them a miracle!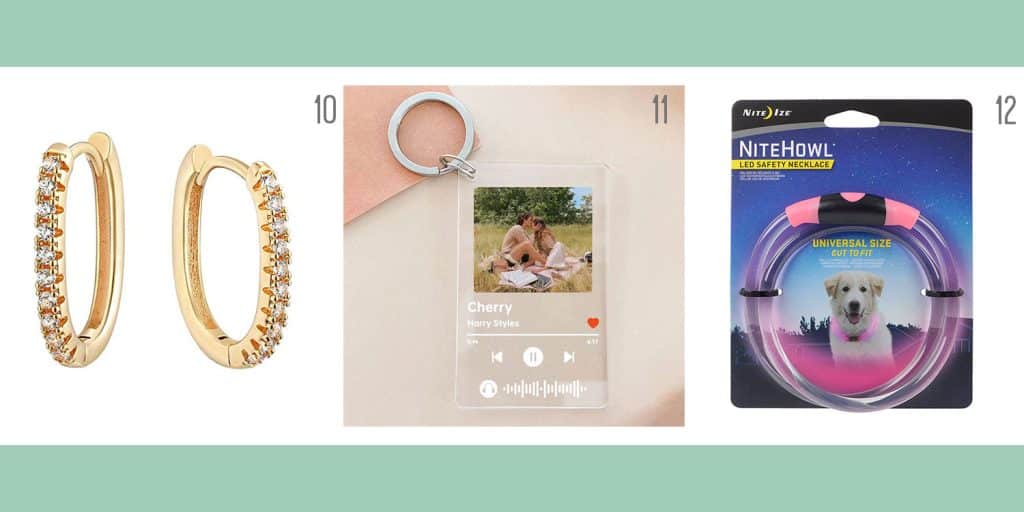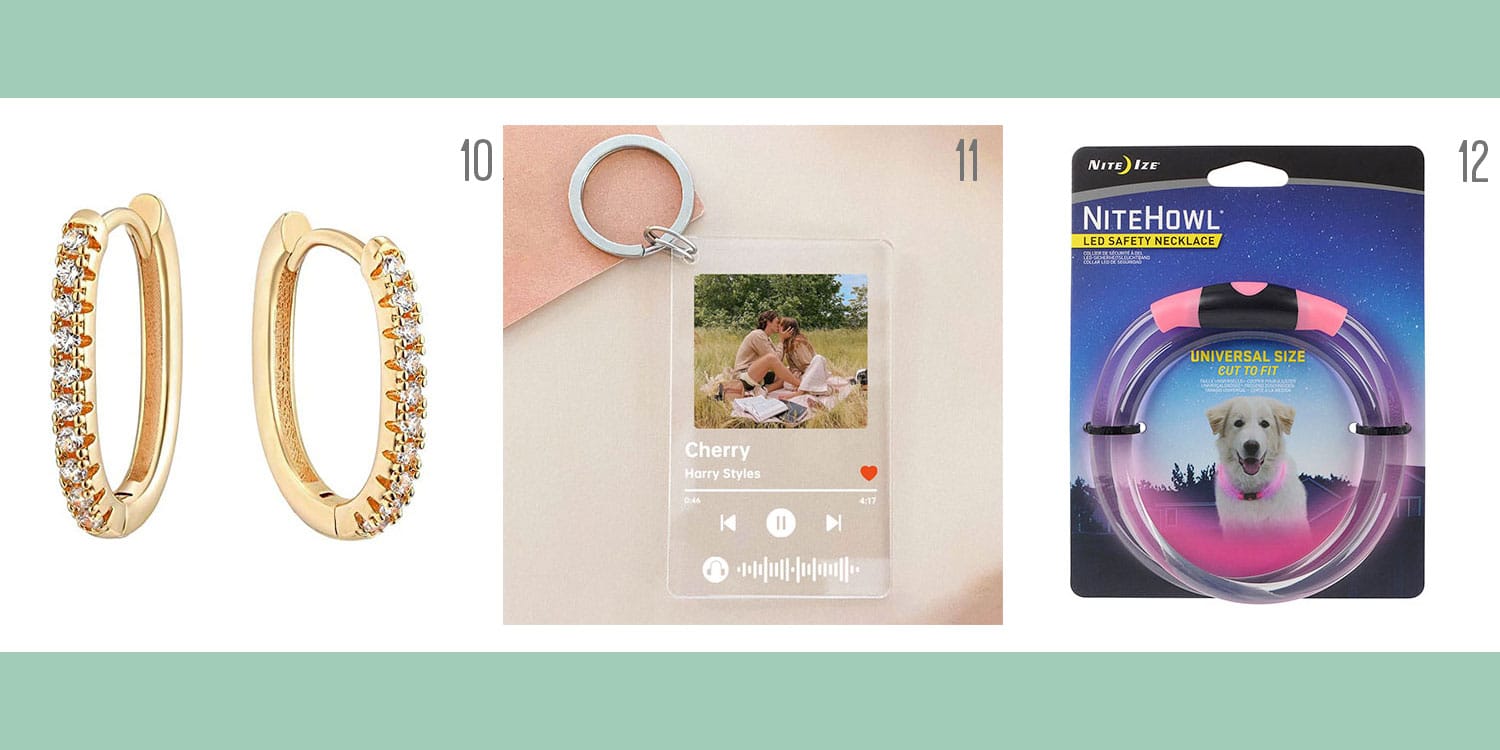 11. Spotify Custom Song Keychain ($9)
This is a super sentimental gift for anyone you share a special song with. You can customize it with your own photo and the Spotify scan code that automatically plays your song!
12. LED Dog Collar ($12)
We bought one of these easy & bright safety LED collars for Penny's evening walks & it's so good we're buying another for a friend. Comes in lots of colors & Penny actually likes wearing it.
13. Wood-Cut License Plate Ornament ($11)
These impressively intricate ornaments are a personalized gift for anyone who moved or wants to add state pride to their tree! I'm tempted to get one from NJ, NY, VA, & FL for all the places we've lived.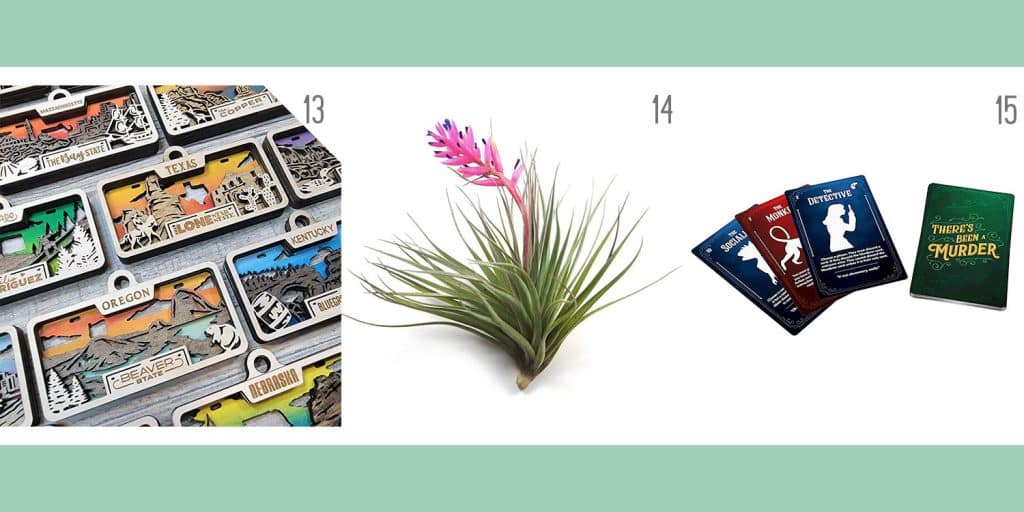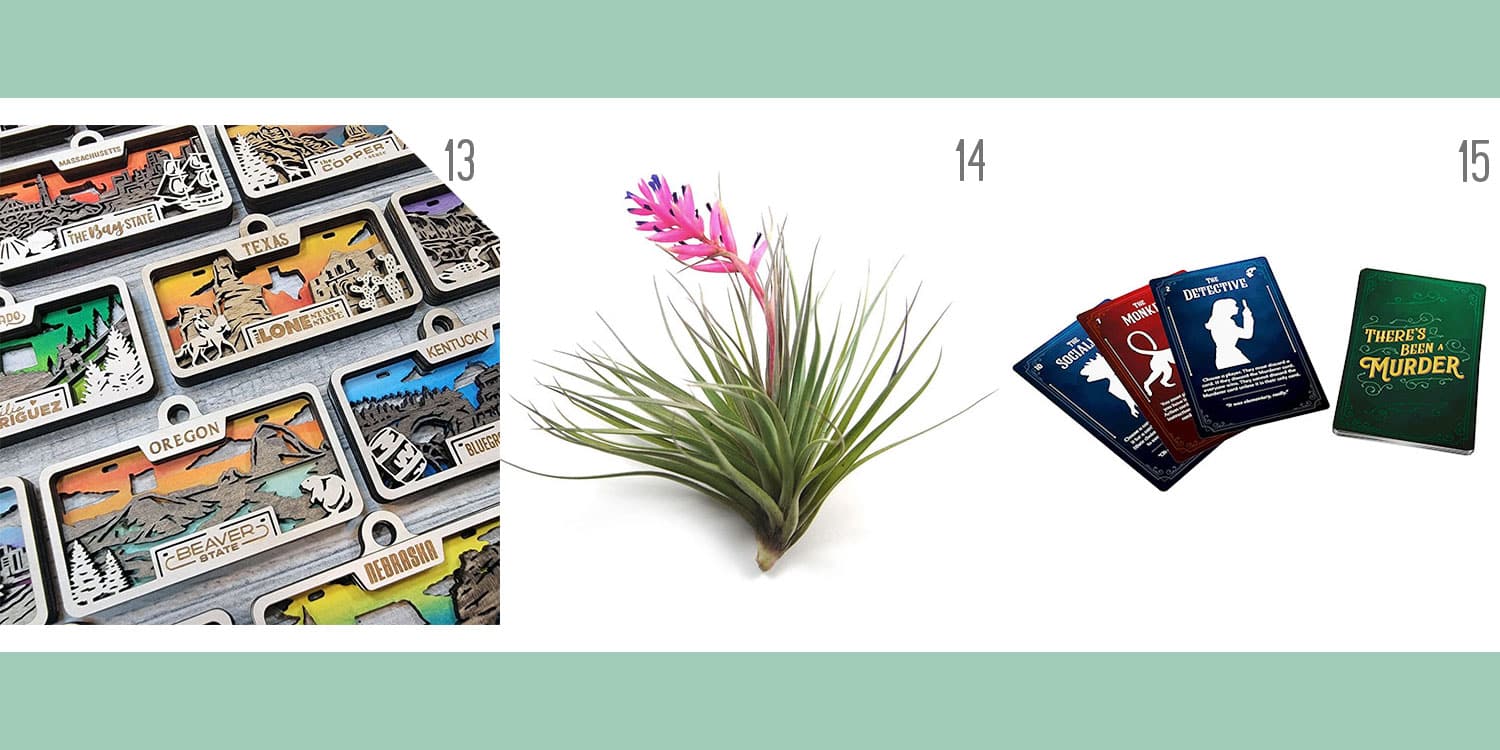 14. Air Plants ($3 – $12)
Did you know Etsy sells air plants? None need dirt or potting, which makes them great for decor – or even to dress up your gift wrap! I have two upstairs that I neglect & they thrive.
15. There's Been A Murder Card Game ($11 with coupon)
An easy & fun card game for your favorite amateur detective or True Crime podcast lover. I love that it's collaborative (everyone works together to solve it).
16. Faux Fur Scrunchie Trio ($10)
Fuzzy scrunchies. That's it. That's the plug. Need I say more?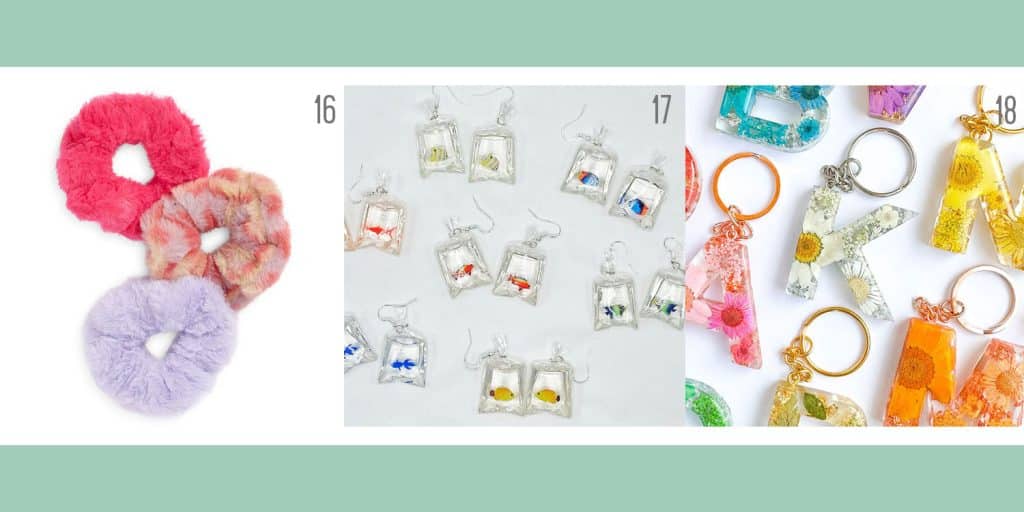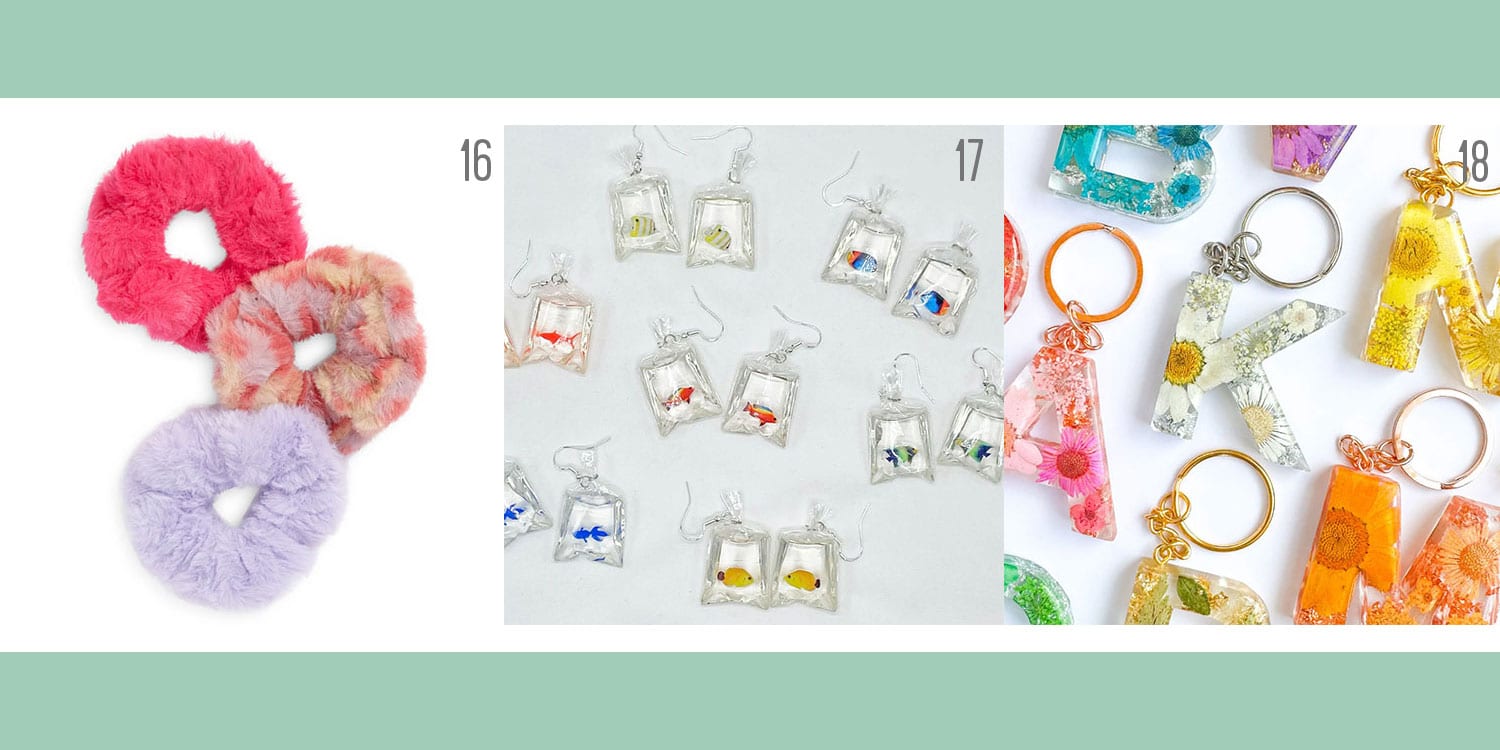 17. Bag of Fish Earrings ($11)
How fun are these playful fish earrings? They're giving me Finding Nemo vibes, just minus that girl's braces & violent tendencies.
18. Flower Letter Keychain ($7)
Even a floral resin keychain can feel customized when it's sporting your initial, and at $7, they're a steal! You could even add one to the top of a wrapped gift instead of a bow.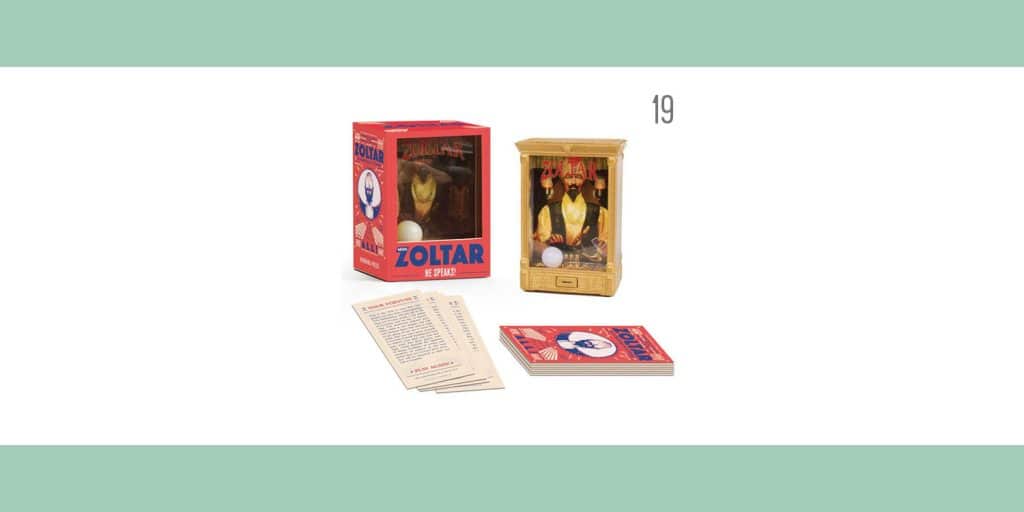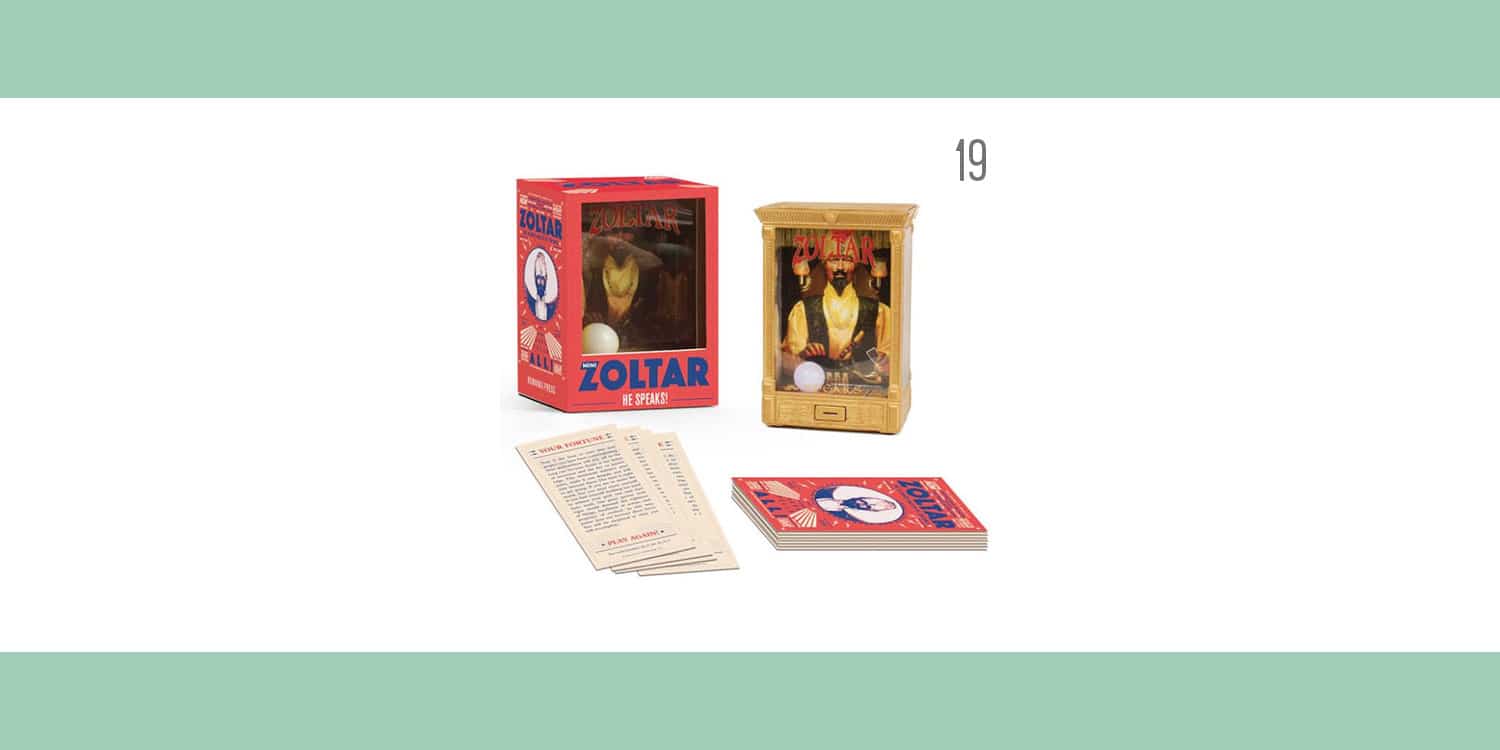 19. Mini Zoltar ($12.95)
Give someone a fun peek into their future with this desktop-sized carnival fortune teller. I feel like this would be such a hit in cubicles everywhere – or even a school locker.
More Ideas From Our Past Gift Guides
If you're in need of a few more ideas for the people on your holiday shopping list, please don't forget about our Black-Owned Business List (there are so many highly recommended products & amazing makers to support in there). We also have our gift guides from years past linked for you below (many items are still sold):
*This post contains affiliate links, so we may earn a small commission when you make a purchase through links on our site at no additional cost to you.
More posts from Young House Love