Can a Studio Apartment Become a 1-Bedroom?
Dear Laurel,
Life can sure throw some curve balls. Here's my story. In the spring of 2021, our third child graduated college and landed a great job in New York City. My darling husband and I hugged each other and went on to have a fantastic summer spending much time planning our newfound freedom.
Laurel, I know you're busy, so I'll cut to the chase.
Last year, in early December, I came home after visiting my elderly mom. I knew something was horribly wrong the minute I pulled into the driveway. My husband was home, but there were no lights on. I won't share any more details, only that while I was out, my husband had passed away, slumped over at his desk, just like that. No warning, no goodbye. He was gone.
They said it was his heart.
The following days and weeks were a blur. I was numb and consumed by the most intense grief I didn't know existed. However, by last summer, I knew I needed to move. This was the home where we raised our three children. The memories only exacerbate my pain. What's more, two of my kids and my closest friends lived in Boston, right in the heart of the city in Back Bay, the South End or Beacon Hill.
However, Boston, as you know, is insanely expensive.
And now, I not only need to get a job, but my husband's term life insurance had just lapsed at the end of June 2021. That, coupled with these crazy high mortgage rates, make this process even more difficult.
If I sell this house, I should have enough to buy a studio apartment or maybe a tiny one-bedroom on Beacon Hill with a rat infestation. The rat-free apartments are way out of my price range.
If only I had been looking when you bought, Laurel. I bet I could've done a lot better. But, there's no point in that useless exercise.
Could I rent for a while? Yes, I could, but that would cost me more in the long run. Besides, I'm not fond of moving.
Anyway, I saw a gorgeous studio apartment in Back Bay.
Well, except that there's NO storage. I mean, I can live with the darling two-burner induction cooktop and the two under cabinet freezer/fridges. But, wait until you see what I'm talking about.
I realize this place is a pied a Terre or maybe a young bachelor pad. (A bachelor who is also a nudist since there's no closet space whatsoever. Still, the location couldn't be better as it's central to most of my closest friends and kids and close to the Charles River, where I love to go jogging.
What I love about this studio apartment is that it's newly renovated and has a gorgeous, spacious entry. Actually, maybe a little too big considering that the place is only about 450 square feet.
Here's the other thing.
I do not want to sleep IN my living room.
In addition, I want to have friends over to play bridge and Mahjong. Or, maybe host a small book group once a month.
Maybe I'm being unrealistic. However, 450 square feet is the best I can do.
And, even though the ceilings are nearly eleven feet, there is no way I'm putting in a sleeping loft, as my son suggested. That's fine for him, but I'd have to bring a bedpan up with me. lol I'm trying to picture getting it down the ladder.
TMI?
Sure, Laurel, go ahead and laugh.
Clearly, this is a case of LOCATION trumps all.
It's true. I want to make a new life for myself in Boston. I am willing to sacrifice space for lifestyle, close to my dear ones. However, I've lost the love of my life; I need my friends and family more than ever.
I remember what you did with that two-bedroom place very close to where this apartment is. Any renovations need to stay at a budget of no more than 100k. I know that sounds like a tremendous sum.
Tell me about it!
However, I have two friends who each did some renovating in Boston recently. One spent over 60k remodeling a small bathroom. The other spent at least 150k on a small kitchen gut reno. You'd think for that kind of money; she'd at least be able to get a LaCanche. But, no, the appliances are great, but on the lower side of high-end.
The kitchen in this studio apartment is darling.
I wish there was one more fridge drawer. Okay, two more fridge drawers. Hell, I please have a normal fridge? 24″ wide is fine. One drawer for a refrigerator and one for a freezer is not enough.
My other issues with this studio apartment are:
A lack of storage space,
The need for a separate sleeping space. Of course, it will need to be small. That is fine as long as air and light come in. So, maybe it should be by the windows?
I realize this is mission impossible, but I hope you'll think this is a post that will appeal to other readers and make it Mission Merry Widow.
Sincerely,
Joy Marlborough
********
Hi Everyone. Joy, AKA: The Merry Widow, is not a real person. But, I bet there are thousands of "Joys" out there. If you are new to the Laurel Home blog, roughly 20% of the posts start off with "Dear Laurel." And, of those, at least half of them are fictitious characters with stories I have created. Therefore, any similarity between someone living or dead is purely coincidental.
Joy is in honor of beautiful Joy Street on Beacon Hill. Besides Charles Street, Joy Street is the only other north-south street running from Cambridge Street straight through to Beacon Street.
Marlborough is to honor Back Bay's beautiful tree-lined gas-lit, beautifully romantic 19th-century street.
Okay, the apartment Joy is talking about is the only true part of this story.
There IS a beautiful studio apartment on Beacon Street. It is newly renovated and with some charming touches.
However, please look at the floor plan.
I sincerely hope the 2 FOOT by 8 FOOT closet is a mistake. It would be fine if there were a large set of double doors on the eight-foot side. However, there is a 20″ door on the two-foot side. What's funny is they're showing a 10-inch wide shelf.
However, let's move on because I found another studio apartment that is not on the market. It was sold fairly recently. At first glance, it, too, is charming. However, when I looked at the floor plan, I immediately saw that this place could have been a one-bedroom apartment– A LEGAL one-bedroom apartment.
Here's the thing. This will be more like a 200,000 renovation if it's done right.
Yes, yes, I know. Boston is as expensive as New York City. However, a beautifully renovated one-bedroom in the heart of Back Bay, even a tiny apartment, will go for at least $100,000 more than this place sold for. I'm not a real estate expert, but I think they could get the $200,000 back if they could make it a one-bedroom. Plus, getting the bed out of the living room would be much nicer.
So, let's begin with the sold studio apartment. Then we'll look at the one that's currently on the market.

Please look at the kitchen. While it's nice to have windows in a kitchen, it's unusual to have windows in that location in a Boston brownstone. Also, please note the de rigueur island. Or, in this case, the peninsula, sticking out in the middle of the living room.
Really? Why? Who's going to sit there? And with the range just inches away?
Immediately, I noticed the windows, plus the alcove where the sink and fridge are squashed together. That would be an excellent location for a closet.
Hmm… And, there are two windows. Hmm…
We need two more walls and a door, and we'll have a legal one-bedroom.
However, we won't have a kitchen.
Incidentally, I've heard quite recently that in New York City, there's a trend in young Millennial parts of town not to include a kitchen in apartment renovations. I imagine "no kitchen" means there is a microwave, coffee station, and a mini fridge. All of that is situated in a closet.
Groovy.
So, I got to work carving out a bedroom and a brand-new kitchen. And, yes, one with a washer/dryer.
In addition, we'll need much more storage than in the bedroom.

We come in as before, of course. However, we don't need 5′-3″ for a hall. No, not in such a small studio apartment. Instead, we'll have 3′-8″. That is adequate. And, in so doing, there is enough space for a small coat closet. Hey, better than nothing! Let's keep going down the hall, and then we'll come to our brand-new bedroom with a closet! It is big enough for a queen-sized bed and two 20″ wide nightstands.
The closet will need to be optimized for maximum storage capability.
Walking out of the bedroom, we go catty-corner and into our new kitchen! I didn't indicate, but there are upper cabinets following the washer/dryer, over the range, and over the sink wall. We'll leave the skinny counter without anything overhead. Then, I was able to carve out a niche for our integrated fridge.
Walking out of the kitchen, we enter the living/dining room.
I placed a wedge sofa in front of the bay window. Currently, the table is set up for everyday use.
Joy can play bridge and Mahjong with her friends. In the closet are four folding chairs. So, Joy can host a book group of up to about 11 in her living room.
And……….
She can also host a Thanksgiving, Christmas, birthday, or whatever cause for celebration for as many as eight people.
Where, you would like to know?
One 24″ leaf was added to this 48″ round extension table, and now Joy can comfortably seat eight.
But, there's more!

The third layout features a sitting area in front of the fireplace and a drop-leaf table behind the sofa. This isn't as conducive for playing games. However, if Joy also had a folding card table (maybe under her bed), she could move the coffee table and then the sofa back a bit, and they could play cards in the middle of the room.
As in the previous design, there is plenty of closet storage for kitchen items, utility, clothes, etc. Plus, there's a china cabinet in the back. I have one more to show you of this studio apartment morphed into a one-bedroom.
This is a lovely plan, with an extension table that can double as a desk. Then, an intimate seating area provides a conversation grouping for up to seven.
The table, as is, will seat up to six. With a 20″ leaf, eight will fit around this table.
Okay, it's time to look at our Boston beauty.
You walk into a surprisingly spacious entry. The real estate listing has French doors into the living room. But who's ever going to close them?
As I said earlier, the closet would work if two large double doors were on the eight-foot side. Otherwise, this closet is bloody useless. It certainly doesn't pass code. I don't even know how they got away with this.
Okay, aside from not having a bedroom, where is the lovely who will live here put their stuff?
There is ZERO storage in the bathroom.
There isn't even a coat closet.
However, any five-year-old can plainly see that there's space for one.
Okay, let's look at what I did for this apartment.
We walk in, and the new coat closet is adjacent to the kitchen entry. And, yes, there are French doors for the kitchen too. I adore French doors, but again, who is ever going to use them? Are they merely decorative?
The bathroom is there, but it didn't fit on my sheet, so I left it off. This apartment is slightly smaller in square feet than apartment #one but more oblong.
Then, we come to our tiny bedroom. However, here, I put in French doors and two large interior windows that can open to let in some fresh Charles River air. The ceiling is nearly 11 feet high. That will help the space seem larger. No, this is not a legal bedroom because it has no closet. However, it's private, and Joy or whoever might live here can entertain guests in their living room, not their bedroom.
Ummm, Laurel, you put a wall butting up against the fireplace? Isn't that a no-no?
It is not ideal; that is true. However, my beef is when they run the KITCHEN butted up against the fireplace. There is a big difference between a wall to carve out a room and a refrigerator or kitchen cupboard.
In this case, I have balanced out the fireplace with a tall breakfront china cabinet with more storage underneath.
I did a custom sofa to go under the bay window.
The dark green cabinet is one of my favorite parts. It houses a TV that comes up via remote control and then out of sight when not in use. There is also storage on the dining room side. AND, it also doubles as a buffet table. I would keep it at about 32″ – 36″ high.
I would also make this piece stationary.
Now, for the best part. We have an entire long wall with FOUR ample closets! The two in the middle are deep enough for hanging items. (Yes, there are doors on the closets, but I didn't put them in because it looks too cluttered.)
The closet closest to the kitchen could have a coffee station and a microwave.
AND, Joy can have her normal fridge in one of the center closets. Oh my!
Finally, the round table is great for everyday use and games. And,  extended, it too can seat up to eight.
Phew! That was a lot. However, these are the kind of objections that could make this place more difficult to sell. Fortunately, the realtors in Boston are quite savvy.
I hope you enjoyed seeing some of my ideas to create a bedroom out of a studio apartment. I realize some people might not want to sleep in such a tiny space. But, I think with the windows and doors open, it would be wonderful.
Oh, and you can put in a beautiful ceiling fan.
I turn mine on every night now.
Uh huh… I love the way it moves the air. It feels great!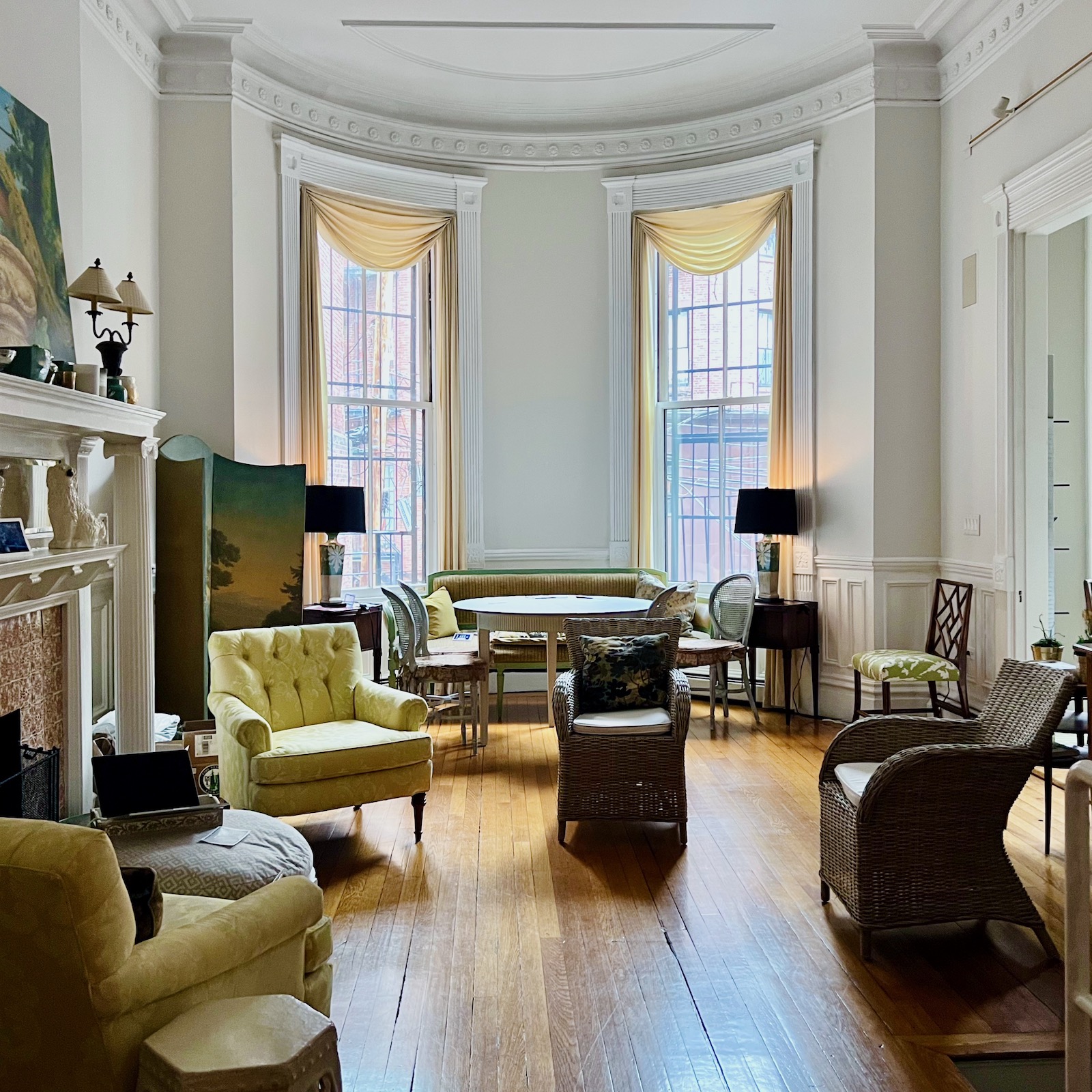 I love my apartment. I'm grateful for the amount of space I have, too!
Oh! I just sent off the deposit for my kitchen cabinets!
That's all for now.
xo,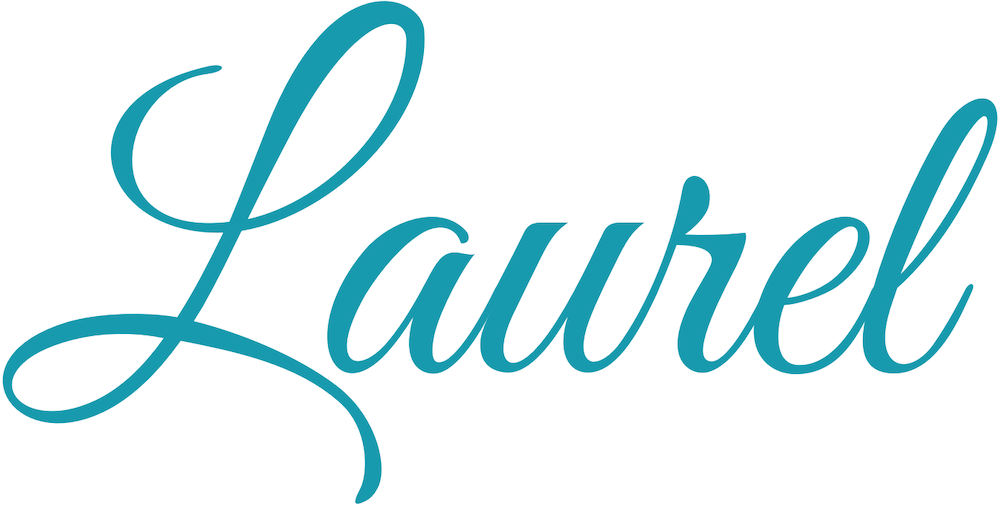 PS: Please check out the newly updated HOT SALES
and also the beautiful HOLIDAY SHOP!
Related